Halloween shows are Jobsite's oldest annual tradition, and the only regular "holiday" thing we do. This season, we're thrilled to bring you a title that's been on our list for a few years: Dr. Jekyll & Mr. Hyde,  Jeffrey Hatcher's exquisite adaptation of Robert Louis Stevenson's Strange Case of Dr. Jekyll and Mr. Hyde.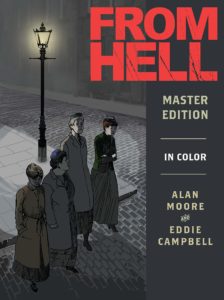 The first production meeting was earlier this week, and we're excited to hear things bandied about between the director (Shawn Paonessa) and designers (Jo Averill-Snell, Rob Broadwater, Brian Smallheer, Katrina Stevenson) as to how they're approaching the show.
Aesthetically this production is not going for period accuracy but instead for a "alternate universe/comic book" London inspired by things like Alan Moore's graphic novel From Hell. Binge-watchers of shows like Penny Dreadful and The Nevers will also find the look and feel familiar.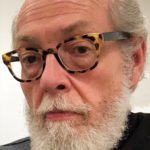 Hatcher on his adaptation, taken from a Dallas Morning News story:
"How was I going to make this different?"

Hatcher's elegant solution, dividing Hyde's role among four actors, including [women] … The choice wasn't made just to be different, Hatcher explains. And it's not even the most important difference in the show.

"I wanted one Hyde to be more brutal, one more approachable and the one played by a woman to have a more subtle sexuality. At a certain point, Jekyll realizes he can't remember all of his multiple personalities."

The plot of the 1886 novella revolves around Dr. Henry Jekyll, who experiments with a potion that changes his persona into the evil Mr. Hyde. Hyde commits terrible acts that Jekyll can't remember when he turns back into himself. Tension rises as Jekyll begins to lose his grip on the transformations.

In Hatcher's take, instead of an all-good Jekyll and an all-bad Hyde, it is not always clear which character is more empathetic.

"Instead of seeing Jekyll and Hyde as a battle between good and evil, I see a little bit of bad in Jekyll and a little bit of good in Hyde."
Meet some of the folks behind the show, coming soon to the Jaeb Theater and on sale now with the best value coming with a season pass: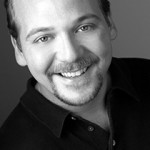 Shawn Paonessa (Director) has been working with Jobsite since he played Donkey in their second production, Brownbread. Notable Jobsite performances include Sir Henry Baskerville, et. al. (The Hound of the Baskervilles), Petruchio (The Taming of the Shrew), Oscar (The Odd Couple), CB (Dog Sees God), Guildenstern (Rosencrantz and Guildenstern are Dead), Bill (Woman in Mind), all of Jobsite's (abridged) productions, Joey (Phyro-Giants!), Dr. Frankenstein (Playing With Fire: After Frankenstein), Jake, et. al. (A Girl's Guide to Chaos), and Sam in The March of the Kitefliers, which he co-wrote with Neil Gobioff. Additional writing credits include Pericles – Prince of Tires, Grimm's Faery Tales, The Curse of Millhaven and Learning Swerve, which earned Weekly Planet's Best Local Playwright – Reader's Choice. He has also directed in various capacities for Jobsite, including 1984, Embedded (with David M. Jenkins), Hurlyburly (Associate Director) and Delusion of Darkness, as well as the short film, The Bedford Devil (Kitefliers Studios).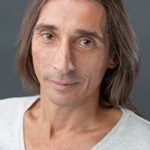 Giles Davies (Dr. Henry Jekyll)  was last seen in American Stage's production of Romeo and Juliet in America. Prior to that, he was assistant director and text coach for Jobsite's Henry V, and appeared in the Straz's production of Frankenstein: The Modern Prometheus. He received his MFA from The Ohio State University. Favorite past Jobsite appearances include: Iago in Othello, Marquis de Sade in Quills, Malvolio in Twelfth Night, Caliban in The Tempest, and Sherlock Holmes in The Hound of the Baskervilles.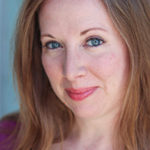 Jonelle M. Meyer (Edward Hyde/Poole/Surgical Student/Police Doctor) has been performing professionally in the Tampa Bay area for the past 17 years in over 50 productions with more than 10 theatre companies, playing no more than 300 and no less than 200 characters. She also thinks numbers are impressive and confusing. Some of Jonelle's credits include Corky in Meteor Shower, Elinor in Morningside, Agnes in Dancing at Lughnasa, Cassandra in Vanya and Sonia and Masha and Spike, and the one woman run of The Search for Signs of Intelligent Life in the Universe as the charmingly homeless Trudy and 12 other characters. Jonelle is the creator and star of the Jobsite Digital Short; Too Far with Mort LaCourt. Her Mort LaCourt character won her a Creative Loafing Best of the Bay Award for "Best Fake Newsperson" in 2017. She also received the Jeff Norton Award for best actress in a Comedy for Shipwrecked! (Gorilla Theatre), was nominated by Broadway World as best actress for Almost an Evening (Jobsite) and was nominated as best featured actress by Theatre Tampa Bay for her roles in Gnit (Tampa Rep) and 7 Homeless Mammoths Wander New England (American Stage). Jonelle is a proud graduate of Florida School of the Arts with an AS in Acting, a long time cast member of the sketch comedy troupe Some Sort of Show and was featured as a Banana Nut Muffin on the TV and in the TBT.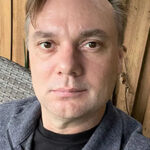 Brian Matthew Shea (Edward Hyde/Sir Danvers Carew/Inspector/O. F. Sanderson/Richard Enfield) is pleased to be returning to the stage with incredible Jobsite Theater. A four-time recipient of Creative Loafing's "Best Of The Bay" in performance. His previous Jobsite credits include Henry V, Hand to God, Dancing and Lughnasa, A Skull In Connamara, The Tempest, The Lonesome West, The 39 Steps, Dracula and many more. He dedicates his performances to his beloved late parents, Peter and Pat Shea.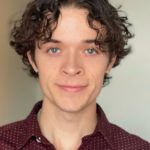 Blake Smallen (Edward Hyde/Dr. H. K. Lanyon/Police Doctor/Surgical Student) is a student studying theater and mass communication at the University of South Florida. His previous work includes Cabaret (USF), The Hundred Dresses (Innovocative Theatre), and The 25th Annual Putnam County Spelling Bee (USF). When not acting, Blake enjoys making music and writing.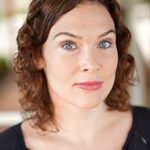 Nicole Jeannine Smith (Edward Hyde/Gabriel Utterson) is an independent theater artist who has recently returned to Tampa, FL after pursuing an MFA in Acting at West Virginia University. Previously, she spent a few years traveling between Tampa and Cincinnati pursuing acting opportunities. In the Spring of 2017 and 2018, Nicole served as the Assistant Producer for the first two years of the Tampa International Fringe Festival. She has spent the majority of her professional acting career working in theaters across the Tampa Bay Area after graduating from the University of South Florida with a BA in Theatre Arts in 2006. Some of her favorite roles in Florida include Marmaduke Bonthrop Shelmerdine Esquire/Ensemble in Jobsite's Orlando, Bessie in Urbanite Theatre's production of The Drowning Girls, and Agnes in Stageworks Theatre's The Divine Sister. In 2014, Nicole won a Creative Loafing "Best of the Bay" award for her solo performance of 4.48 Psychosis directed by Giles Davies at Jobsite. She also proudly serves as an Artistic Associate for Jobsite. Visit her at www.nicolejeanninesmith.com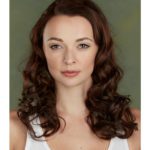 Taylor Tveten (Elizabeth Jelkes) is thrilled to be making her Jobsite debut!  Originally from St. Petersburg, FL, Taylor grew up performing in shows locally at St. Pete Little Theatre, Tampa Preparatory, and the Patel Conservatory. Taylor's passion for performance led her to pursue conservatory training, acquiring her BFA in Musical Theatre from The Conservatory of Theatre Arts at Webster University in Webster Groves, MO.  Taylor was the 2020 2nd Place National Competition Winner in Musical Theatre (1st Place St. Louis Regional Winner) with the NSAL.  Regional credits include: The Sound of Music (The Muny); Pride and Prejudice (The Rep of St. Louis); My Fair Lady (Ozark Actors Theatre); The Little Mermaid (Variety Theatre); Light the Lights! (Variety Theatre); SHE, A Radio Play (ERA Theatre); and Steel Magnolias (St. Pete City Theatre).  Other credits include: The Collegiate Premiere of Deadly, The Musical, directed by Broadway's Caesar Samayoa (Emeline); Bright Star (Alice); Urinetown (Penelope Pennywise); and Love's Labour's Lost, The Musical (Katherine).  Taylor would like to thank her wonderful family for their unending support and love, the incredible team at Jobsite, and audiences for being a part of bringing live theatre back to the stage!  Special shout-out to David Mann at Tampa Prep for fostering my love of theatre! www.TaylorTveten.com @TaylorTvetenOfficial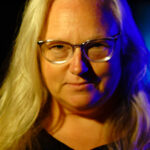 Jo Averill-Snell (Light Design) is delighted to work again with Jobsite. Regional theater audiences may have also seen her designs at freeFall, HCC Ybor, Stageworks, Tampa Rep, and Urbanite Theatre. Jo is the Artistic Director for Tampa-based literary performance troupe Improbable Athenaeum. She is a graduate of USF's theater program. Love and thanks to husband (and actor/playwright) Ned Averill-Snell and our family.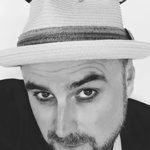 Rob Broadwater (Sound Design) has been a longtime friend and occasional collaborator with several Jobsite alumni since their early '90s undergraduate days together at USF. He returned to Tampa in 2016 after over 20 years in the UK and is proud to again be part of the local Bay community. Previous VO work for Jobsite includes the voices of Big Brother in 1984, and KJAVA radio in The March of the Kitefliers. After a hands-on 2018 visit to the MOOG factory in Asheville NC, Rob has taken a 'no screens' approach to sound creation in an attempt to stay sane indoors during the pandemic.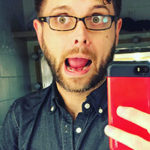 Matthew Ray (Production Stage Manager) has been with Jobsite since 2012 when he came on board as the company stage manager. He has worn many hats through the bay area including stage management (Jobsite, Stageworks, A Simple Theatre), directing (Almost an Evening, Stageworks: Tampaworks, TampaRep: TampaWright, Musings of a Postmodern Romantic), and designing (Jobsite, TampaRep). He would like thank his friends and family for their continued support throughout the years, and continually thankful to David Jenkins for his unwavering support and encouragement.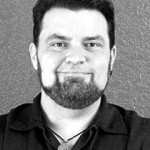 Brian Smallheer (Scenic Design/Technical Director) received his education from Harrison Center for the Visual and Performing Arts, Polk Community College (Visual Arts), and University of South Florida (Theatre Design). He has been an Artistic Associate and designer for Jobsite since 1999. As a designer for Jobsite, his work has received two Best of the Bay awards; Best Lighting Design for Einstein's Dreams (2011) and Best Local Set Designer (2014). He also received BroadwayWorld's Best Set Design for Time Stands Still and Return to the Forbidden Planet. Other select design credits include Shockheaded Peter, Henry V, Hand to God, DOUBT: A Parable, A Skull in Connemara, LIZZIE, Lebensraum, Annapurna, Orlando, Twelfth Night, Macbeth, Mindgame, Picasso at the Lapin Agile, boom!, The Lieutenant of Inishmore, The March of the Kitefliers, Gorey Stories, subUrbia and Dracula. In what little spare time he has, Smallheer pursues his passion for visual arts by doing photography and painting. More info at his website bms-designs.com.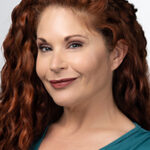 Katrina Stevenson (Costume Design) costumes have been seen recently onstage with Jobsite in Shockheaded Peter, Henry V, Hand to God, DOUBT, A Midsummer Nights' Dream, The Complete Works of William Shakespeare (abridged), Hedwig and the Angry Inch, and Dancing at Lughnasa. Her work has also been seen here in the Jaeb with Straz Center productions of SHOUT! The Mod Musical and A Tuna Christmas, at American Stage in Strait of Gibraltar, Stageworks' The Elaborate Entrance of Chad Deity, and St. Petersburg College in Pippin, Medea, Noises Off, and Urinetown where she is also an adjunct professor of Theater Arts. Her designs have earned her Best of the Bay awards from Creative Loafing, Outstanding Costume Design awards from Theatre Tampa Bay and BroadwayWorld Tampa. Katrina holds an MFA in Acting from the University of Florida and a BA in Theatre Arts from the University of Northern Colorado. When not at the theatre, Katrina enjoys flying on Aerial Silks and running after her dogs Tink and Sherlock.