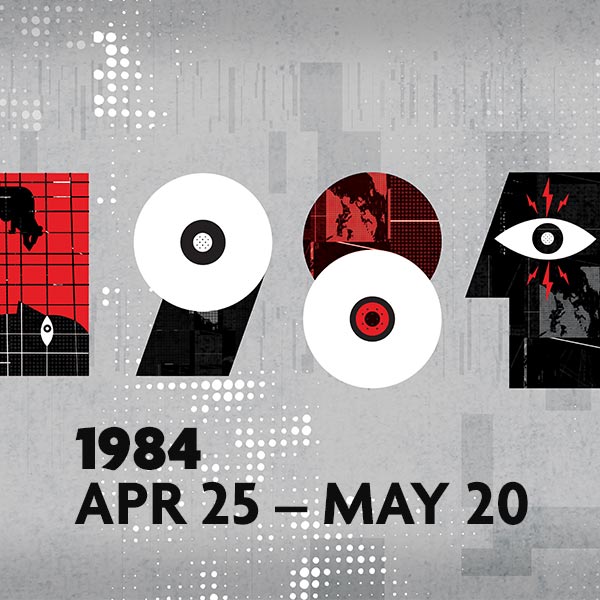 1984
Adapted by Michael Gene Sullivan from the novel by George Orwell
Directed by Shawn Paonessa
Apr. 27 – May 20, 2018
Thu. – Sat. 8pm, Sun. 4pm
Preview Performances: Apr. 25 – 26 | Wed. – Thr. 8pm | Tickets: $18
Special Matinee – 10:30am, Tue., May 8. All seats $11.50
Shimberg Playhouse, Straz Center for the Performing Arts
Media
Cast & Crew
Patron Reviews
Season
Season Tickets
Theatre Tampa Bay Award
Theatre Tampa Bay Nominated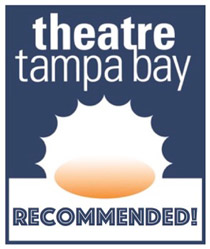 a chilling adaptation … Michael Gene Sullivan's [1984] engages audiences … the result by Jobsite Theater provokes thought in significant ways … Giles Davies turns in a marvelous performance as Smith. – Tampa Bay Times
It's a foregone conclusion that this is a play worth seeing, because it's an adaptation of George Orwell and because it's Jobsite … divinely performed scenes on a thoughtfully crafted set that offers you a perfect theatrical experience – Creative Loafing
1984 warns us with the story of Winston Smith, a small cog in the giant machine-state of Oceania. Physically and mentally under the omnipresent eye of Big Brother, Winston has been caught struggling for scraps of love and freedom in a world awash with distrust and violence. With the brutal "help" of four Party Members, Winston is forced to confess his Thoughtcrimes before an unseen Inquisitor and the audience – who act as a silent witness.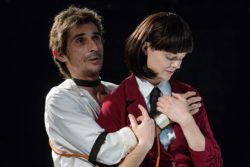 This ferocious and provocative adaptation of one of the most prescient works of literature was commissioned in 2008 by the Actor's Gang under the direction of the Academy Award winning actor, director, screenwriter, and activist Tim Robbins. Jobsite has history here, having previously produced the Actor's Gang/Tim Robbins play about the onset of the Iraq War, Embedded, in 2008 to high acclaim. With 1984 Jobsite follows up on the success of The Tempest's matinee field trips for schools, this one specifically for high school audiences.
This adaptation of 1984 should not be confused with the one that ran last year on Broadway by Robert Icke and Duncan Macmillan.
In addition to the 17 regularly-scheduled mainstage performances we have made 12 weekday matinees available for high school students. Please call 813.222.1047 to learn more about our education outreach opportunities or to book your group of 10 or more!
1984 runs approximately 2 hours and 5 minutes including the 15 minute intermission.
Thank-you!
1984 is made possible in part by a gift from Hal Freedman and Willi Rudowsky.
"Art often serves as a mirror to its society, but will we reach a point in the Trump era at which we're suffering from oversaturation and dystopia fatigue? Perhaps, but [1984] remains timely – and terrifying." – Denver Post (2018)
Why We Chose It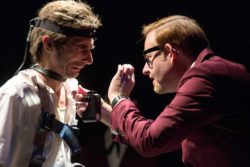 If you can read this, you're fortunate enough to not live in an Orwellian society. But it is vital to realize that as Orwellian societies have existed (Hitler's Germany) and exist today (North Korea), no society was ever borne to become Orwellian. At some point, governments pressed a little here and pushed a little there, asking their populace to trade liberties for securities, until one day, there were no liberties left to secure. The question is, how comfortable are we with our society, where is the difference between patriotism and blind nationalism, and what are we willing to pay for the preservation of our homeland?
Why It's For You
It's easy to think this is a political piece, and to an extent it is, but 1984's inherent social and human concerns are just as relevant today as they were five or 15 years ago. Maybe you've read 1984. Maybe you've seen a film adaptation. However, neither of those hold a candle against being 10 feet away from it in a live theater. You will not forget this experience.
About the Playwright
Michael Gene Sullivan is an award winning actor, director, and playwright. Based in San Francisco, Michael's plays have been produced at theaters throughout the United States, in Greece, England, Germany, Scotland, Spain, Columbia, Argentina, Canada, Mexico, as well as at the Melbourne International Arts Festival (Australia), the International Festival of Verbal Art (Berlin), The Spoleto Festival, (Italy), and the The Hong Kong Arts Festival. For the past 17 years Michael has been Resident Playwright for the Tony and OBIE award-winning (and despite its name never, ever silent) San Francisco Mime Troupe, where he has written or co-written over 20 plays. He is also a Resident Playwright for the Playwrights Foundation, and was awarded a 2017 artist residency at the Djerassi Arts Center. Michael's non-Mime Troupe plays include the award-winning all-woman political farce Recipe, Red Carol, his critically-acclaimed one person show, Did Anyone Ever Tell You-You Look Like Huey P. Newton?, and his stage adaptation of George Orwell's 1984, which opened at Los Angeles' Actors' Gang Theatre under the direction of Academy Award winning actor Tim Robbins. 1984 has since been produced nationally and internationally, is published in the United States, Canada, and Spain, and in 2018 will open in Kiev, Ukraine, and Amsterdam, Netherlands, its fourth and fifth languages.
Shawn Paonessa – Director
Matthew Ray – Stage Manager
Cast
Rob Broadwater – Telescreen Announcer
Nicu Brouillette – Party Member 3
Jennifer Casler – PartyMember 2
Giles Davies – Winston
David M. Jenkins – O'Brien
Derrick Phillips – Party Member 4
Adam Workman – Party Member 1
Crew
Teah Banks – Rehearsal Stage Manager
Giles Davies – Combat Choreographer
Samantha Ehrnman – Charge Artist
Shawn Paonessa – Sound Designer
Derrick Phillips – Combat Choreographer
Brian Smallheer – Scenic and Lighting Designer
Katrina Stevenson – Costume Designer
Via Email
Wow! Wonderful! Very impressed with yesterday's performance. Thanks for letting me spread the word! [David Jenkins'] voice and performance – I have all kinds of thoughts. Excellent – those blazers – Clearwater, and more … – Susanne Nielsen
Wonderfully ugly. Engagingly disturbing. Absolutely human, though almost never humane. – Ben Graffam
Just got back from the theater. The choice of 1984 adaptation was very good. Closeness to Orwell's novel strengthened the play for me. The staging and structure worked well. The casting was up to the high standards of the company (Giles Davies was particularly fine; the ladies behind me jumped with each new spasm). Shawn Paonessa did a great job with the lot of you. Hell, I even liked Katrina Stevenson's pitch before the performance. – George Adriaansen
The kids had a great time! It was truly easy to work with you … we would love to have the opportunity to do a talk-back. – Nancy Bodnar, Fivay High School
My wife and have been attending your plays fairly regularly since Macbeth in 2013. This has to be the best show we have seen yet. All did remarkably well but Mr. Davies' performance was outstanding. So was Jenkins as O'Brien. Keep up the good work. Bravo Zulo. – Charles Jaglinkski
Excellent production, a reminder of some of our fringe societal groups. And a warning. Thanks for your artistic efforts. – Lula Dovi
1984 – exceeded my expectations in every way. Giles Davies was amazing … the rest of the cast were with him all the way. Staging was innovative, effective, and saved us from long monologues. I don't know who to credit for each aspect of this wonderful experience. Thanks to you all in this wonderful company of professionals! – Greg Rosasco
via Twitter
@jobsitetheater's 1984 was so well staged and acted! Humane and scary and moving. They make you a witness and complicit. Will be recommending to friend immediately. #downtowntampa

— ladriaan (@ladriaan) April 29, 2018
Intermission at @jobsitetheater production of #1984 at the @StrazCenter. Orwell remains deeply troubling and thought-provoking. Great stage adaptation by Michael Gene Sullivan. Great performances, too.

— Dr. Scott Paine (@DrScottPaine) May 1, 2018
Of the 32 plays I've seen this year, I can think of very little that comes close to Giles Davies performance in 1984 @jobsitetheater

— Nicholas Hoop (@HoopSwoop) May 5, 2018
Via Instagram
Absolutely riveting performances! – dindagam
Via Facebook
If you have bright teenage kids, take them to see this. If the book made an impact on you when you first read it, go see this. If you're a little concerned about the direction of our country, go see this. – Amy Howland
I had the pleasure of seeing this production [on the final preview]. Superb acting… NYC quality. Round of
applause. – Angela Mirabole
Incredible performance! Bravo. May be the best I've seen from Jobsite. – Savanna Langford
Congrats to all involved in this intense and powerful production of 1984. Caught the final preview last night. Don't miss it. – Hugh Timoney
… there's a chilling adaptation of 1984 going on in the Shimberg. If you know the book, you'll be surprised and excited by the refracted way this stage version goes at it. If you don't know the book, you're gonna get smacked hard. Either way you're going to experience an intense, moving, timely, striking evening at the theatre, sharply directed by Shawn Paonessa and beautifully played by a crack ensemble. It's Advanced Theatregoing, it's not for the Nunsense crowd, but if you're afraid to be profoundly affected in a theatre I honestly don't know why you'd ever see anything. So see this. – Ned Averill-Snell
That was an amazing performance! Do yourself a favor and go see it. – Grace Givens
I couldn't agree more! Last night's show was fantastic! Giles was absolutely incredible. – Matt Eide
Amazing production ! Don't miss it. – Brenda Ordetx
We saw an amazing production of George Orwell's 1984 at Jobsite Theater in Tampa. Orwell's message of mind control, double-speak, and totalitarian dictatorship has never been more relevant. The actors were spot on. David Jenkins really knocked it out of the park with this one!. – Sally Bosco
1984. Mind F**k of Epic Proportions!!! Thank you (???) for a wonderful evening of theater. No, of course, brilliant, as always, Jobsite … Good to see you all continuing to do the fantastic and inspirational work you do. Now get the f**k out of my head!!!! – Greg Thompson
That was absolutely incredible – Sara Jo
Blog Us
Want to add a groovy graphic like this to your blog or website?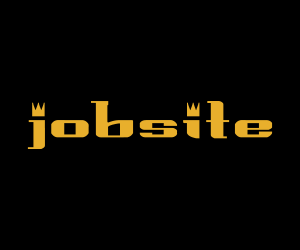 Jobsite provides a variety of cool banners that you can put on your website. AND they update automatically. So just drop it in once, and when we're ready for our next show, we'll update the graphic, and it'll automatically update on your site too!
Share: