Jobsite Theater is an incorporated professional, nonprofit 501(c)(3) theater company that has been serving the Tampa Bay area since 1998. Most of our productions occur in the Shimberg Playhouse at the David A. Straz, Jr. Center for the Performing Arts, Tampa, where we are the official theater company in residence.
The Straz Center
1010 N Macinnes Pl
Tampa, FL 33602
Jobsite has become a dominant regional presence through professionally produced daring and unique programming, by nurturing area talent through our Ensemble Program, and by an unwavering commitment to the energetic creative class that we've served since our first steps.
One of our areas of emphasis is the creation of new work and exploration of texts often overlooked in the hustle to produce "what's hot" coming out of New York. The 2018-19 season marks the twentieth year we've dedicated an entire mainstage production to a non-published play (Edgar & Emily). Each season also hosts new or otherwise under-produced works by writers from around the world.
Jobsite is committed to community engagement on multiple levels. We provide weekday matinees and in-class outreach opportunities to middle and high schools, and also regularly work with colleges across five counties. We regularly partner with community organizations and host a series of public forums to bring people together in dialogue on a wide range of topics.
Mission Statement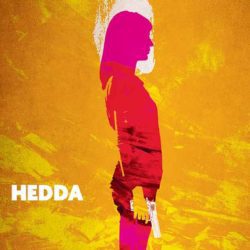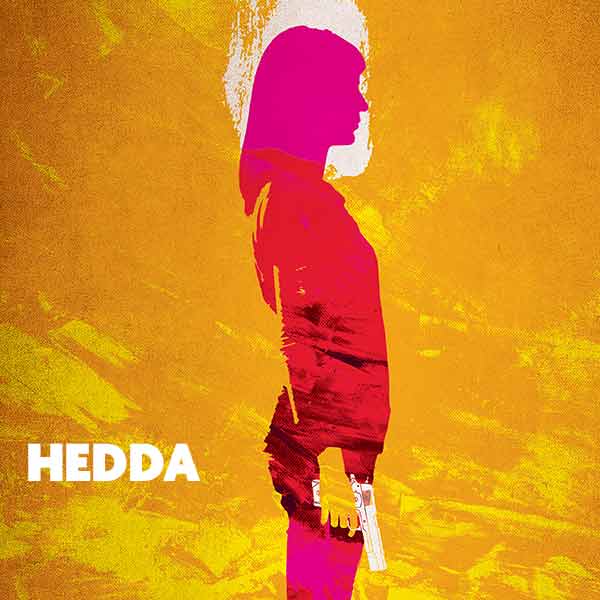 Jobsite Theater is dedicated to the creation of socially and politically relevant theater and the pursuit of performing it to the broadest possible audience. Jobsite has established and will continue to evolve a collective of like-minded artists, creating a supportive environment where artists of all disciplines may experiment, hone, and apply their skills in a professional laboratory environment.
Through all forms of theater – experimental, new plays, contemporary masterpieces, and the classics – as well as our extensive educational and community outreach programs, Jobsite hopes to inspire audiences to become not just consumers, but true citizens.

Jobsite is a proud member of Theatre Communications Group.
History
Going Forward
"Jobsite represents the young, culturally exciting energy that the City of Tampa craves for downtown…. They have been working relentlessly to make their vision of Tampa as a vibrant art center a reality…. Tampa is proud to have Jobsite Theater as a vibrant part of our expanding role as a center for excellence in the arts." – Tampa Mayor Pam Iorio
"A strong cultural community is critical… and Jobsite Theater ranks high among those institutions that make Hillsborough County a better place to work and live." – Art Keeble, Executive Director, Arts Council of Hillsborough County
"…little by little, Jobsite Theater has been turning into the most consistent, most dependable company in the Bay area." – Creative Loafing, 1/21/09
Jobsite began out of contacts made while David M. Jenkins and Michael Caban studied at the University of South Florida. Several years after their graduations, contact was re-established between the two and several other artists were brought on board. In an experimental attempt, Jobsite put together their first two plays in a double-bill that was performed at the intimate Silver Meteor Gallery in Ybor City. They were stunned at the critical acclaim and community support they garnered in their debut and immediately began to plan a full season and organize themselves as a company.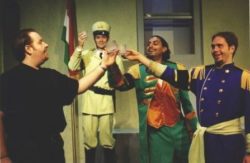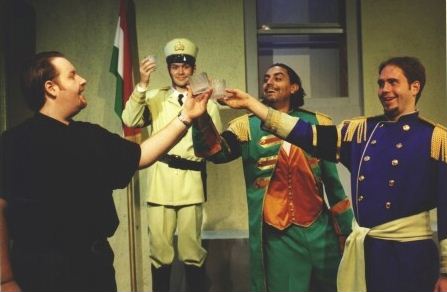 In 1999 Jobsite performed for the first time at the Straz Center's Shimberg Playhouse (then the Tampa Bay Performing Arts Center's Off Center Theater). That play, Brownbread, ran late nights after another performance but ended up attracting sold-out crowds. Jobsite then split time between the Silver Meteor and the Off Center for the remainder of their first and start of their second seasons. In that 99-00 season, TBPAC President Judy Lisi invited Jobsite to perform Accidental Death of an Anarchist as part of The Center's Play Series. Due to that show's success, Jobsite and The Center partnered on several shows as part of that Play Series including Dracula, Titus Andronicus and The Beauty Queen of Leenane. Encouraged by both the quality work and brisk sales, TBPAC named Jobsite official resident theater company as of the 2003–04 season.
Since that time, Jobsite has continued to produce full seasons of quality, innovative professional theater while attracting thousands of theatergoers into the urban core of downtown Tampa. We have consistently drawn high praise from the press and have been well-represented in regional theater award recognition. In 2008 Jobsite became an official member theater of Theater Communications Group, the league for professional regional theater in America.
Our Core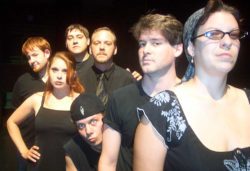 Jobsite was founded as an artist's company, powered by collective of Artistic Associates comprised of artists of all disciplines. Artistic Associates assist in the programming of the season and, with our Board of Directors, ensures the overall health and direction of the organization.
Jobsite works exclusively with regional talent. We've assembled an artistic ensemble currently over 50 members strong who assist in all aspects of theatrical production. Ensemble members are afforded opportunities to produce second stage work in late night slots or at times the theater would otherwise be dark. In 2013 one such project, 4.48 Psychosis, was honored as one of the top nine performances of the year on regional stages and earned a Creative Loafing Best of the Bay Award for Best Reason to Take Theater Seriously.
Jobsite has an internship program where aspiring theater artists in educational programs (and even in some cases those who may be unaffiliated) come to learn through hands-on experience with an opportunity to become an Ensemble Member upon completion of the program. Another unique part of Jobsite's relationship with the Straz Center is that students at their Patel Conservatory also have the opportunity for hands-on training by our artists.
Audience
Jobsite actively pursues  young adults  and built the company with a strong following of people 18 – 35; however, the quality of Jobsite's innovative theatrical productions attracts audiences of all ages and backgrounds. We have developed a strong base of support from a loyal community following, drawing sold-out houses to a majority of our performances. Jobsite serves over 15,000 people a year with 5,000 or more followers on most forms of social media.
Awards
Jobsite has consistently earned high praise including over five dozen Best of the Bay awards from Creative Loafing including Best Theater Company (2004, 2006, 2007, 2009, 2010, 2015), Best Artistic Direction (2008, 2013), Best Costumes, Best Set Design, Best Hilarious Theater Production, Most Impassioned Theater Fans, Best Theater Rockers, Best Play, Best Director and Best Actor/Actress. We regularly get significant honors from the BroadwayWorld.com Regional Awards.
In 2008 we were awarded the Urban Excellence Award from the Downtown Tampa Partnership. In 2014 Jobsite Theater was honored to be among the finalists for the prestigious American Theatre Wing National Theatre Company Award, an honor no other Tampa Bay area company can claim. Read more about our distinctions.
Funding Support
The organization receives support from ticket sales, contributions and in-kind trade. Current Jobsite season sponsors include Creative Loafing, Illumination Advertising, Gobioff Foundation, Saunders Foundation, Barrymore Hotel's Waterworks Bar & Grill, Rollin' Oats Tampa, Arts Council of Hillsborough County, Hillsborough County Board of County Commissioners, and the State of Florida Division of Cultural Affairs.  Interested parties may contact Jobsite for more details on giving opportunities.
Long-Range Plan
We intend on continuing on as resident theater company of the Straz Center for years to come.
Our goal is to produce a full season of six to eight shows per year, with one slot dedicated to a new script and the hope that two more productions per year be either unpublished or new works to the region.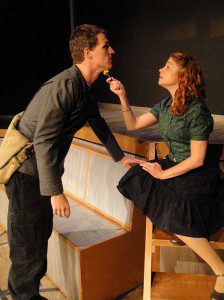 We will continue to evolve our Ensemble Program to consistently provide a second stage for new voices to take the forms of staged readings, late night stagings, solo cabarets, one-person shows and more.
Over the next five years, Jobsite seeks to dramatically increase funding at every level, particularly private and corporate donors as well as grants, with the hope to hire both a production manager and business manager, This will elevate our staff to three full-time positions and one part-time position, with the other 50 to 60 hires a year coming in the form of independent contractors.
Jobsite wants to ensure sustainability as an artistic home to create a strong, cutting-edge regional theater in the Tampa Bay region. We strive to be a safe place for both the theater professional and aspiring theatrical artists. While we will continue to work with unions like Actor's Equity Association and United Scenic Artists, we have no interest in becoming a union-only theater.
We firmly believe in the importance of the artist-administrator, individuals who can provide full-time service to the company both on and off the stage. We are committed to finding and keeping these individuals, in turn enriching not only the company but the entire region.
Share: