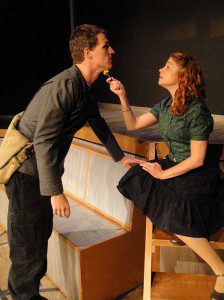 Jobsite has worked with middle school, high school, and college-level student groups since our 2001 production of The Complete Works of William Shakespeare (abridged). Since then, we've grown from simply offering student groups of 10 or more substantially reduced rates and a post-show talk with the actors to a full program that boasts over 75 educational outreach events in the 2017–18 season that will reach upwards of 10,000 students.
In 2012, we began offering daytime matinees to school groups (Fahrenheit 451, Much Ado About Nothing). In 2016, we entered a partnership with both the Community Foundation of Tampa Bay and the Saunders Foundation that allowed us to double the number of those performances, reaching thousands, while getting over 500 of them into the theater at absolutely no cost. In 2017 we entered an arrangement with Hillsborough County Public Schools, the Arts Council of Hillsborough County, and the Straz Center/Patel Conservatory to become part of their Field Trips program.
Recent Education Partners
With each production we also offer a robust study guide that hits relevant curriculum points by grade level, extending far past theater into reading and literacy, history, and the social sciences. We also offer pre- and post-show visits (sometimes even both) to the schools, sending teaching artists involved in the production to offer custom-built workshops, demonstrations, or lectures to help further enrich the overall experience.
These on-site visits can be designed just for the students coming on the field trip or be for much larger groups (by subject, by grade, or even the whole school.)
Share: