By William Shakespeare
Directed by David M. Jenkins
Mar. 13 – Apr. 7, 2013
Thu. – Sat. 8pm, Sun. 4pm
Tickets: $28
Shimberg Playhouse, Straz Center for the Performing Arts
Considered one of the most popular and charming of Shakespeare's comedies (and one of the very few where the female lead doesn't have to dress up at some point as a dude), Much Ado About Nothing features the classic couple Benedick (an arrogant and confirmed bachelor, played by Ned Averill-Snell) and Beatrice (his favorite sparring partner, played by Roxanne Fay).
While the feisty couple hides their infatuation beneath witty barbs, young love blossoms as Hero (Betty-Jane Parks) and Claudio (J. Elijah Cho) race to the altar. When the just Don Pedro's (Matt Lunsford) wicked brother Don John (Michael C. McGreevy) conspires to break up the wedding, will false accusations and misunderstandings prevent the young couple's happy ending? Will Dogberry (Spencer Meyers) and his misfit watch save the day? Witty wordplay, passionate poetry and clever plot twists make this the perfect romantic evening to share love and laughter.
Jobsite is presenting Shakespeare's text of Much Ado About Nothing, a distinction the company learned needed to be made in 2011 when producing The Taming of the Shrew – some fans assumed it was a modern language re-telling as the company did with the mob-musical Pericles. The Much Ado script has been shortened slightly and some of the smaller characters have been combined to be played by a single actor, not at all uncommon in the modern theater. Conceptually, the production is set in a timeless fantasy land reminiscent of films such as Terry Gilliam's Baron Munchausen or Neil Gaiman's Stardust.
Jobsite's production is surrounded by a few interesting coincidences. In July of this year, filmmaker Joss Whedon's (The Avengers, Serenity) anticipated black and white indie project turned full-blown studio release of Much Ado hits screens. Jobsite Producing Artistic Director David Jenkins (who directs) at first considered his casting of Beatrice and Benedick as slightly non-traditional, as the roles are typically filled by younger actors than he hired, but in December his thunder was stolen when it was announced that this year Vanessa Redgrave (75) and James Earl Jones (81) will play the famous pair at London's Old Vic.
In addition to Shrew and the Popp-Paonessa-Gobioff adapted Pericles, Jobsite has had success with Shakespeare's Titus Andronicus and of course their multiple sold-out engagements of The Complete Works of William Shakespeare (abridged) dating back to 2001.
Student Performances
Teachers: we have a daytime performance of Much Ado About Nothing on Mar. 28 at 11am at a greatly reduced student group rate.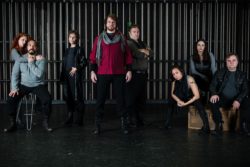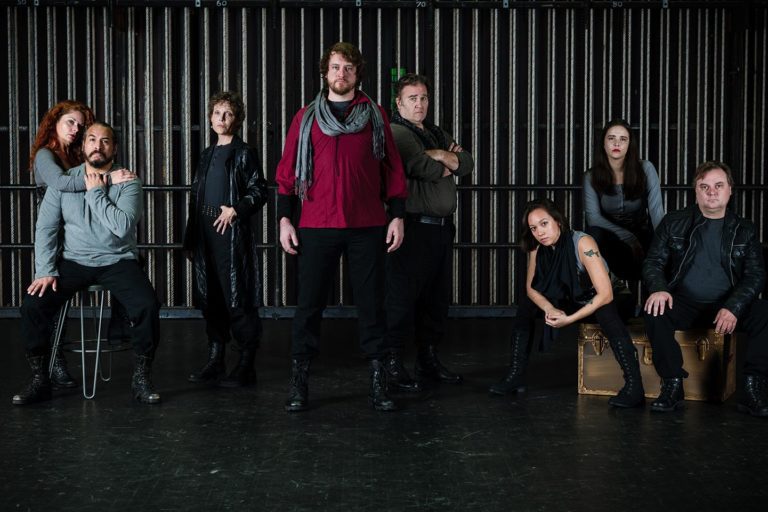 In 2002 we produced a bloody, raw, and ambitious version of Titus Andronicus as our first full-length foray into the classics. We picked a lesser-known
Read More »
David M. Jenkins – Director
Matthew Ray – Stage Manager
Cast
Ned Averill-Snell – Benedick
J. Elijah Cho – Claudio/Conrade
Jason Evans – Borachio/Antonio
Roxanne Fay* – Beatrice
Matt Lunsford – Don Pedro/Verges
Michael C. McGreevy – Don John/Watchman
Spencer Meyers – Balthasar/Dogberry/Friar Francis
Alvin Jenkins – Leonato/Watchman/Sexton
Betty-Jane Parks – Hero/Watchman
Katrina Stevenson – Margaret/Watchman
Crew
Tierra Bonser – Dramaturg
Greg Newcomb – Poster Artist
Brian M. Smallheer – Scenic/Lighting Designer
Dave Steinweg – Sound Desginer
Katrina Stevenson – Costume Designer
* Member of Actors' Equity Association
Blog Us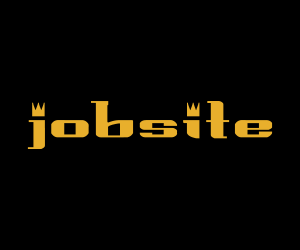 Want to add a groovy graphic like this to your blog or website?
Jobsite provides a variety of cool banners that you can put on your website. AND they update automatically. So just drop it in once, and when we're ready for our next show, we'll update the graphic, and it'll automatically update on your site too!