The Complete Works of William Shakespeare (abridged) [revised]
By Adam Long, Daniel Singer & Jess Winfield
Directed by Katrina Stevenson
Mar. 15 – Apr. 7, 2019
Thu. – Sat. 8pm, Sun. 4pm
Tickets*: $29.50
Preview Performances: Mar. 13 – 14 | Wed. – Thr. 8pm | Tickets: $18
Shimberg Playhouse, Straz Center for the Performing Arts
* Single tickets start at $29.50. Prices for individual performances will increase based on demand.
Media
Cast & Crew
Patron Reviews
Season
Season Tickets
An exceptional production with a stellar cast … one I will remember for many years to come. – BroadwayWorld
Jobsite still has the timing, wit and versatility to pull off a hectic satire — now with even more polish and finesse … they got me silent-laughing so hard that I even cried a little. – Tampa Bay Times
Let's get right to the point: If you're a local-theater fan who's got a friend who loves every type of live performance experience except local theater, saying it's just not their thing, this is probably the first show you need to drag them to … From the first minutes of the fourth-wall-breaking intro [it] was evident that the three guys onstage were determined above all to entertain the shit out of the audience. – Creative Loafing
Winner!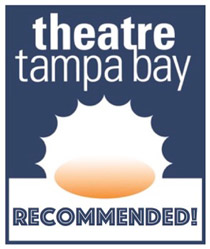 Thank You!
The Complete Works of William Shakespeare (abridged) is made possible in part by a generous gift from J. Kevin Poitras, MD.
What It's About
Having shrunk Shakespeare's wit and wisdom into manageable morsels of madness, Jobsite returns to tear around the stage in doublets and Chuck Taylor's on a riotous romp through all 37 of Shakespeare's plays plus the sonnets all in an hour and a half.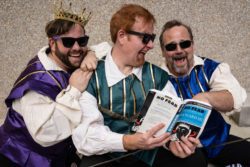 In this cult hit, the full works of the Bard have been edited into just 90 minutes. All 16 comedies are distilled into one short sketch and the historical plays are performed as a football game. The complete works of William Shakespeare in one evening? Ambitious? Foolhardy? Insane? Absolutely!
Audiences will be forced to throw out every preconceived notion of Shakespeare as Tampa's original Bad Boys of Abridgment condense his complete works into a single theatrical experience.
Why It's For You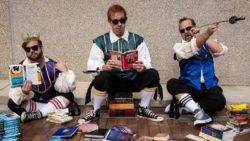 You really like to watch old white guys sweat profusely and embarrass themselves. You struggled through high school or college lit classes and have been dying for someone to savagely make fun of all this stuff. You didn't struggle at all through lit classes and would like to come laugh louder than anyone else at the dank inside references. But really it's probably just because you've had a week and wanna laugh for an hour and a half non-stop at three doughy sweaty white dudes.
The actors are unwilling to let any member of the audience have a bad time, and their simple joy is infectious. They are absolutely fearless and unending fun. – St. Petersburg Times
Why We Chose It
This is one from the vaults, for sure. As we celebrate our 20th anniversary this is a play that certainly stands out — at one point we even called it "The Franchise." We performed it often between 2001 and 2005 (not to mention the other (abridged) titles) and for many of our fans these shows are how they discovered us. We could have revived a lot of productions from out past but not many would be as meaningful and even fewer would keep the 20th anniversary party going the way this does.
We're also excited that this is a [revised] script that takes some of the best gags and updates from productions all over the world (of course we look forward to adding even more of our own)!
Production History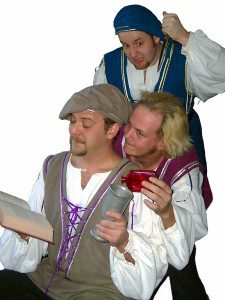 This production, originally produced by Jobsite in March of 2001, played to capacity crowds in the Shimberg Playhouse at the Tampa Bay Performing Arts Center for a 3-week run and has since been brought back in Tampa three times for one-night or one-weekend command performances – all of which have sold out. Jobsite also took the show in 2005 to Largo Cultural Center along with America (abridged) for a weekend. It was named a Top 10 production of 2001 by both Weekly Planet and The Tampa Tribune and continues to be one of Jobsite's most memorable and popular productions.
Think one part Three Stooges, one part Saturday Night Live, and one part fraternity talent show … they do it so exuberantly, with so much delight in every cascade of spittle, every crotch-grab and pratfall, that you can't help but have a good time watching them. – Weekly Planet
Katrina Stevenson – Director
Teah Banks – Stage Manager
Cast
David M. Jenkins – David
Spencer Meyers – Spencer
Shawn Paonessa – Shawn
Crew
Salem Brophy – Assistant Stage Manager
Jeremy Douglass – Composer
David M. Jenkins – Sound Designer
Brian Smallheer – Technical Director
Katrina Stevenson – Costume Designer
2001 – 2005 Touring Cast & Crew
Katrina Stevenson – Director
Summer Bohnenkamp – Stage Manager
Cast
Jason Evans – Jason
David M. Jenkins – David
Shawn Paonessa – Shawn
Crew
Katrina Stevenson – Costume Designer/Props Master
Email
The show last night was absolutely brilliant. We enjoyed it very much. Can't remember when I laughed so hard. – Mark Axley
What a wonderful night Saturday was. The three of you had such a good interplay of timing and antics, that my wife and I were laughing all the way through. On top of that, you all looked to be having such a great time. Funny theatre can hit me several ways, and I know I tend to like drama more than comedies, but when it is clear that the cast is having as much fun as the audience, the whole thing just feels right. – Ben Graffam
Facebook
We attended the second preview … and I didn't know what to expect…. A little knowledge of Shakespeare might help but certainly isn't required. Between the script (or "outline", if you want to call it that), the wonderful actors and the intimacy of the theatre, it was one of the funniest shows I've seen (and I've seen a lot of standup and Second City)…. I would highly recommend this for anyone wanting (or needing) a fun night out. -Darren Clauws
Jobsite always comes through with the best talent and productions. This show has to be one of the most delightful, smart and non-stop hilarious productions yet! The three of you were fantastic. What energy! Loved it. – Brenda Delgado Ordetx
I saw the preview night performance last night. These guys are hilarious!! If you're thinking about missing it because you think you don't know enough about Shakespeare, DON'T. Another great show by Jobsite Theater – Amanda Patanow
We enjoyed it all so much. Inspired silliness – just what we need in this world!! – Margaret Nolan Mays
I was there for opening night and we loved it! So hilarious and incredibly well done. – Lorinda Toole Gamson
Saw it years ago and again yesterday and it was great. Loved how it had current day references – Sharon Smallheer
The most recent production of The Complete Works of William Shakespeare (Abridged) was absolutely brilliant. – Mark Axley
Recommended! Great production. – Rhonda K
Great performance. I laughed the entire show. – Anthony Tarosky
This was my first time at Shimberg Playhouse and my first time seeing The Complete Works of William Shakespeare (abridged) and it was great! The playhouse is small and cozy. I thought all the guys did an excellent job but Spencer was my favorite. That dude is absolutely hilarious!! – Joni Ann
Last night I laughed and laughed … I highly recommend Jobsite Theater's The Complete Works of William Shakespeare (abridged) [Revised]! My name is now Bob and I like to run back and forth over and over again. – Jonathan Harrison
Fantastically funny! – Guesna Dohrman
Twitter
If you thought anything Shakespeare couldn't be funny, methinks you should get thyself to @jobsitetheater for their latest production of "The Complete Works of Shakespeare (Abridged) (Revised) now playing through April 7!

— Linda Brandt (@gel_17) March 18, 2019
I laughed so hard I cried! #JobsiteRocksTheBard

— Jennifer Madeline (@jennifermcaputo) March 19, 2019
How many times have you left a theater with your cheeks hurting from laughing too much?If the World is putting your mind in a dark place, you owe it to yourself to see The Complete Works of William Shakespeare (abridged) [revised]. It is is good for what ails ya. – @MTClarity
Blog Us
Want to add a groovy graphic like this to your blog or website?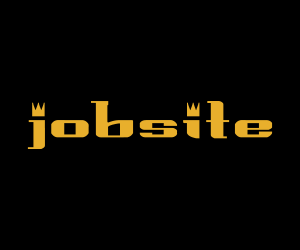 Jobsite provides a variety of cool banners that you can put on your website. AND they update automatically. So just drop it in once, and when we're ready for our next show, we'll update the graphic, and it'll automatically update on your site too!
Share: