The Complete History of America (abridged)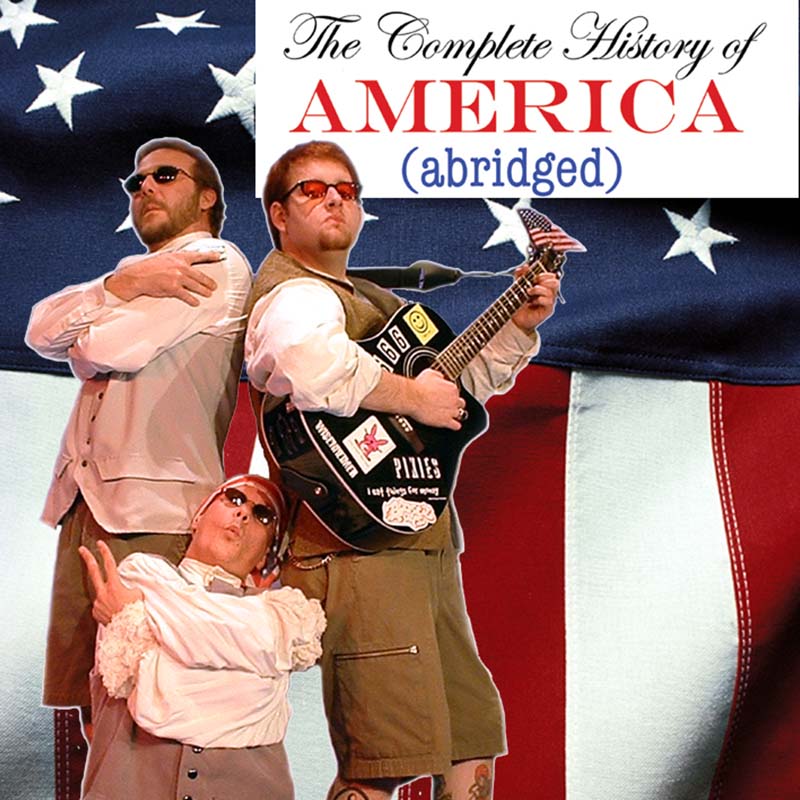 The Complete History of America (abridged)
By Adam Long, Reed Martin & Austin Tichenor
Directed by Katrina Stevenson
Shimberg Playhouse, Straz Center for the Performing Arts
Weekly Planet Best of the Bay
Tampa's own "Bad Boys of Abridgement" return after critically-acclaimed and sold-out engagements of The Complete Works of William Shakespeare (abridged) and The Bible: The Complete Word of God (abridged) to give Tampa audiences a history lesson that's guaranteed not to be short on laughs with The Complete History of America (abridged).
From Washington to Watergate, from the Bering Straits to Baghdad, from The New World to New World Order, Jobsite's three 900-lb cultural guerillas will take you on a rollercoaster ride through the glorious quagmire that is American History. With all the turmoil and division in today's world, couldn't we all use a good laugh?
The creative team from the productions of Shakespeare (abridged) and The Bible (abridged) – both chosen by Weekly Planet as area Top 10 offerings – collectively tackles controversial questions like: Who really discovered America? How many Democrats does it take to screw in a light bulb? And what the hell is the difference between North Dakota and South Dakota anyway?
If you think you don't know much about history, get in line: Americans are notorious for their willful ignorance of things past. Jobsite insists this shouldn't keep you from the show – in fact it's quite possible you might know even less after seeing the show!
In the tradition of the (abridged) shows, America (abridged) uses a lot of vaudeville and circus humor: giant silly props, goofy wigs, bad musical numbers and – in the great clowning tradition – lots of water! (Bring a poncho or umbrella if you plan to sit in the front!) It's a fast, funny and physical performance with a flair for current events. It's as if the Marx brothers took over a street circus and added dialogue by Jon Stewart. It's new vaudeville imbued with an anarchistic rock 'n' roll sensibility and a healthy dose of satirical commentary.
Jobsite Artistic Director David M. Jenkins thinks this show ideal for today's climate, "Between the rampant nationalism and the recent election, we think it more vital than ever for us to take a step back and show we're capable of laughing at ourselves. It, too, is part of the healing."
Additional material for this production is provided by the Jobsite performers and director. The show – heavily steeped in improv, audience participation and current events – is written loosely enough to keep up with the news of the day. Originally produced by the Reduced Shakespeare Company amidst the Clinton/Lewinsky scandal, the Jobsite cast brings the play up to date to reflect these changed times.
Production History
The Complete History of America (abridged) enjoyed an extended sold-out 10-show run Jan. 7 – 23, 2005 in the Shimberg Playhouse at the Tampa Bay Performing Arts Center where Jobsite is the resident theater company. Jobsite then brought the production to the Largo Cultural Center on April 3, 2005.
Katrina Stevenson – Director
Summer Bohnenkamp – Stage Manager
Cast
Jason Evans – Jason
David M. Jenkins – David
Shawn Paonessa – Shawn
Crew
Katrina Stevenson – Costume Designer/Props Master