The Bible: The Complete Word of God (abridged)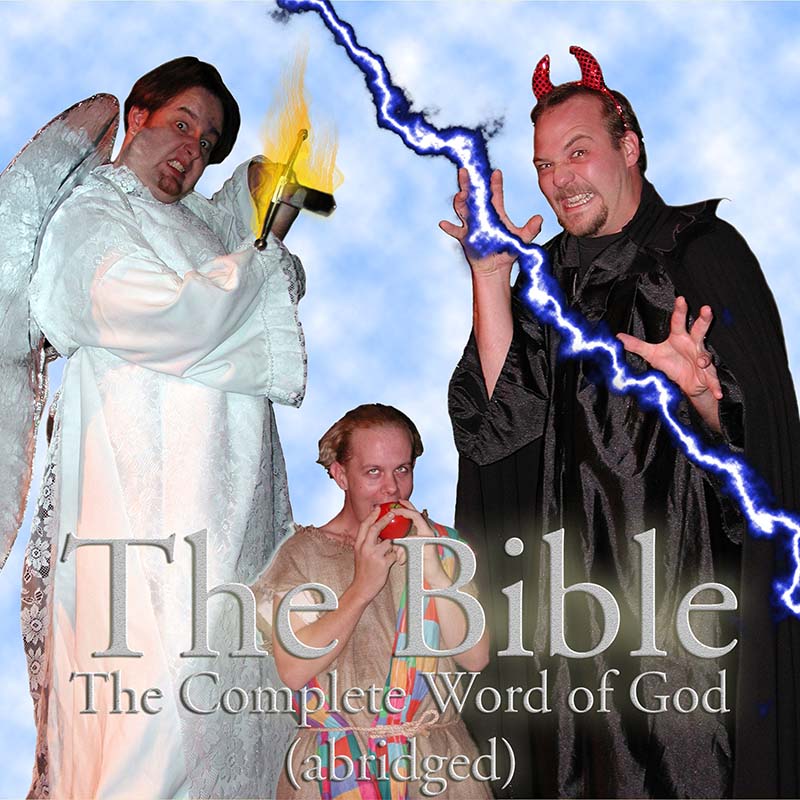 The Bible: The Complete Word of God (abridged)
By Adam Long, Daniel Singer & Jess Winfield
Directed by Katrina Stevenson
Mar. 15 – Apr. 7, 2019
Tickets start at: $29.50
Preview Performances: Mar. 13 – 14 | Wed. – Thr. 8pm | Tickets start at: $18
Shimberg Playhouse, Straz Center for the Performing Arts
The Good Book just got better! The Jobsite Theater is available to tour with a follow-up to their smash-hits The Complete Works of William Shakespeare (abridged) and The Complete History of America (abridged). This time they go through both New and Old Testaments in 90 minutes in The Bible: The Complete Word of God (abridged).
Jobsite gallops from Eve to Exodus through the epistles, the apostles and the gospels via fig leaves and final judgement and explores deep meaningful theological topics such as:
Was Jesus a good carpenter?
Did Adam and Eve have navels?
Did Moses really look like Charlton Heston?
Let the bad boys of abridgement save you from damnation as they deliver chapter and verse in this hysterical tribute to the good book.
The three actors cover 62 characters, including Moses, three not-so-wise men, the 12 Apostles and a few dubious saints. You're guaranteed to howl with laughter as they shuffle madly through props, sight gags, crazy costumes and bad wigs – all at break-neck speed. Enjoy silly songs, wrestling matches, magic tricks and lots of audience participation! Whether you are Catholic or Atheist, Muslim or Jew, Protestant or Purple People Eater, you will be tickled by this romp through old time religion.
Some might well wonder: is The Bible (abridged) offensive? Jobsite Theater's David M. Jenkins insists the show is irreverent, but not blasphemous. "I think anyone who would be offended by it would most likely see the title of the show and decide it's not for them anyway," he adds, "but it truly is all in good fun." In the 3-week sell-out run at the Tampa Bay Performing Arts Center, Jobsite never received a complaint.
Katrina Stevenson – Director
Summer Bohnenkamp – Stage Manager
Cast
Jason Evans – Jason
David M. Jenkins – David
Shawn Paonessa – Shawn
Crew
Katrina Stevenson – Costume Designer/Props Master