By William Shakespeare
Adapted and directed by David M. Jenkins
Extended! Jul. 21 – Aug. 14, 2011
Thu. – Sat. 8pm, Sun. 4pm
Tickets: $24.50
Shimberg Playhouse, Straz Center for the Performing Arts
Media
Cast & Crew
Patron Reviews
Season
Jobsite brings back the Bard in pure form with their modern-dress commedia dell'arte inspired, zippy cutting of Shakespeare's battle of the sexes comedy.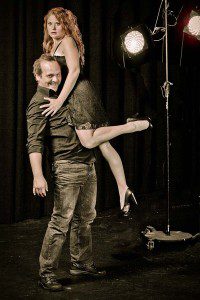 Perhaps one of Shakespeare's best-known and most-debated plays, The Taming of the Shrew centers on Katharina, a woman claimed to be of ill-temper who meets her match in Petruchio, who for the right price will take on any challenge – Kate being no exception. The play has been retooled over the years, most recently in popular culture with the Cole Porter musical Kiss Me, Kate, the film 10 Things I Hate About You and an award-winning episode of Moonlighting.
Often critiqued as mysoginistic and as glorifying domestic abuse, Jobsite Producing Artistic Director David M. Jenkins has chosen to address all of this head-on and make every attempt to offer a feminist staging of the production that stresses mutuality and equality.
"I worked on this show for the entire spring in a class as part of my PhD program," says Jenkins. "I'm bringing a lot of that theory into practice with the way I cut the script as well as the way I plan on staging and working it. I'm not straying from the text, but finding the spaces created by silences, ambiguity, the possibilities afforded by maintaining tensions and by in some cases carrying the comedy to a grotesque degree – all of which allow us places to make commentary without using a sledgehammer. I was inspired in this direction by writings by authors like Eve Sedgwick and Judith Butler."
Jenkins hopes that audiences at the end of the play find a Kate "not conquered, but who has found a kindred spirit along the way as Petruchio learns a lesson from his harsh treatment of her."
Beyond the theoretical foundation underpinning the production, Jenkins' primary hope is of course that people leave the show highly entertained.
"This script has stood the test of time for a reason – it's very, very funny. The stock characters, the broad physical comedy, the wordplay, it's all such great stuff. We're also doing the show in three-quarter staging, so the audience will more so than usual really be part of the action. Add to this the play-within-a-play aspect of the show, and people are really going to be surprised with the festival-like atmosphere in the Shimberg."
Jobsite & Shakespeare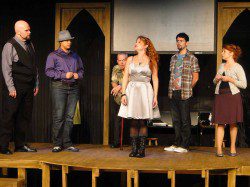 This is Jobsite's second full-length Shakespeare production, the first being their critically acclaimed 2002 production of Titus Andronicus. Jobsite is hardly a stranger though to the Bard.
One of the company's all-time most successful productions is their oft-reprised crowd pleaser The Complete Works of William Shakespeare (abridged).
Joe Popp, Shawn Paonessa and Neil Gobioff recently teamed up to reinvent Pericles as a mafioso-laden rock musical, prompting Jobsite's first appearance Off Broadway at HERE Arts Center.
Media
On the Air
Check out cast members Amy Gray, Shawn Paonessa & Katrina Stevenson discuss the show on WMNF 88.5's Art in Your Ear (Interview starts about 11 min. into the show.)
Related Posts
Cast & Crew
David M. Jenkins – Director
Cast
Katie Castonguay – Bianca / Grumio
Jason Evans – Gremio / Pedant / Vincentio
Jon Gennari – Lucentio
Amy E. Gray – Biondello / Curtis / Widow
Tia Jemison – Tranio / Messenger
Michael C. McGreevy – Baptista
Spencer Meyers – Hortensio / Vincentio
Shawn Paonessa – Petruchio
Katrina Stevenson – Kate
Krystalle Voecks – Stage Manager
Crew
Summer Bohnenkamp – Costume Designer
Bridgette Dreher – Scenic Artist
Alexandra Gonzalez – Props Master and Run Crew
Greg Newcomb – Poster Artist
Brian M. Smallheer – Scenic and Lighting Designer
Patron Reviews
I really did enjoy the show last night. The selection of the cast was really great. Loved Tia J. and was blown away with so many of the cast. The selection of the daughters was so believable. – Jenny Lind
Via Facebook
Let me just say right now, it was a great time, and the cast was phenomenal. I'm always excited to see them perform, because I know that they'll be giving me efforts that rival anything on Broadway. Last night? No exception. They took a good story and made it even better. Do yourself a favor: go see it. Seriously. – Don Waugh
Awesome preview last night – this is a performance to see! – Carolyn Day
Good work on Taming of the Shrew, directed by David Jenkins – Michael LeVan
I introduced two new people to Jobsite… always enjoy sharing my love of theater by bringing people with me, u make it totally worth it ♥ Great job bringing the Bard to 2011. – Mayra Calo
… I had such a good time at the show. Thank you so much for the performance. One of the best things I've seen in Tampa in a long time. Congrats on being awesome! – Matthew Ray
Jobsite's The Taming of the Shrew [was] excellent. Great way to end an amazing season. Looking forward to the next one. – Kim Smallheer
This show is fantastic. If you thought you couldn't *do* Shakespeare, please give this a try. It's a very funny show made all the more enjoyable by the cast. And, no, I am not related to or friends with (yet!) any cast members – just a very satisfied season ticket holder!! 🙂 – Linda Brandt
You people should go. It's a great show with some really strong performances. It was a great take on what to do with the set, and the characters were great. This play is what black box theatre is really all about. – Dave Pritchard
Great show, folks. I truly enjoyed it. – Misha Dawaioser
Had a great time at Jobsite Theater's Taming of the Shrew last night! Go see it! It's BRILLIANT!!! It's Jobsite at its best. – Bob Westphal
Totally awesome show tonight. – Marcie Woolery
Great job on the show!! Shakespeare sounded so familiar at times it was awesome!! – Rose J. Eshay
Via Twitter
Just tamed a shrew @jobsitetheater. Classics never go out of style – @gabef1ores
Blog Us
Want to add a groovy graphic like this to your blog or website?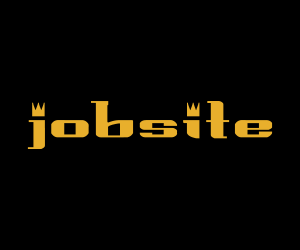 Jobsite provides a variety of cool banners that you can put on your website. AND they update automatically. So just drop it in once, and when we're ready for our next show, we'll update the graphic, and it'll automatically update on your site too!
Share: