By William Shakespeare
Adapted and directed by David M. Jenkins
Oct. 17 – Nov. 3, 2002
Shimberg Playhouse, Straz Center for the Performing Arts
Gallery
Cast & Crew
Season
Winner!
Tampa Tribune Top 10 Performance of 2002
2002 Tampa Tribune "Tribbie" Award
Jobsite Theater's fifth season as well as The Center's 2002–03 Great Clips Play Series opens with the Jobsite Theater/Center Theater Company co-production of the newest adaptation of William Shakespeare's Titus Andronicus. This clever adaptation will be directed by Jobsite Artistic Director David Jenkins who has directed Jobsite's past Halloween hits, Clive Barker's The History of the Devil and Dracula.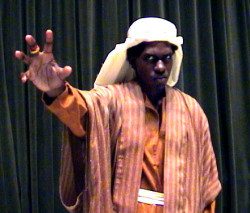 In the story, Titus Andronicus returns to Rome after defeating the Goths, bringing with him Queen Tamora, whose eldest son he sacrifices in front of her to appease the spirits of Rome's fallen. The emperor is dead, and Rome chooses Titus to name the new leader of the empire. Titus chooses the late emperor's eldest son, Saturninus, and gives him his daughter Lavinia to marry. However, when Saturninus' brother runs away with her, claiming her as his own, Saturninus quickly marries Queen Tamora. Through Saturninus, Queen Tamora plots revenge against Titus and his family. Beginning with the rape and mutilation of Lavinia, bloodshed and brutality run rampant, culminating in a cannibalistic banquet scene.
According to S. Clarke Hulse of Sparknotes.com, Titus Andronicus is a play with "14 killings … 6 severed members, 1 rape (or 2 or 3, depending on how you count), 1 live burial, 1 case of insanity and 1 of cannibalism – an average of 5.2 atrocities per act, or one for every 97 lines."
"This is a great play. We're talking 14 dead bodies, kung-fu, sword-fu, spear-fu, dagger-fu, arrow-fu, pie-fu, animal screams on the soundtrack, heads roll, hands roll, tongues roll, nine and a half quarts of blood, and a record-breaking 94 on the vomit meter." – Mike Gene Wallace of Sparknotes.com
Cast & Crew
David M. Jenkins – Director
Cast
Sara Collins – Lavinia
Ami Sallee – Tamora
Jason Evans – Quintus / Publius / Goth
Jonathan Harrison – Lucius
Chris Holcom – Chiron
Leah LoSchiavo – Alarbus / Nurse / Aemelius
Justin McQuaig – Martius / Goth
Ize Ofrika – Aaron
Brandy Pedersen – Mutius / Young Lucius
Brian Shea – Saturnius
John Snell – Titus
Katrina Stevenson – Marcus
Mark Trent – Demetrius
Jon Van Middlesworth – Bassianus / Clown / Goth
Jason P. Ferguson – Stage Manager
Crew
Summer Bohnenkamp – Hair and Make-up Consultant
Dickie Corley – Lighting Designer
Jason Evans – Fight Master
Catherine Hagner – Costume Designer
David M. Jenkins – Combat Choreographer
Brian M. Smallheer – Technical Director / Master Electrician / Lighting Designer
Kevin Spooner – Composer / Sound Designer / Musician
Steven Wright – Music Engineer / Musician
Blog Us
Want to add a groovy graphic like this to your blog or website?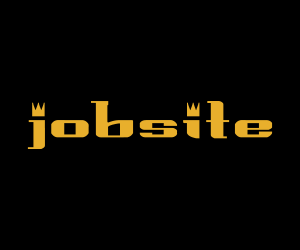 Jobsite provides a variety of cool banners that you can put on your website. AND they update automatically. So just drop it in once, and when we're ready for our next show, we'll update the graphic, and it'll automatically update on your site too!
Share: