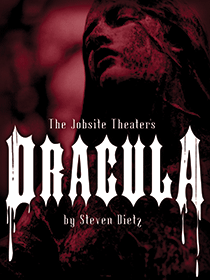 By Steven Dietz
Directed by David M. Jenkins
Oct. 31 – Nov. 24, 2001
Shimberg Playhouse, Straz Center for the Performing Arts
Gallery
Cast & Crew
Season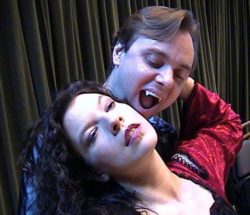 The 2001–02 Play Series opens with the Jobsite Theater/Center Theater Company production of the newest adaptation of the gothic classic, Dracula. This latest Dracula, which will be directed by Jobsite artistic director David Jenkins (Clive Barker's The History of the Devil), was penned by playwright Steven Dietz (Lonely Planet, God's Country), who brings a fresh look to the face of this popular tale of horror, without sacrificing the lifeblood of the story.
In 1890, Bram Stoker, manager of London's Lyceum Theater, began writing notes for a novel he planned to title The Un-Dead. Seven years later, the fruits of his labor transformed into his single literary success. Now, more than 100 years after its first publication, Dracula still surfaces before the bloodthirsty public through films and stage adaptations.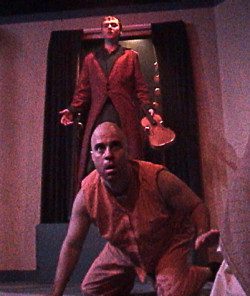 Dietz's Dracula is not merely about a battle between good and evil. This story depicts something much more complex. The audience witnesses a society overtaken by an unexpected darkness that strikes even the purest of hearts. And therein lies the horror. Driven by uncontrollable passion and unsolved mysteries that even science can't explain, the characters journey into the unpredictable future to find answers. Dietz brings the audience along for a frightening trek interspersed with daring special effects and the inherent humor of human nature in crisis.
David Jenkins promises a contemporary Dracula, with a flavoring of the original Victorian gothic flair. This choice will permeate all aspects of production including selection of music and costuming. "If I had to label the look and feel of it," Jenkins says, "Think Francis Ford Coppola's Dracula meets The Matrix."
An avid horror fan, Jenkins is excited about this production saying that "rarely do you come across a piece that excites your artistic sensibilities and at the same time you know will be a crowd-pleaser. I've never read a stage adaptation of Dracula that I even remotely liked until now. Dietz really did his homework on this one."
Warning
Dracula is recommended for mature audiences and contains violence, special effects, strobe lights, fog and sexual content.
About Steven Dietz
Steven Dietz is a playwright and director whose work has been staged throughout the United States at such theaters as The Old Globe, Actors Theater of Louisville and the Kennedy Center. His award-winning play God's Country has been produced worldwide to critical acclaim. Dietz has also been awarded the PAN USA Award in Drama, the Outer Critic's Circle Nominations and the Drama-Logue Award for Lonely Planet, which has been produced off-Broadway and at numerous theaters around the country. Dietz's other plays include Handing Down the Names, Trust, Halcyon Days, Ten November, Foolin' Around With Infinity, More Fun Than Bowling, Private Eyes, Still Life With Iris and The Nina Variations.
Cast & Crew
David M. Jenkins – Director
Catherine Hagner – Assistant Director
Cast
Ami Sallee – Lucy
Jason Evans – Harker
Ryan McCarthy – Dr. Seward
Caitlin Eason – Vixen / Maid / Asylum Attendant
Paul J. Potenza – Renfield
Grace Santos Feeney – Vixen / Maid / Asylum Attendant
Brian Shea – Dracula
John Snell – Van Helsing
Kevin Spooner – Renfield's Attendant
Katrina Stevenson – Mina
Amanda Schreiber – Stage Manager
Crew
Dickie Corley – Lighting Designer
Chris Holcom – Special Effects Designer
Joy Platt – Costume Designer
Brian M. Smallheer – Scenic Designer
Blog Us
Want to add a groovy graphic like this to your blog or website?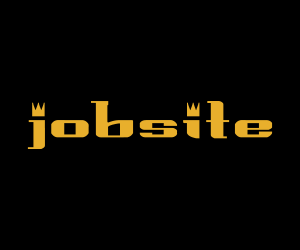 Jobsite provides a variety of cool banners that you can put on your website. AND they update automatically. So just drop it in once, and when we're ready for our next show, we'll update the graphic, and it'll automatically update on your site too!
Share: