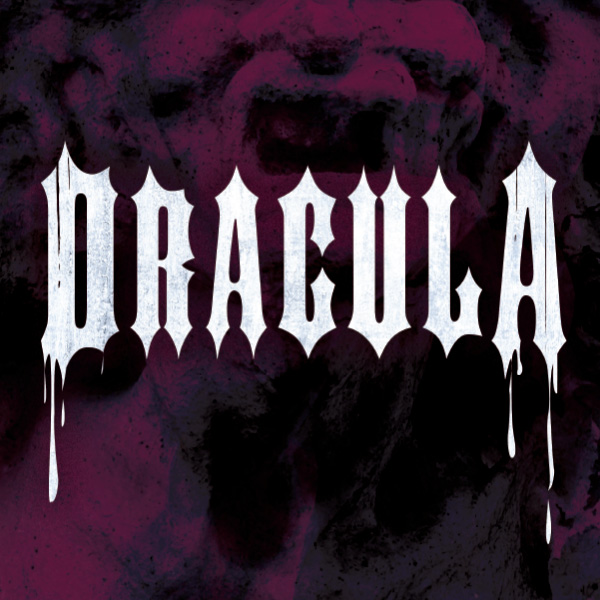 By Steven Dietz
Directed by David M. Jenkins
Oct. 21 – Nov. 13, 2022
Preview Performances: Oct. 19 – 20
Jaeb Theater, Straz Center
Creative Loafing Best of the Bay Winner
Creative Loafing Best of the Bay Reader's Poll
Creative Loafing Best of the Bay Nominated
As Count Dracula begins to exert his will upon the residents of London, they try to piece together the clues of his appearances—in a valiant attempt to save themselves from a hideous fate. This adaptation of Dracula brings audiences along for a thrilling trek interspersed with daring special effects and the humor inherent to humans in crisis. Sleek, sexy, and oozing with neo-Victorian flair, Dracula is sure to be an experience full of suspense, seduction, and spectacle.
In 1890, Bram Stoker, manager of London's Lyceum Theater, began writing notes for a novel he planned to title The Un-Dead. Seven years later, the fruits of his labor transformed into his single literary success. Now, 125 years after its first publication, Dracula still surfaces before the bloodthirsty public through films and stage adaptations.
Dracula is not merely a battle between good and evil; this story depicts something much more complex. The audience witnesses a society overtaken by unexpected darkness that strikes even the purest of hearts — and therein lies the horror. Driven by uncontrollable passion and unsolved mysteries that even science can't explain, the characters journey into the unpredictable future to find answers. Dietz brings the audience along for a frightening trek interspersed with daring special effects and the inherent humor of human nature in crisis.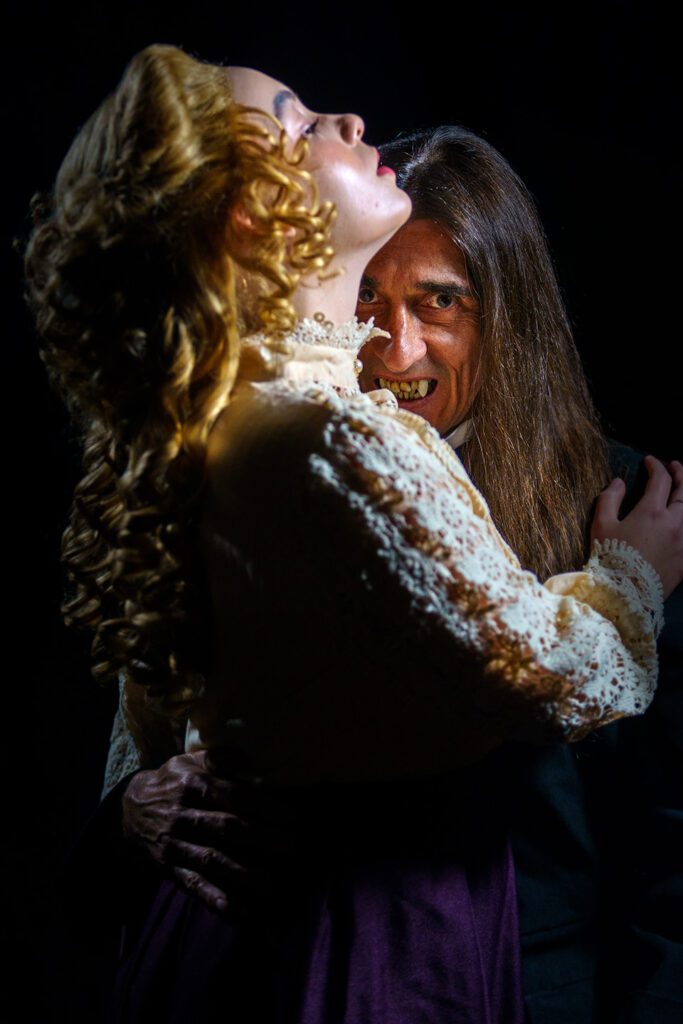 About The Playwright
Steven Dietz is a playwright and director whose work has been staged throughout the United States at such theaters as The Old Globe, Actors Theater of Louisville and the Kennedy Center. His award-winning play God's Country has been produced worldwide to critical acclaim. Dietz has also been awarded the PAN USA Award in Drama, the Outer Critic's Circle Nominations and the Drama-Logue Award for Lonely Planet, which has been produced off-Broadway and at numerous theaters around the country. Dietz's other plays include Handing Down the Names, Trust, Halcyon Days, Ten November, Foolin' Around With Infinity, More Fun Than Bowling, Private Eyes, Still Life With Iris and The Nina Variations.
Production History
Dracula was a Straz/Jobsite co-production from Oct. 31 – Nov. 24, 2001 that set records for the space that stood for 15 years! It was also the beginning of what evolved into our residency two years later. Jobsite is excited to get another crack at this title 21 years later, now in the much larger Jaeb Theater.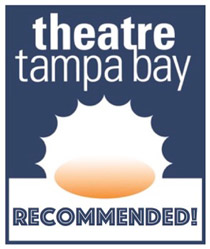 David M. Jenkins – Director
Brian M. Smallheer – Technical Director
Nicole Jeannine Smith – Stage Manager
Cast
Giles Davies – Dracula
Logan Franke – Ensemble & Understudy
Noa Friedman – Mina
Pauline Lara – Ensemble & Understudy
Daniel Lennox, Jr. – Seward
Paul J. Potenza – Renfield
Newt Rametta – Harker
Jared Sellick – Ensemble & Understudy
Katrina Stevenson – Van Helsing
Kayla Witoshynsky – Lucy
Crew
Haley Agan – Technical Apprentice
Connor Averill-Snell – Technical Apprentice
Jo Averill-Snell – Lighting Designer
Teah Banks – Properties
Jeremy Douglass – Sound Designer
David M. Jenkins – Producing Artistic Director
Percy Hartley – Technical Apprentice
Jake Landherr – Technical Apprentice
Jena Rashid – Producing and Engagement Apprentice
Tea Roberts – Scenic Artist
Brian M. Smallheer – Scenic Designer
Katrina Stevenson – Costume Designer
David M. Jenkins – Director
Amanda Schreiber – Stage Manager
Cast
Caitlin Eason – Vixen / Maid / Asylum Attendant
Jason Evans – Harker
Ryan McCarthy – Dr. Seward
Paul J. Potenza – Renfield
Ami Sallee – Lucy
Grace Santos Feeney – Vixen / Maid / Asylum Attendant
Brian Shea – Dracula
John Snell – Van Helsing
Kevin Spooner – Renfield's Attendant
Katrina Stevenson – Mina
Crew
Dickie Corley – Lighting Designer
Catherine Hagner – Assistant Director
Chris Holcom – Special Effects Designer
Joy Platt – Costume Designer
Brian M. Smallheer – Scenic Designer
The acting was superb, the stage set up superb, costumes all superb. – Meghan Boysova
It was a GREAT show – go see it! – Caroline Goodrich
Great show last night we truly enjoyed !!! Great actors ,special effects ! We had a blast! – Ola Vangeli
No spoilers, but it's a bloody good time. Go see for yourself! 🧛‍♀️🦇😍 – Colleen Cherry
Stepped out to see @jobsitetheater's Dracula last night. Dark, spooky, humorous and at times creepy, this is a must-see for all in and around the Tampa Bay area. Absolutely loved the insanity of Renfield, the creepiness of the Count and the sassiness of Van Helsing! A don't miss! @butterlyfaery
You must go see Dracula at the @jobsitetheater! Outstanding production! The cast is amazing! Bravo! Do not miss! – @fsu2626
This was honestly, perhaps the best play I have ever seen. – Lauren Michelle Parker
Even [Giles Davies] breathing is impressive! You will not see a better local professional theater production! A-MAZE-ING! 😯🦇❤️ -PeterTerzian
We saw it yesterday and, as always, Jobsite delivered! The cast was wonderful, each and every one. It's always hard and really unnecessary to pick a "best," but, since Renfield has always been my favorite character in the book and movies, I was blown away by Paul Potenza's portrayal and the work he put into the part. Creepy, sympathetic, weird, wild and all-round awesome! And Giles Davies was as fine a Dracula as it gets – evil incarnate — and please don't let me run into him in my dreams or at my windowsill!! Another job well done by all. 🤩 -MargaretNolanMays
Quite an eventful show! So intense and entertaining! I especially love the actor who portrays Renfield. I would recommend everyone see it – Rebecca Geiger
Loved it! 🤩❤️ -YassertGonzalez
Fantastic performance! – David Palmucci
Go see Dracula at Jobsite Theater some serious good stuff going on there!!! Had an amazing time! n- Donovan Whitney
Had the pleasure of seeing Jobsite Theater's Dracula last night, and I encourage you to see it as well if you can. It's a great production with a talented cast and striking special effects. – Blake Smallen
Mrs. Spell won a drawing from @TomboloBooks for us to go see the @jobsitetheater production of Dracula. We had a blast! Thanks to Tombolo for the tickets and to all the wonderful people at Jobsite for the show. – @spellgage
We loved it. The actor who played Renfield stole the show. – Michael Baby
What a GREAT show!! – Lissette Vega
Everyone was excellent. We really enjoyed the show! Glad to be holding season passes! – Christine Krieg
It was awesome. They were all great, but Paul J Potenza was mesmerizing and terrifying 👏🏼 -JenBanks
Fantastic performance by all cast members this afternoon! – grammybja