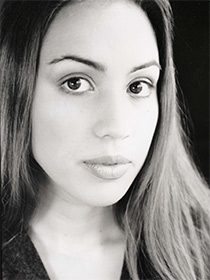 Grace Santos Feeney was last seen in Jobsite's Reasons to be Pretty, Dracula, The Tibetan Book of the Dead, subUrbia, The Serpent and the Job-side project <Chapel Perilous (as Lady Bitch Ninja Assassin… awesome character name). With Jobsite's help, Grace is also the founder of the Asian Pacific American Scene Inc (APASI), and produced Bondage written by David Henry Hwang and Cowboy v Samurai written by Michael Golamco (NBC's Grimm).
You might have also seen her on commercials and on screen at film festivals.  She is a member of SAG-AFTRA and AEA.  Grace studied Theatre Arts, Religious Studies, and Law at the University of Miami, Stetson University, and the Flinders University of South Australia. She continues to work on her craft at the Performers Studio Workshop, an intensive ongoing course by Kathy Laughlin, C.S.A.
Aside from being an actor and a producer/lawyer, Grace's most important role is being the mother of a wonderful girl. Grace would like to thank her family and friends for supporting her in so many ways! She currently studies at UCLA School of Theater, Film, and Television, and she is already in development of a couple films and series.