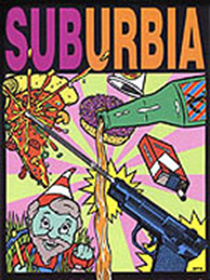 By Eric Bogosian
Directed by Paul Potenza
Jun. 7 – 23, 2002
Shimberg Playhouse, Straz Center for the Performing Arts
The Jobsite Theater is ready to turn up the heat this summer with Eric Bogosian's Gen-X anthem – subUrbia.
Those familiar with Eric Bogosian's other plays (Sex, Drugs and Rock n Roll, Pounding Nails Into the Floor with my Forehead, Talk Radio) will already know of his incredible ability to capture the pungent nuances of slang and precise verbal textures of a world that seems like a giant invitation to, according to director Paul J. Potenza, "smoke a doob and hang out."
Potenza (who was cited by the Weekly Planet as a "veritable doctor-of-Bogosian-studies" after his performances of most of Bogosian's one-man shows) goes on to say that subUrbia is "for anyone who has done their share of 'hanging out' with their friends – be it on the corner, behind a bowling alley, on the side of a parkway or the patch of woods behind a schoolyard."
subUrbia zeroes in on today's youth, depicting the rudderless yearnings and amorphous rage of a lost generation. It is the story of high school friends, lingering in the northwestern industrial town of Burnfield long after graduation.
Sooze (Katrina Stevenson) yearns to move to the big city and become a performance artist, but her boyfriend Jeff (Chris Holcom) isn't quite sure that's a good idea. Jeff's friends Buff (Mark Trent) and Tim (Ryan McCarthy) seem content to hang out, party and cause trouble with the foreign 7-11 clerks (Dan Khoury and Grace Santos Feeney). Sooze's friend Bee-Bee (Summer Bohnenkamp) seems to get lost amid the shuffle of suburban life.
Business picks up when high school friend Pony (David Jenkins) returns to Burnfield and the 7-11 with his new personal assistant Erica (Ami Sallee Corley) and a fancy new black limo after he gains fame as a rock star. While some see Burnfield as the suburban ideal of quiet comfort, the suffocating safe world only feeds their frustrations, and a night of drinking and partying careens recklessly toward violence, despair and finally death.
Paul J. Potenza – Director
Dickie Corley – Stage Manager
Cast
Summer Bohnenkamp – Bee-Bee
Chris Holcom – Jeff
David M. Jenkins – Pony
Dan Khoury – Norman
Ryan McCarthy – Tim
Ami Sallee – Erica
Grace Santos Feeney – Pakeesa
Katrina Stevenson – Sooze
Mark Trent – Buff
Crew
Dickie Corley – Lighting Designer
Justin Forthuber – Dream Girls Composer
Catherine Hagner – Assistant Director
Joe Popp – Summer, Highland Falls Arrangement
Brian M. Smallheer – Scenic Designer
Kevin Spooner – Pony's Guitar Tutor