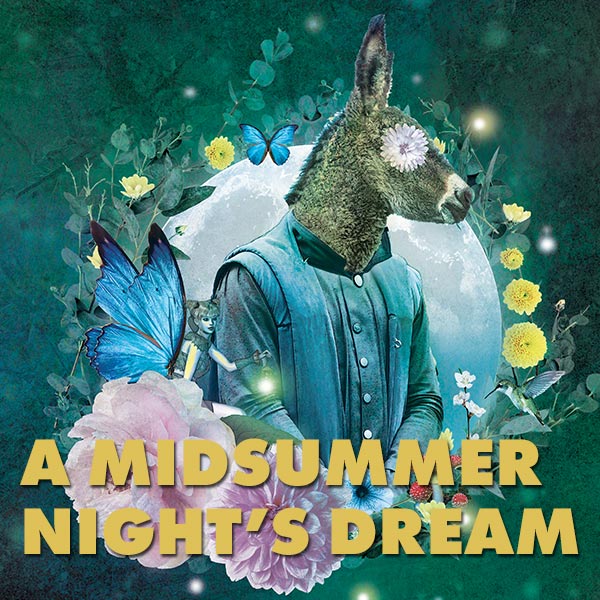 By William Shakespeare
Directed By David M. Jenkins
Extended! Jan. 17 – Feb. 16, 2020
Tickets start at: $29.50
Preview Performances: Jan. 15 – 16 | Tickets: $18
Shimberg Playhouse, Straz Center for the Performing Arts
This production is dedicated to the memory of beloved Straz Center team member Rachel Ann Lisi, who adored both Jobsite and the magic of Shakespeare.
Creative Loafing Best of the Bay Nominated
Join Jobsite for another breathtaking production of one of the Bard's best-loved works. Set in an enchanted forest with fairies, sparring lovers and a group of amateur actors who are putting on a play, this production incorporates aerial and circus performance elements choreographed by Artistic Associate Katrina Stevenson and an original score with songs from The Florida Bjorkestra's Jeremy Douglass.
"The course of true love never did run smooth …"
On a Midsummer's night, four young lovers (Matt Acquard, Sadie Lockhart, Patrick Jackson, and Kara Sotakoun) find themselves wrapped in the dream-like arms of an enchanted place where sprites lurk and fairies rule. While a feuding Fairy King and Queen (Adam Workman and Haley Janeda) are at war, their paths are crossed by Bottom (Giles Davies), Quince (Cornelio Aguilera) and their friends (Martin Powers, Kasondra Rose, Adriana Corso, and Nancy Mizzell) presenting a play within a play. Chief mischief-maker Puck (Katrina Stevenson) is on-hand to ensure that the course of true love is anything but smooth, and games of fantasy, love, and dreams ensue in Shakespeare's most beguiling comedy.
School Performances
Jobsite again expands education outreach efforts by offering 16 weekday field trip matinee performances for middle and high schools in addition to the 21 scheduled mainstage performances. Education outreach is made possibly by generous grants from the Cornelia T. Bailey Foundation, Saunders Foundation, and Grow Financial Foundation.
Talkback
There will be a talkback with the director and members of the cast after the 4pm Feb. 16 matinee. Learn more about what went into the production!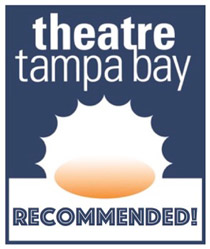 David M. Jenkins – Director
Teah Banks – Stage Manager
Cast
Matt Acquard – Demetrius
Cornelio Aguilera – Peter Quince / Egeus / Philostrate
Adriana Corso – Snout / Mustardseed
Giles Davies – Bottom
Alex Hickey – Understudy / Acting Apprentice
Patrick A. Jackson – Lysander
Haley Janeda – Titania / Hippolyta
Sadie Lockhart – Hermia
Nancy Mizzell – Starveling / Cobweb
Martin Powers – Flute / Moth
Kasondra Rose – Snug / Peaseblosson
Kara Sotakoun – Helena
Katrina Stevenson – Puck
Adam Workman – Oberon / Theseus
Crew
Jeremy Douglass – Composer
David M. Jenkins – Sound and Video Designer
Spencer Meyers – Crown and Mask Designer
Nick Hoop – Directing Apprentice
Brian Smallheer – Scenic and Lighting Designer
Katrina Stevenson – Costume Designer and Aerial Choreographer
Thanks for another fantastic show last night! A Midsummer Night's Dream was exquisite and hilarious. – Michael Bagby
Opening night at the Straz for A Midsummer Night's Dream was incredible. The passion this troupe of bright actors brings to Tampa is tremendous and can be felt throughout their exquisite rendition of a Shakespearean favorite. There is a level of culture, wit, and induced imagination that I have never felt before in theatre and shall not likely forget. Kudos to everyone involved in this production and my sincerest thanks! – Devon Chessher
I'm always so proud and in awe of what these folks do, and this play was no exception. It was visually lush and gorgeous, amd everyone is doing some of their best work. I would highly recommend it as a must-see in Tampa. Don't miss out! – Kimberly Russell Excellent production! We thoroughly enjoyed! – Bonita J. Axley
So incredibly grateful to have gotten to watch you all work your magic!! Coolest. Experience. Ever. – Alex Hickey
We loved it. Great show! – Leah Lambert Shalna
Theatrical Ecstasy. Perfect description – Amy Sanford
What a great show! There's a lot I could say, but most was said at the cast talk back: I so loved the visual effects of the aerial work as they gave the show something I'd not seen before. Yes, Katrina flew in the Tempest, but using all four corners and having that action sans dialogue in different parts of the production really gave a feeling of the magical realism Midsummer ought to give. Visually compelling but also narratively effective. The simplicity of the stage set, along with the use of the visual "magic" encouraged our suspension of disbelief and the navigation from Athens to the forest was all the easier. – Ben Graffam
Saw this last night and had a blast. The aerial work and music really made this already fun play a real treat. The cast was terrific and insanely talented. Don't be intimidated by the Shakespearean-ness of the material. It's very approachable and funny in the right hands. – Heidi Bissell
As always @jobsitetheater f*cking rocked the Shakespeare. This is the only theatre company that could do the impossible: actually make me like Demetrius and ship him and Helena – @transhelllterror
The show last night was beyond expectations!!! – @partyonmyplate
Great job- performance was wonderful! – @LisaLev32958444
Absolutely beautiful!! – Amanda Holder DeDort
WOW what a fabulous show. Loved it Congrats to David Jenkins and Jobsite on another wonderful show. – Diana Rogers
We loved the show! Fantastic on so many levels congratulations – Gianna Rendina-Gobiodff
The show is amazing. Congrats to all involved. – Skaja Wills
Great production! – @grammybja
We saw it and loved it on Sunday – such talent and fun! – Margaret Nolan Mays
Awesome play with great performers. We so enjoyed the play. – Mona Greenbaum
[Midsummer] begins with a lot of energy. Immediately we are transported to another world, because acrobats a la Cirque du Soleil come onto the stage, dancing and immediately some dancers/acrobats take to large hanging rings, and also silky fabric that hangs on the corners of the central stage and the fairlies take us with them into Dream worlds that we know from the Zirkus.The plot then weaves itself into this remote entrance and we let ourselves in for the midsummer night happenings fulfilled in dreams and fantasy. Puck, who decisively determines the plot, and with dispensing magic agent through which everyone encounters what they see upon awakening with love desires, is particularly well represented by the Katrina Stevenson, who is equally attuned to dance, acrobatics and acting. Experienced Shakespeare actors such as Giles Davies (Bottom) always make the performance a joyful back and forth between seriousness and comedy, and this time every word is particularly well understood on the center stage, surrounded by seating on three sides, which is a special achievement in acoustics the dance and the excellent acting of this cast. The stage props consist of a few seating elements, the action always close to the floor and characterized by a lot of movement. It is emphasized to the audience that one should stay seated in order not to disturb this fluent action. One cannot help but become fascinated by all of the events, in the end you are completely enchanted. – Susanne Neilsen