We're excited to announce the cast and creative team for SHOCKHEADED PETER! The production draws together many of the same minds who previously dazzled Tampa Bay area audiences with productions like A MIDSUMMER NIGHT'S DREAM, THE THREEPENNY OPERA, LIZZIE, HEDWIG AND THE ANGRY INCH, and SILENCE! THE MUSICAL.
SHOCKHEADED PETER is written by Julian Crouch and Phelim McDermott with original music and lyrics by The Tiger Lillies.
CAST
Paul J. Potenza: MC
Spencer Meyers: Siren
Colleen Cherry: Ensemble/Puppetmaster
Amy. E. Gray: Ensemble/Mother
Jonathan Harrison: Ensemble/Father
Kasondra Rose: Ensemble, Aerial Silks
Katrina Stevenson: Ensemble, Aerial Silks
BAND
Jeremy Douglass (melodica, piano, bowed saw, glockenspiel, bass)
Mark Warren (bass, guitars)
Elwood Bond (pots, pans, drums, junk)
PRODUCTION
Director: David M. Jenkins
Music Director: Jeremy Douglass
Choreography: Katrina Stevenson and Kasondra Rose
Scenic Design/Technical Director: Brian Smallheer
Light Design: Jo Averill-Snell
Costume Design: Katrina Stevenson
Scenic Artists: Chloe Mastro and Tea Roberts
Rehearsal Stage Manager: Teah Banks
Production Stage Manager/Associate Producer: Matthew Ray
Master Electrician: Reuben Hirsh
Sound Engineer: Dave Cohen
Fall into a world of Victorian gothic nightmares as a mad music-box spins maudlin tales of naughty children and misguided parents. Both silly and sinister,
SHOCKHEADED PETER
(June 7-27) provides musical mayhem that dares us to ask what's beneath the floorboards. 
SHOCKHEADED PETER
is a phantasmagorical "junk opera" musical staging of Heinrich Hoffman's dark, mildly-terrifying 19th-century German children's book
Struwwelpeter
. The show illuminates graphic cautionary tales about a cast of di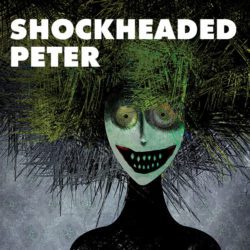 sobedient children like Young Harriett and her pyrotechnic tendencies, little Conrad and his insatiable thumb-sucking and a handful of other misbehaving youngsters who come to untimely and hilariously horrific ends.  This production will be a particular delight to fans of Jobsite's iconic production of
GOREY STORIES
, which has now enjoyed two extended runs as part of our mainstage season.
SHOCKHEADED PETER reunites Jenkins and Douglass, who previously helmed Jobsite's dark musical delights THE THREEPENNY OPERA, HEDWIG AND THE ANGRY INCH, and LIZZIE.
SHOCKHEADED PETER
uses an ensemble of veteran Jobsite performers (
Colleen Cherry, Amy E. Gray, Jonathan Harrison, Kasondra Rose
, and
Katrina Stevenson
) to embody the kooky collection of characters backed by an on stage band (
Jeremy Douglass, Mark Warren, Elwood Bond
) fronted by a fantastical singing siren (
Spencer Meyers
). The show also incorporates puppetry and aerial silk routines (choreographed and performed by
Katrina Stevenson
and
Kasondra Rose
, who previously appeared together on silks in
A MIDSUMMER NIGHT'S DREAM
). The audience is guided through the darkly comic musical evening by a slightly sinister fourth wall smashing Master of Ceremonies (
Paul J. Potenza
).
The original production sold out 19 weeks at London's Lyric Hammersmith Theatre and again at both New York's New Victory and DC's Kennedy Center. It won the 2002 Olivier Award for Best Entertainment. Jobsite is thrilled to offer the Florida premiere of the show.
SHOCKHEADED PETER was originally to be our last performance in the reconfigured-for-distance Jaeb Theater, after which we planned on moving back in the Shimberg Playhouse, but we've just announced our residence in Jaeb will continue through Feb. of 2022.