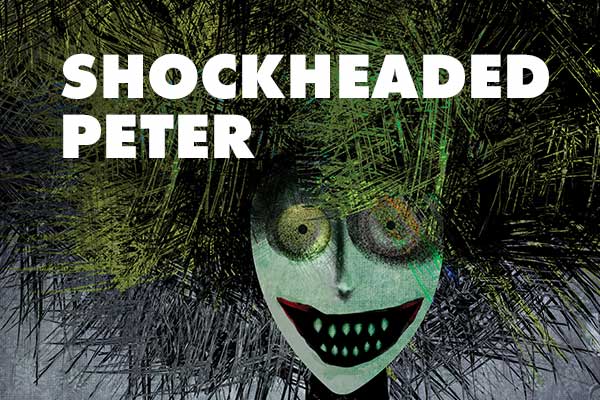 Created for the stage by Julian Crouch and Phelim McDermott
Original music by The Tiger Lillies
Based on Struwwelpeter by Heinrich Hoffmann
Directed by David M. Jenkins
Nov. 26 – Dec. 4, 2021
Preview Performances: Nov. 23 – 24
Tickets: $20.00 – $34.50
Jaeb Theater, Straz Center for the Performing Arts
Creative Loafing Best of the Bay Winner
Creative Loafing Best of the Bay Nominated
Our triumphant return! A little bit Edward Gorey, a little bit Tim Burton, Shockheaded Peter is the phantasmagorical musical staging of Heinrich Hoffman's dark, mildly-terrifying 19th-century German children's book Der Struwwelpeter. The show illuminates graphic cautionary tales about a cast of disobedient children like Young Harriett and her pyrotechnic tendencies, little Conrad and his insatiable thumb-sucking and a handful of other misbehaving youngsters who come to untimely and hilariously horrific ends.
Why It's For You
This production ran for a month this summer with sold-out houses and the adoration of both critics and audiences. It will be a special dark delight for fans of our much-beloved award-winning production of Gorey Stories, presented in 2007 and 2012.
Shockheaded Peter's source material, Der Struwwelpeter, has had a long and profound impact on pop culture, from Bugs Bunny to Edward Scissorhands!
An instant classic in its own right, the stage production has won rave reviews around the world as one of the most original collaborations of its kind. So sweet, so sinister, and so completely outrageous this hilarious black comedy is perfect for morbidly sophisticated children of all ages, their dreadful parents, or anyone who ever sucked their thumb.
Not quite a musical, Shockheaded Peter is best described as a sort of Victorian gothic cabaret. Regional vet Paul J. Potenza serves as the MC for an evening where 12 stories are told through song (including an on stage band playing a host of quirky instruments) and a wild variety of performance styles: puppetry, physical comedy, dance, aerial silks routines, and even homages to silent film from the German Expressionism era.
Please Note
Strobe lights will be used in this production.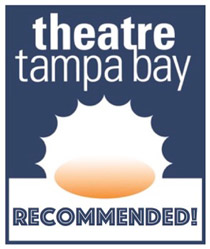 David M. Jenkins – Director
Jeremy Douglass – Music Director
Brian Smallheer – Technical Director
Cast
Colleen Cherry – Ensemble / Puppetmaster
Amy. E. Gray – Ensemble / Mother
Jonathan Harrison – Ensemble / Father
Spencer P. Meyers – Siren
Paul J. Potenza – MC
Kasondra Rose – Ensemble / Aerial Silks
Katrina Stevenson – Ensemble / Aerial Silks
Band
Elwood Bond – drums, otamatone, toy piano
Jeremy Douglass – melodica, flute melodica, toy piano, bowed saw, glockenspiel, bass organ pedals, otamatone, sound effects, babies
Mark Warren – ukulele bass, Theremin, 9-string mandolin, 6-string banjo, acoustic and electric guitars, percussion
Crew
Jo Averill-Snell – Lighting Designer
Teah Banks – Rehearsal Stage Manager, Prop Construction
Dave Cohen – Sound Engineer
Reuben Hirsh – Master Electrician
David M. Jenkins – Prop Construction
Chloe Mastro – Scenic Artist
Roz Potenza – Prop Construction
Matthew Ray – Production Stage Manager
Tea Roberts – Scenic Artist
Kasondra Rose – Choreography
Brian Smallheer – Scenic Designer
Katrina Stevenson – Costume Designer, Choreography, Prop Construction
Mark Warren – On-stage Sound Technician
Last night's opening production was spectacular. So happy this Incredible show made it here to our Jobsite Theatre. This season has been outstanding. You will definitely want to grab tickets for Shockheaded Peter. Get ready to laugh, dance in your seat, and enjoy this original German set of comically tragic fables all mixed within a stunning set, gorgeous steampunkesque costumes, brilliant soliloquies, cirque de soleil style twirling, and hysterical interaction between the most uniquely mesmerizing, yet tragic characters. – Stephanie Tannenbaum
Brilliantly funny! – Yassert Arafat Gonzalez
The best Theatrical Event Jobsite has produced. A great macabre spectacle that has a wonderful array of theatrical elements and styles. Excellences from the whole team. Trust and get your tickets now. – Brian Shea
Go see this show. A marvelous 80-minute ride you will talk about for weeks. – Brad Casey
Bravo … congratulations on Shockheaded Peter! What great fun on opening night to see the extraordinary performances, entertaining music, and the cacophony of visuals, voices and sets. It was very well done and a good time. The audience interaction also elicited quite a robust response. I will definitely see it again. – Marge Marchak
Honestly in awe watching this incredibly talented cast. Shockheaded Peter was so entertaining. The acting, the singing, the set, the aerials, the music. A dynamic performance from @jobsitetheater I plan to see again! 👏🏻 – @stephemera
Back in the day you got tickets for the rides at Disneyland. The lamest were A tickets and you got a lot of those. The Matterhorn and the like were E ticket rides, they were the best and you only got a few of those. Well Shock Headed Peter is an E Ticket ride for sure! I can't tell you what fun we had. Alvin and I laughed out loud…a lot. Paul Potenza is an absolute genius, both with his comic timing and his physical humor. You couldn't have found a better master of ceremonies. The band may never have pulled focus but how could Katrina Stevenson, twenty feet in the air, avoid it? She was magnificent. Alvin said she portrayed the song that was being sung perfectly. I wouldn't know, I was focused on her and Kasondra Rose and barely noticed that Johnathan and Amy have terrific voices and were killing it (Alvin told me later). Colleen and Spencer should have their own show. They never, ever disappoint. The show was dark, creepy, and an all-around blast. Kudos to you and the artistic team (especially the stage managers) for pulling it all together. Looking forward to a few E ticket rides next Season! Thanks. – Clare Ward-Jenkins
Just saw Shockheaded Peter at The Straz. Love live theater. Love these people. ❤ – Stephanie Pemberton
Terrific opening night! This cast is just perfect! Highly entertaining- and maybe just a little nightmare inducing….Snip snip!! – Lorinda Toole Gamson
A thoroughly enjoyable evening of theater: inventive, creative, and made me laugh out loud often. Loved the music, the band was great, especially the use of theremin, melodica, and saw. Direction and design beautiful. The cast wonderful, the standout being the stellar work by Paul Potenza. Well done Jobsite Theater all. – Caroline Jett
Oh MAN that show was fun. If y'all get a chance PLEASE go see it. 🎵DEAAAAAAAAAAAAAAAAD🎵" – Fontaine Schroyer
Last night we saw @jobsitetheater 's production of Shockheaded Peter at Jaeb Theater. (LIVE THEATER is BACK!) It was incredible!! Dark and funny, fantastic performances plus the most incredible live music. (That melodica was on fire.) Oh, and did I mention….there were PUPPETS!! If there are still tix, go get them!! I stole this photo from one of the stars, @cococherrycola who is phenomenal. Always! – @calanree
It's fabulous! Don't miss this amazing production. – Elissa Getto
Went [this] afternoon and it was soo good … Shockheaded Peter was an absolute buffet of art and music with humor and athleticism wrapped in a simple yet brilliantly illustrated message. If you like any of those things I'm sure you're going to enjoy and remember and talk about those 80 minutes for a long time so bring 3 friends. – Michael Alexis