By Martin McDonagh
Directed by David M. Jenkins
Oct. 12 – Nov. 5, 2006
Thu. – Sat. 8pm, Sun. 4pm
Tickets: $19.50 – $24.50
Shimberg Playhouse, Straz Center for the Performing Arts
Media
Cast & Crew
Patron Reviews
Season
Winner!
Creative Loafing 2006 Top 10 Production
Creative Loafing Best of the Bay – Best Actor – Steve Garland
Jobsite Jobby – Best Play
Jobsite Jobby – Best Director – David M. Jenkins
Jobsite Jobby – Best Actor – Steve Garland
Jobsite Jobby – Best Supporting Actor – Paul Potenza
The Pillowman is an exhilarating and vicious comedy-drama about a fiction writer (Steve Garland) in a totalitarian state who is interrogated when a number of bizarre incidents occurring in his town resemble the gruesome content of his short stories. When the writer's mentally impaired brother (Paul Potenza) is also brought in for questioning by two officers (Ryan McCarthy and Matt Lunsford), the police procedural takes unforeseen twists and turns.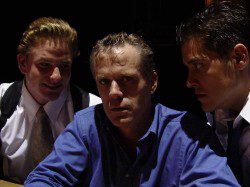 This thriller was one of London's hottest tickets when it premiered in 2003 and carried the same dynamic to Broadway in a production starring Jeff Goldblum, Billy Crudup and Zeljko Ivanek. The play received the 2004 Olivier Award and an Evening Standard Award nomination for Best New Play and went on to capture two Tony Awards (plus four more nominations), two Drama Desk Awards, an Outer Critic's Circle Award and a Drama Critics Circle Award.
Jobsite arguably began their reputation with Tampa audiences early on with anarchic comedies and plays like Clive Barker's The History of the Devil and Steven Dietz's Dracula performed around Halloween. Jobsite parted ways with opening the season with a "Halloween show" in 2005-2006 when nothing of merit presented itself.
"We weren't going to force a fit last year," said Jobsite Artistic Director David Jenkins. "But this is a play we'd been waiting on to become available, and we were very lucky to get it so soon. We're in good company, regional powerhouses like Chicago's Steppenwolf are also producing the play this season. We're chomping at the bit – this is going to be a dynamite start to our season."
Other plays by Martin McDonagh include The Beauty Queen of Leenane (produced by Jobsite in 2003), The Cripple of Inishmaan and Tony nominees The Lonesome West and The Lieutenant of Inishmore. His short film Six Shooter won a 2006 Academy Award.
"This makes Wes Craven look like Mother Goose" – The Guardian
Warning
The Pillowman contains disturbing scenes of violence and adult languge. it is intended for mature audiences only.
"Excellent in every case, as professional as you'll find in any theater anywhere, it marks a new high in Jobsite's ascent to Bay area treasure… this formidable work deserves the attention of every serious – and thick-skinned – theatergoer." – Creative Loafing
"The Pillowman may be one of the most encouraging surprises in American theater in recent years…. The powerful Jobsite production features some jarring performances that enhance the play's effectiveness…. [It] is packed with ideas and emotions that don't evaporate quickly." – St. Petersburg Times
"It would be unfair to compare a local production to the Broadway version of the same play unless – as is the case here – the homegrown show holds its own. Part of the credit goes to the exceptional potency of the play, but major props are due to the Jobsite cast and crew." – Tampa Tribune
Cast & Crew
David M. Jenkins – Director
Cast
Davis Brown – Boy
Steve Garland – Katurian
Jaime Giangrande-Holcom – Mother
Molly Jacobson – Girl
Matt Lunsford – Tupolski
Ryan McCarthy – Ariel
Paul J. Potenza – Michal
Charles Wilcox – Father
Erica Porch – Stage Manager
Crew
Jaime Giangrande-Holcom – Assistant Stage Manager
Chris Holcom – Special Effects
John Lott – Light Design
Brian M. Smallheer – Set Design
Katrina Stevenson – Costume Designer
Patron Reviews
Last night's performance was awesome. I sat there completely engaged by the story and the performances. Tampa is indeed fortunate to have your company. Please accept my heartfelt thanks. – Bill & Diane Reeves
My students REALLY enjoyed The Pillowman… So thank you for a great evening and please congratulate the cast. – Bill Leavengood
Congratulations! You have a winner in The Pillowman. The acting is superb. I think lots of people walked out stunned. I've encouraged my students at HCC to see (and critique it). I've told them it's a play they'll remember the rest of their lives. – Dan Khoury
Pillowman was amazing Wednesday night. What a great night at the theatre! You made it look so easy and we all know that it is anything but that. My daughter and I had seen it in NYC and she ordered tickets as soon as she saw you were doing it. I raved about it to my advanced class yesterday, and they immediately made plans to go see it last night." – Carla E. Webster
My fiancée and I saw the performance Saturday night. I think it was one of the better shows I have seen Jobsite put on. My fiancée was impressed by the performances but felt the story was too dark. What makes life so interesting is that people can view performances in different ways. This is our second year as season ticket holders. I hope the remainder of the shows are close to the level of The Pillowman. Thanks, John"
I walked into the theater having never heard of the The Pillowman – guess I have had my head in a bucket for a year or so. It was a stunning performance. The story was a hard jolt, the actors were superb, with flawless performances, and the sets captured the imagination, creating so much in so little space. A must see. Thank you for bringing a jewel to Tampa. – Cara Cira
Blog Us
Want to add a groovy graphic like this to your blog or website?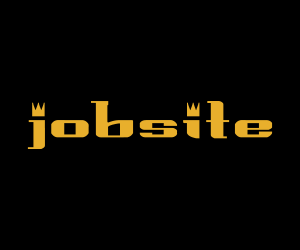 Jobsite provides a variety of cool banners that you can put on your website. AND they update automatically. So just drop it in once, and when we're ready for our next show, we'll update the graphic, and it'll automatically update on your site too!
Share: