By Martin McDonagh
Directed by Paul Potenza
Jul. 10 – Aug. 4, 2013
Thu. – Sat. 8pm, Sun. 4pm
Tickets: $28
Shimberg Playhouse, Straz Center for the Performing Arts
Media
Cast & Crew
Patron Reviews
Season
Theatre Tampa Bay Nominated!
Outstanding Ensemble (play)
Outstanding Director (play) – Paul Potenza
Outstanding Lead Actor (play) – David Jenkins
Outstanding Featured Actor (play) – Brian Shea
Outstanding Featured Actress (play) – Caitlin McDonald Eason
Outstanding Sound Design – Shawn Paonessa
Outstanding Choreography/Fight Direction – Giles Davies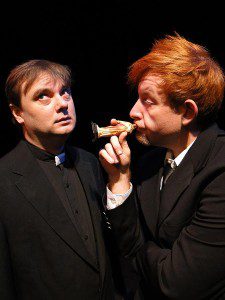 The Lonesome West presents us with Valene and Coleman (Matt Lunsford and David Jenkins), two brothers living alone in their father's house after his recent death, who find it impossible to exist without the most massive and violent disputes over the most mundane and innocent of topics.
Only Father Welsh (or is it Walsh?), the local priest (Brian Shea), is prepared to try to reconcile the two before their petty squabblings spiral into vicious and bloody carnage. A shotgun, a new stove, a collection of plastic saints, a pretty young girl (Caitlin McDonald Eason), and more poteen than you could swing a dead cat at – what could possibly go wrong?
Jobsite has previously produced McDonagh's The Pillowman, The Lieutenant of Inishmore, and The Beauty Queen of Leenane to great acclaim. The Lonesome West is the final part of a trilogy all set in the small rural west country town of Leenane, where characters that appear in one play are referenced by the characters in the others.
About Martin McDonagh
After writing a number of plays in a very short period of time, McDonagh has since become a successful screenwriter, winning awards and enjoying box office success with films like Six Shooter, In Bruges, and most recentlySeven Psychopaths. His most recently play, A Behanding in Spokane, starred Sam Rockwell and Christopher Walken on Broadway.
"This well-knit production… contains full-bodied performances from the entire cast…. This ambitious and serious Tampa company has grown in range and in skill." – Tampa Tribune
"a gut-busting comedy… a theatrical adventure due to Lunsford's and Jenkins' stellar performances and chemistry." – Tampa Bay Times
"a superb production… exceedingly funny…. The Jobsite cast couldn't be better. Beautifully directed … [an] impeccable set … costumes are first rate." – Creative Loafing
Media
Previews
'The Lonesome West' marks 10 years for Jobsite at Straz – Tampa Bay Times
Jobsite returns with McDonagh's 'Lonesome West' – Tampa Tribune
More Reviews
"Jobsite's performers and direction are so strong … comedy that turns tragic …typical of what makes a McDonagh play worth seeing and hearing." – TotalTheater.com
On Blogsite
Cast & Crew
Paul Potenza – Director
Ned Averill-Snell – Assistant Director
Cast
Caitlin Eason – Girleen
David M. Jenkins – Coleman
Matt Lunsford – Valeen
Brian Shea – Father Welsh
Matthew Ray – Stage Manager
Crew
Ned Averill-Snell – Props Designer
Giles Davies – Combat Choreographer
Greg Newcomb – Poster Artist
Shawn Paonessa – Sound Designer
Katrina Stevenson – Costume Desginer
Brian M. Smallheer – Scenic & Lighting Designer
Patron Reviews
I had a great time! Amazing show! – Stephen T.
Play was great! You guys were spot on with the accents. It's easy to make folks laugh, which you did, but harder to make them cry, which you guys did as well. Really well done. – Dave P.
Via Facebook
Lonesome West is a dark comedic riot and you're doing yourself a disservice if you aren't planning on seeing it. – @itmustbemiriam
Saw it Wednesday. It's wacky good fun!!! – Rick S.
Fabulous acting last evening, thank you! – Ralph P.
had a great time at Jobsite Theater's THE LONESOME WEST last night – Brian R.
What a great show! Dark and funny. I really enjoyed it. – Roberta P.
Saw the show last night. Great time was had by all! Definitely a "must see" for folks in the area! – Peggy H.
Saw Lonesome West last night. It was wonderful. Brian Shea just shines in that role. We laughed and laughed and then discussed it in the parking garage when we should have been driving home. – Clare Ward-Jenkins
Very fun afternoon at The Lonesome West! I will be annoyingly using "feck" as often as possible in the foreseeable future. – Susan Z.
For me to endorse a show, it has to be a very special production. For my friends in the Tampa Bay area, if you have not seen The Lonesome West at the Straz Center for the Performing Arts, you need to go this weekend before they close. Beautiful production, directed by the incredibly talented Paul Potenza. All four actors are absolutely wonderful. – Colleen M.
You have one more week to see Lonesome West, an incredible play starring David Jenkins and Matt Lunsford. I saw it yesterday – and I am telling you that you should not miss it!! – Veronica D.
Via Twitter
great performances tonight! – @fsu2626 @jobsitetheater's The Lonesome West was intense and hilarious and so fecking good. Great close to a strong season! #TampaTheater #Tampa – @ladriaan
Blog Us
Want to add a groovy graphic like this to your blog or website?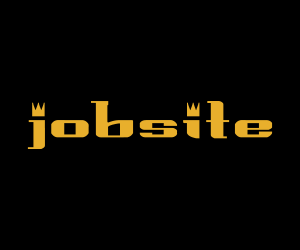 Jobsite provides a variety of cool banners that you can put on your website. AND they update automatically. So just drop it in once, and when we're ready for our next show, we'll update the graphic, and it'll automatically update on your site too!
Share: