This seems to be a good time to open up this conversation again, as we are getting a larger than usual number of questions about The Complete Works of William Shakespeare (abridged) [revised]. We're hoping that the direct questions coming to us through our website are a result of a policy we adopted a few seasons ago and have on all of our show's pages:
Jobsite Theater does not offer advisories about subject matter, as sensitivities vary from person to person. If you have any questions about content, age-appropriateness or stage effects (such as strobe lights or theatrical fog) that might have a bearing on patron comfort, please contact us by email or phone at 813.476.7378.
We moved to this policy after watching some of our colleagues around the country, like Chicago's Steppenwolf (ours is lifted from theirs, specifically), struggle with the same situations. How to offer warnings and respect audience members without spoiling a live experience? How to navigate the very subjective nature of opinions when it comes to personal taste or what someone deems appropriate or not for their children? It seems no one nationally really agrees on what to do or what should be done here, but we are always open to conversation.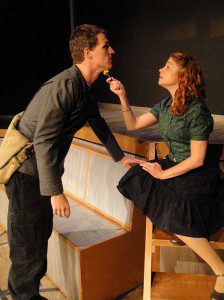 Over the years we've lost out on opportunities to bring high school groups in to certain shows we were concerned about that we found out later they read in class, getting complaints from teachers about those missed opportunities. We've also had classes show up after reading a book or play (like Fahrenheit 451) and then have had the adults get very angry with us about content that was in the book, but they otherwise took issue with seeing it on stage. We've also had outlying experiences where a class has read an edited or abridged version of a book or play that was made "safer" without our knowledge of that while we presented the text as-is.
On the other side of the equation we've plainly set disclaimers on shows like "contains adult language and humor, recommended for mature audiences only" in years past only to get nasty-grams from folks saying that it should have been recommended for immature audiences only, or that they walked in knowing it would be adult but not that adult. We've also recommended shows for mature audiences only to have parents after the fact lament that the content would have been completely appropriate for their teen who not only missed out on the experience but have had the parents upset that they also had to pay for childcare for the night. We've simply had patrons offended by pre-show music before a play even starts.
For me personally, one of the most vexing experiences (yes, I'm just venting here) was during LIZZIE, a show about the axe-wielding double-murderess Lizzie Borden, where we had a patron write in horribly, horribly offended. Not because of the double-murders and the actress covered in head to toe blood at the end of act 1. Not because of the lyrics in the show detailing the horror of sexual abuse at the hands of her father. And not about the animal mutilation that acts as the proverbial straw on the camel's back that drives Borden over the edge.
This person was upset that Lizzie kissed the neighbor girl. Innocently, and briefly. It never even really crossed my mind that such a simple kiss could have drawn such a strong, negative reaction.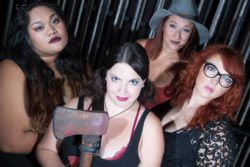 I truly do respect that there are folks who deal with trauma and the impact that has on the shows they choose to see. That's very, very real. There is also recent research out there that "trigger warnings" possibly exacerbate, not diminish, real trauma. I'm not really qualified to take a side there. I am also reluctant to frame experience in such a way as to make it appear as a universal claim or to otherwise possibly ruin the proceedings for others — we then start entering the realm of making a self-fulfilling prophecy. In fact, we even get folks who write in mad about spoilers through the ways a disclaimer is usually written. We almost can't win here. I hope that's clear.
To paraphrase Taylor Mac's (author of HIR) stance: we work in catharsis, something is supposed to happen to you in that room. Maybe it's just laughing until your sides hurt. Maybe it's a revelation. Maybe it's shock. Or outrage.
Allow me to be clear: trauma is real, as are triggers of that trauma. But, where are the lines in terms of our responsibility when it comes to potential triggers? Can't anything be a potential trigger? From physical violence to sexual imagery to a live dog on stage to an image of Donald Trump. There are no easy answers here. How do we deal with this from every possible side?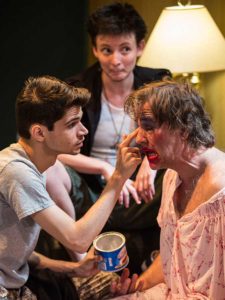 So where did we land? At caveat emptor. We do our best to offer a plot synopsis as well as background information on every show's web page, even including a paragraph about why we chose it and why we think you should see it. Above that, we welcome questions over the phone or through email. We'd rather have a one on one conversation. It's easy enough for someone to directly ask if a show has strobe lights, theatrical fog, or sudden gunshots if they have a health condition. We are happy to provide folks with specific answers to specific questions, like if a show has coarse language, nudity, substance abuse, or death in it. We're also usually happy to even help audiences borrow a copy of the script so that they can sort out first hand what is right for them, or their companions/children. We honestly care, and believe that we can better serve everyone by not trying trying to speak for everyone at once. Folks can also look up a play by title and playwright, then jump to the news tab of your search engine to read reviews of the play in other cities to help perhaps create a fuller picture in addition to the conversation with us.
I am aware that these are several separate issues — age appropriateness, regular content warnings (think of the letters that pop up in front of your favorite TV shows), and trigger warnings. This is another reason why we have adopted the policy we have. In terms of age policies, those are perhaps the hardest to make everyone happy with. I remember watching R-rated movies as a kid with my parents with little fanfare. I have friends now who have not shown their children films we both saw when we were far younger than they are now. I am also not a parent, so all I can do is my best and get at what the concerns are for any specific individual. Nor do I suffer any trauma. Nor am I of a conservative nature or easily offended. I am, however, always here to help. Count on that.
Do you have thoughts on this? Let us know. Keeping this line of communication open between both sides is important for all of us! I am thankful to have this opportunity to help connect artists and audiences
-dj