Jobsite Theater keeps their Halloween tradition alive this season with a tale of ambition, greed and murder under the watchful eye of otherworldly beings in this unique treatment of William Shakespeare's Macbeth.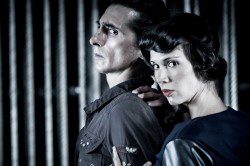 This new cutting of Shakespeare's text promises to be a razor-sharp treatment that focuses on the very different ways that two families respond to power, both real and phantasmal. Apart from the four central characters in this cutting – Macbeth, Lady Macbeth, Macduff, and Lady Macduff – the rest of the roles will be performed by four actors who are representative of primordial, elemental forces.
"I believe that this approach is not only extremely practical for a smaller company like Jobsite, but it's also going to allow us to hold these two families up next to one another in a new way," says director David Jenkins, who also trimmed down the text which is currently expected to run an hour and a half with no intermission.
"As to these four powers who never leave stage, who are not just simply the witches, we want to present them as neither all good or all bad. These are ambiguous entities, in every sense. Sure, opportunities are put in front of both the Macbeths and Macduffs, and the powers watch over everything through the entire show, but ultimately it comes down to personal choice."
"In this cutting, I've also given Lady Macduff a far greater presence than in the original by having her accompany Macduff throughout the first part of the play and giving her lines taken from characters not central to my vision. I think it not only provides a much meatier role for a woman, a challenge with most Shakespeare, but it does some very interesting things to the story as a whole."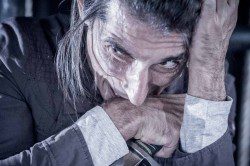 Jobsite has previously produced critically-acclaimed stagings of Much Ado About Nothing, The Taming of the Shrew and Titus Andronicus, as well as their world-premiere mobster rock musical Pericles: Prince of Tires (based on the Bard's Pericles, Prince of Tyre). Jobsite's most popular treatment of Shakespeare has been their numerous engagements of The Complete Works of William Shakespeare (abridged) over the years. Previous Halloween productions have included Dracula, Night of the Living Dead and Clive Barker's epic The History of the Devil.
characters so flawed they could pass for today's politicians … I give two daggers up to the cast and crew … It's worth the trip. – Tampa Tribune
… it packs a big punch in the close quarters of the theater … a seamless adaptation … Jobsite's Macbeth is strong in its minimalism, clearly communicating the elemental themes your high school English teacher helped you sift through with powerful staging and an even stronger cast. – Tampa Bay Times
Cast & Crew
David M. Jenkins – Director
Cast
J. Elijah Cho – The Powers
Giles Davies – Macbeth
Chris Holcom – The Powers
Dahlia Legault – Lady Macbeth
Maggie Mularz – The Powers
Dayton Sinkia – Macduff
Nicole Jeannine Smith – Lady Macduff
Katrina Stevenson – The Powers
Matthew Ray – Stage Manager
Crew
David M. Jenkins – Sound Designer
Greg Newcomb – Poster Design
Brian M. Smallheer – Scenic/Lighting Designer
Dave Steinweg – Sound Designer
Katrina Stevenson – Costume Designer
Patron Reviews
Beautiful and interesting Macbeth, thanks for it. – Susan Oliver
That was live theater at it best … amazing show and artists – Van Nguyen
What a fabulous show! It think it is the strongest show I have seen at Jobsite. I did like Kitefliers very much tho, too. I just want to listen to Giles do Shakes pretty much all the time. – Nancy Cole
My wife and I saw your production of Macbeth the other night and we were delighted we did. The whole performance was enjoyable, which was nice as it was our first visit to Jobsite Theatre. We plan to come back. While I have no particular theatre expertise, I have taught Macbeth for many years to some very bright high school students, and I really looked forward to this show. It did not disappoint. I thought the idea of blending many roles into the four powers was a terrific idea as it showed how the good and evil forces in life are never too far from each other, and that their influences can blend into one in matters of moments. I also felt the posturing of the Powers in the last scene, standing there behind McDuff showed that despite the return of the nature order in the play, those Powers of good and evil were always at the ready to upend things again. Very nice. – Cheryl and Ben Graffam
Via Facebook
Enjoyed seeing the play last night. Good job. – Jack Steeley
I worked it last evening as an Usher and thoroughly enjoyed the acting, set and story; very well done thanks! – Ralph Porzio
I went to Jobsite Theater's preview for the Scottish play tonight. A well told story that was fun to watch. And Thank You David for letting the character's talk to us groundlings in their soliloquies. Bill Shakespeare would approve. Go see it! – Georgia Mallory Guy
The Jobsite Theater production is wonderful! Well done — go see it! – Paige Gilley
What a great performance! – Marilyn Catherine
Macbeth was absolutely AMAZING. I'm at lack of words to describe how phenomenal this production is and the cast! It is a must see!! – Crystal Marie
I wonder where that man had to go; the one who climbed over the railing in the middle of Act 2. What pressing matters had he? I fear I'll never know. In other news, you should totes go see Macbeth – Desiree Fantal
Terrific show! – Kristin Lohr
Loved seeing this Wednesday! – Courtney Caton
Congratulations to the cast and crew of Jobsite's rendition of William Shakespeare's Macbeth! Especially Giles Davies , Nicole Jeannine Smith, andDavid Jenkins the director. Fantastic performance you guys! I won't give any spoilers, being opening night and all. Catch it yourself! – Rodner Salgado
Amazing show tonight from Jobsite Theater and the production of Macbeth … truly an entertaining night, well acted and directed eve of theater, and the unsung Brian Smallheer, alas never disappoints … thank you Giles Davies, Dahlia Legault, Dayton Sinkia, Nicole Jeannine Smith, Chris Holcom (the Commander great to see you!), Katrina Stevenson, J. Elijah Cho, Maggie Mularz, Matthew Ray, And the DJZ David Jenkins … sometimes it just all comes together! – Jason Evans
Giles Davies acted the hell out of Macbeth. This is a must see production. We might have to see it again. – Clare Ward-Jenkins
Glad I was lucky to be at opening night. Loved the production. Great sets, wonderful costumes!! What talented people!! – Beth Hyde-Hood
Congratulations to all involved with Jobsite's Macbeth! You created a beautiful production. Great acting, costumes, and fights! – Megan Lamasney
False face must hide what the false heart doth know .. Macbeth at The David A. Straz Jr. Center for the Performing Arts was a thrill! congratsDahlia & Dayton! – Ryan Iacovacci
What a kick ass show you kids have on your hands! Congrats kiddos and I can't wait to see it again. – Jaime Giangrande-Holcom
We saw the show last night and it was fantastic! It's amazing how intense the experience is in a small theater. Well done! – Roberta Phillips
Congratulations to the cast of Macbeth. Well done! – Dana Barth Kovar
I saw last Saturday's performance, you guys were GREAT!! I really enjoyed watching it, Congrats to all! – Jeanne M. Adams
Excellent job to cast and crew. Fantastic work. – Johnny Garde
Macbeth!! Outstanding! The cast was amazing, and that Shakespeare fellow can really write!! – Rick Stutzel
Outstanding production. Congrats on a job well done! – Greg Thompson
Jobsite Theater has hit the mark with their crisp and focused staging of Macbeth. Director David Jenkins marshaled eight actors who sustained a taut focus throughout, including a stellar Giles Davies in the title role, along with five distinguished USF alumni: Dahlia Legault as a riveting Lady M, Dayton Sinkia as a grieving and enraged Macduff, Nicole Jeannine Smith as a proper Lady Macduff, J. Elijah Cho as a hauntingly good Banquo along with other parts and Chris Holcom adding to his list of memorable performances as The Porter (and other characters high and low). The set by Brian Smallheer was both elegant and ominous. I'm not the only one who sees the play as a Greek tragedy, and this production certainly displays both hubris and hamartia in action, but what grabbed me most this time around was that the witches and the murder occur early in a dramatic one-two punch, and from that point on everything keeps gets worse because of it. These actors are relentless as they get caught in the grip of elemental forces. Jobsite has come along way since the days of Pericles. This text was heavily expurgated, but the lines that remained were Shakespeare's — and the actors. – Patrick Finelli
Jobsite Theater does it again!! Go see Macbeth!! It is fabulous! – Mary-Ann Karlsson-Berkman
Such a joy to see Jobsite Theater's MacBeth. Can't recommend it enough. See the original Game of Thrones!!! – Stephen Ray
Via Twitter
So, Macbeth at @jobsitetheater was a lot of fun. They had a guy come out with a mop during intermission to clean up the blood. Lady MacBeth was scary. I was also afraid of having blood splashed on me, a knife driven into my face, or a gun shot near my head. And I liked how the dealt with the witches. (They always had about 4 actors on stage literally switching hats with their characters.) – @BXGD
Show was great. The cast is excellent, especially 'Macbeth' aka Giles Davies. #madskills #theater #Tampa – @CountingStars29
Hey #Tampa! Go see @jobsitetheater's#Macbeth. Well done & creatively staged. Mr. Davies & Ms. Legault = powerful. Whole cast was so strong! – @ladriaan
Got to see another awesome show by @jobsitetheater; unique interpretation of a classic! #Shakespeare #Macbeth #edgeofmyseat @slaughterfern – @versusmoll
Blog Us
Want to add a groovy graphic like this to your blog or website?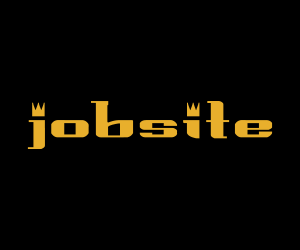 Jobsite provides a variety of cool banners that you can put on your website. AND they update automatically. So just drop it in once, and when we're ready for our next show, we'll update the graphic, and it'll automatically update on your site too!
Share: