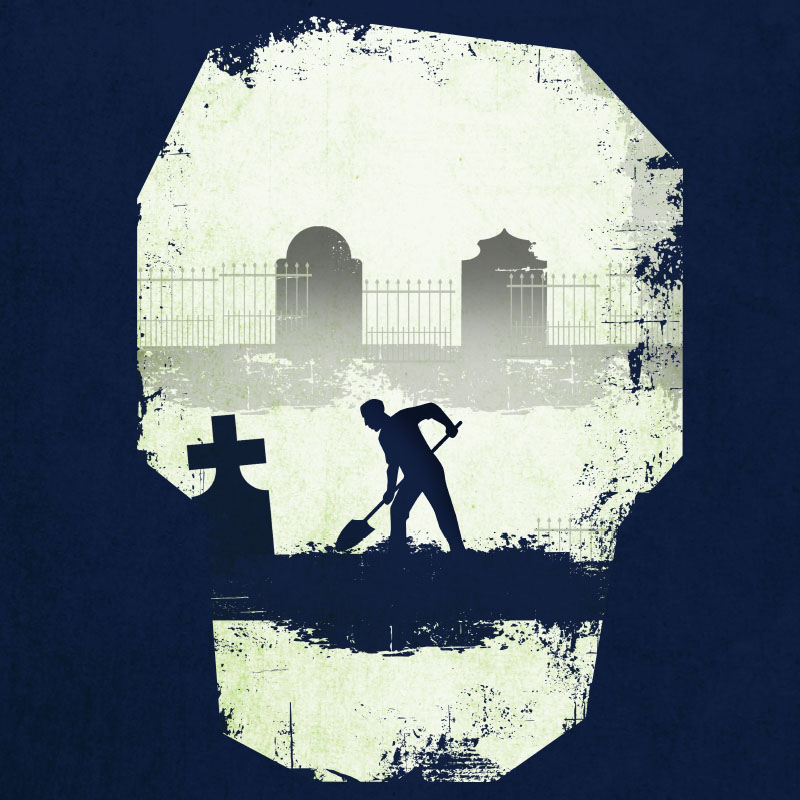 By Martin McDonagh
Directed by Paul J. Potenza
Mar. 17 – Apr. 9, 2017
Thu. – Sat. 8pm, Sun. 4pm
Tickets: $28
Preview Performances: Mar. 15 – 16 | Wed. – Thr. 8pm | Tickets: $14
Shimberg Playhouse, Straz Center for the Performing Arts
Creative Loafing Best of the Bay
Theatre Tampa Bay Nominated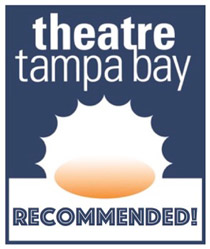 Populated by misfits and miscreants all digging for the truth, A Skull in Connemara is a blasphemously funny whodunit set in rural western Ireland complete with flying skulls and bloody mallets. Martin McDonagh's plays (The Pillowman, The Lonesome West) are undeniable favorites of the Jobsite faithful, and the company is thrilled to once again bring his signature dark wit, kooky characters, on-stage mayhem, and crackling dialogue back home.
Mick Dowd is hired one week a year to disinter the bones in certain sections of the local cemetery in Leenane (a small town in County Galway, Ireland) to make way for the new arrivals. As the time approaches for him to dig up those of his own late wife, strange rumors surrounding his involvement in her sudden death seven years ago begin to resurface.
If the name Mick Dowd sounds familiar it is because he has been gossiped about in the other plays. Leenane is a tight-knit but badly fraying community where everyone knows (or thinks they know) everyone else's business. You'll hear about Mag Folan, freshly murdered by her daughter Maureen, the ironically nicknamed title character of The Beauty Queen of Leenane.
You'll also be reminded of Ray Dooley's extralegal exploits, as well as the ministrations of the young priest Father Welsh ("Walsh? Welsh!"). The latter is so despairing of his flock in this God-forsaken place that he drowns himself after having burned his hands to "skitter" in the molten wax of boiling Catholic figurines — a last desperate measure to get the violent Connor bothers to stop beating the hell out of each other after the murder of their father in The Lonesome West.
Jobsite and McDonagh
Jobsite began what is commonly referred to as the "Leenane trilogy" in 2003 with The Beauty Queen of Leenane, chosen as a top production of the year by both Creative Loafing and Tampa Tribune. Beauty Queen was also the show Jobsite was performing when granted resident theater company status by Straz president Judy Lisi.
The company followed Beauty Queen up 10 years later with The Lonesome West, a production that was nominated for eight Theatre Tampa Bay Awards and earned David Jenkins a spot of Creative Loafing's Top 9 Performances of the year list. In between 2003 and 2013, Jobsite also produced McDonagh's The Pillowman (2006) and The Lieutenant of Inishmore (2009), both to high acclaim. McDonagh is probably more widely known as the Oscar-winning filmmaker of In Bruges, Seven Psycopaths and Six Shooter.
About The Playwright
After writing a number of plays in a very short period of time, McDonagh has since become a successful screenwriter, winning awards and enjoying box office success with films like Six Shooter, In Bruges, and most recentlySeven Psychopaths. His most recently play, A Behanding in Spokane, starred Sam Rockwell and Christopher Walken on Broadway.
Paul Potenza – Director
Matthew Ray – Stage Manager
Cast
David M. Jenkins – Thomas Hanlon
Brandon Mauro – Mairtin Hanlon
Diana Rogers – Maryjohnny Rafferty
Brian Shea – Mick Dowd
Crew
Teah Banks – Stage Management Intern
Ryan E. Finzelber – Lighting Designer
Spencer Meyers – Properties
Shawn Paonessa – Sound Designer
Brian M. Smallheer – Scenic Designer
Katrina Stevenson – Costume Designer
What a nice show with some very nice performances. The first scene was very strong. Brian, Diana, and Brandon were very good together. My wife and I were in the two seats beside the recliner, and we felt we were eavesdropping rather than watching a play. Real good stuff. – Ben Graffam
My [HCC] students raved about it. One of them brought a boyfriend who hates theatre; he loved it and told her he'd go to more shows if they were like your production! I got to see it this past weekend and was delighted. Terrific performances in a great production. – Clareann Despain
Another winner from Jobsite Theater! – Tom Wheatley
Amazing show. Great job Mr. Shea, Mr. Jenkins, et al. Nice set, too. Anyway, I thoroughly enjoyed my evening, and my fiancée and our friend were no less impressed. You pleased the skitters out of me. – Christopher Buehlman
Incredible show! The set was amazing and each character was perfectly cast! I loved it! – Lorinda Toole Gamson
I decree that you should see #ASkullInConnemara @jobsitetheater 
 – Désirée (@Melowsh)
March15-April 9, A Skull in Connemara, brush up on your Irish Brough you're in for a dark witty mystery comedy – Carla Gormon (@CGormon)
@jobsitetheater, @maladrin #jobsiterocks #jobsiteskull 
 Killin it! 
 – Jaime O&B Playwright (@obrien_jaime)
@jobsitetheater's A Skull In Connemara is brilliant, hilarious, morbid, brilliantly set designed, perfectly directed. Still some shows left – Timothy Burke (@bubbaprog)
As usual you have put on a fantastic play. We so enjoyed it… especially sitting on the front row. – Dianne Stevens
Excellent show tonight! – Bonita J. Bays Axley
Another winner!! A Skull in Connemara, an Irish play with enough humor and twists to keep you wondering and laughing throughout!! Terrific acting and a wonderful set that does tricks (quite a feat for this small theater). – Hal Freedman
Saw this today. As usual Jobsite does NOT disappoint! A must see! Jobsite rocks! A Skull In Connemara was a great way to escape for an afternoon! Thanks to all for a great show! – Lori Pate
A Skull In Connemara was a powerfully entertaining evening of theatre, challenging, funny, frightening and filled with a sense of history and Irish contrapuntal wisdom. Godot always waiting to pounce. Direction by Paul J. Potenza brings those detailed moments to the foreground, and the fearless actors, Diana Fye Rogers, Brian Shea, Brandon Mauro, David M. Jenkins embody the characters with a wicked reality that makes for a great evening of theatre that deserves to live and continue. The sets were a marvel, clever and poetically real. Shimberg, till April 9th. Go see these terrific players in this artful piece of theatre. – Martha Velez
Great show, @jobsitetheater @BrianSheaActor @maladrin You're going to want to see this, #TampaBay Julie 
 – (@Julie_in_FL)
@jobsitetheater's new production is a darkly humorous and macabre yarn. – Chris Tisch (@christisch1)