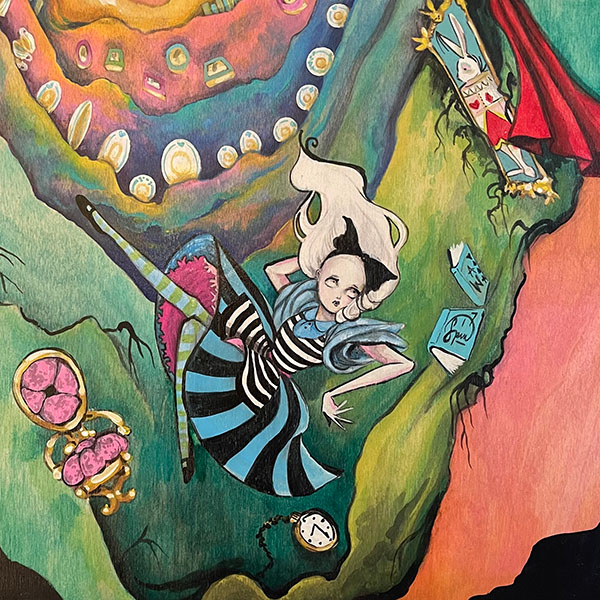 A cabaret spectacle celebrating the work of Lewis Carroll
Adapted by David M. Jenkins, Spencer P. Meyers, and Katrina Stevenson. Art Direction by Spencer P. Meyers. Music by Jeremy Douglass and Juniper Douglass. Lyrics by Lewis Carroll, Colleen Cherry, Jeremy Douglass, and Kasondra Rose.
May 12 – Jun. 4, 2023
Preview Performances: May 10 – 11
Shimberg Playhouse, Straz Center
This show is dedicated to the memory of Rachel Ann Lisi, who loved both Jobsite and Lewis Carroll
Creative Loafing Best of the Bay Nominated
We realized something with 2021's Shockheaded Peter (winner of not one but two 2021 Creative Loafing Best of the Bay Awards): we missed devising new work. For our first 10 years, a mainstage slot was dedicated to a new show that brought together the embarrassment of talent the company has available. Jobsite Theater's ALICE is a brand-new cabaret spectacle based on the writing of Lewis Carroll that fuses live music, visual art, puppetry, aerial and circus arts, and plenty of good ol' fashioned theater magic in an evening audiences may not be able to simply categorize as a play, musical, or something altogether different, but that they will surely talk about for years to come.
Original music — ranging in style from weird polkas to the musical theater stylings of Kurt Weill – is being composed by our resident wizard Jeremy Douglass (with assistance from his daughter Juniper Douglass) with lyrics by Douglass, Lewis Carroll, Colleen Cherry, and Kasondra Rose. The live band features Douglass on keys with Mark Warren on strings and Elwood Bond on percussion.
Katrina Stevenson and Kasondra Rose team up to provide choreography and dazzling aerial lyra hoop sequences. Stevenson also serves as the show's costumer.
The entire visual aesthetic of the show is based on the artwork of Jobsite Artistic Associate Spencer P. Meyers, who is also designing and building all of the puppets, ranging in size from tiny 1-person miniatures to enormous constructions operated by 4 performers.
While we do not like to make direct age recommendations because every family has different and tastes and sensibilities and every child is unique, we do hope this show will be fun for the young and young-at-heart. To ensure optimum enjoyment for all guests, we strongly recommend that children under the age of 5 not attend any theater show that is not specifically toddler-friendly.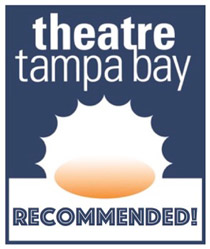 David M. Jenkins – Direction
Jeremy Douglass, Juniper Douglass – Compositions
Book & Lyrics
Lewis Carroll – Lyrics
Colleen Cherry – Lyrics
Jeremy Douglass – Lyrics
David M. Jenkins – Adaptation, Book
Spencer P. Meyers – Adaptation
Kasondra Rose – Lyrics
Katrina Stevenson – Adaptation
Cast
Julia Rifino – Alice
Robert Spence Gabriel – Jabberwocky / Knave of Hearts / Puppets
Colleen Cherry – Bandersnatch / Queen of Hearts / King of Hearts / Puppets
Donovan Whitney – Mad Hatter / White Knight / Caterpillar / Puppets
Ryan Sturm – White Rabbit / March Hare / Mock Turtle / Puppets
Katrina Stevenson – Cheshire Cat / Red Queen/ Tweedledum / Puppets
Kasondra Rose – Dormouse / March Hare / Tweedledee / White Queen / Puppets
Band
Jeremy Douglass – Keys
Mark Warren – Strings
Elwood Bond – Percussion
Production and Crew
Maxwell Allen – Scenic Crew, Lighting Crew
Connor Averill-Snell – Scenic Crew, Lighting Crew
Jo Averill-Snell – Lighting Designer
Teah Banks – Properties
Dave Cohen – Sound Consultant
Matthew Gasperino – Lighting Crew
Greg Kazek – Sound Engineer
Ashley Lord – Puppetry Consultant
Spencer P. Meyers – Puppet Design and Construction
Nick Noelte – Scenic Crew
Abby Purvis – Stage Management Intern
Julia Rifino – Scenic Artist
Kasondra Rose – Choreographer
Brian Smallheer – Set Design, Technical Direction
Nicole Jeannine Smith – Stage Manager
Katrina Stevenson – Choreographer / Costume Designer
saw it last night … OUTSTANDING! – Lea Davidson-Bern
It was SPECTACULAR, as always. <3 – Amanda DeCort
Wonderstruck! I giggled, chuckled, chortled, tee-hee-hee'd in amazement the whole time. I even stifled a snort 😆 Can't wait to see it again! – Steph Gocklin
Thank you @jobsiotetheater for the amazing opening night of Alice, what an amazing production! – @robertgaston.realtor
This is my new favorite interpretation of Alice in Wonderland. It has everything! Acrobatics, puppets, music plus great actors! GO!! – @kyoukifl
Truly Incredible Performance! An awesome production. We loved it. – Mark and Bonita Axley
Just saw it — WOW WOW WOW!! Dazzling fun and excellent production all around. – Rachel Macke
Julia is absolutely incredible!! What a talented actress and puppeteer!!! – Heather Hanson
Saw this show tonight! It was amazing! The singing, acting, staging, musical score, directing, sets, props, puppets, and costumes all came together for 85 minutes of pure magic🎩 !!! Lewis Carroll, I'm sure, would give this one 2 thumbs up 👍!! – Barbara Goebel
Awesome performance on Sunday! Loved the energy! – Bonita Axley
Bravo! The Show was mesmerizing!! – @bby_cooperative
It was magical! – Jannine Cherry
The opening night of Alice was amazing! – @halfpinthippie
I loved every minute of it, every time I had a favorite character, a new one came along!! Everybody nailed their part! I was excited to get to hold one of the oysters!😍😍😍 Great job everyone!! – Melody Griffith
Awesome. It's weird. It's kooky. It's fabulous. And you'll find yourself singing along with a turtle. Get your tickets while you can. – Brad Casey
We saw Alice tonight! The artwork, puppets, original songs, costumes, and script were amazing!!! One of my favorite shows of all time! Don't forget we're all a little mad! ❣️♠️♥️♣️♦️🃏😸😻🙀👑🐇🐰🎩🥳☕️🫖⏱️🥿🤴🏼👸🏼🌹😻🩷❤️🧡🧡💛🩵💙💚💙 – Cherry Lynn
What a great show! Thanks for providing us with such wonderful, innovative entertainment!! – Kelsi Oswald
The selection of shows this year was awesome! Maybe my favorite year yet and Wendy and I have been season ticket holders for several years. Every season has some absolute gems but this season every one has been great! – Rebecca Geiger
We LOVED Alice – It's the ONLY production of Alice in Wonderland / Through the Looking Glass that stays TRUE to the SPIRIT of the book throughout the entire show. Amazing songs / singing / acrobatics / puppetry / music / acting / staging / props / etc etc etc. I checked out both books from the library a couple of weeks ago and read each so I was ready for every reference and boy – Jobsite's production is PACKED full of the seeming LUNACY of Charles Dodgeson's Lewis Carroll. I think these two books inspired and informed MUCH of the twentieth century. Jobsite Theater ROCKS – A Thespian Treasure of Tampa Bay – Michael Bagby