By Tim Robbins
With reportage from John Simpson, BBC; Alan Feuer, New York Times; Robert Fisk, The Independent; and Martha Gellhorn
Co-directed by David Jenkins and Shawn Paonessa
Aug. 14 – 31, 2008
Thu. – Sat. 8pm, Sun. 4pm
Tickets: $24.50
Shimberg Playhouse, Straz Center for the Performing Arts
Special Events
Media
Cast & Crew
Patron Reviews
Season
Winner!
Creative Loafing 2008 Top 10 Production
Jobsite Jobby – Best Play
Jobsite Jobby – Best Director – David M. Jenkins & Shawn Paonessa
The southeastern US premiere!
Set in the fictional "Gomorrah" where American forces are preparing to do battle with "the butcher of Babylon," Embedded is an audacious and often hilarious satire-drama about the start of the Iraq War.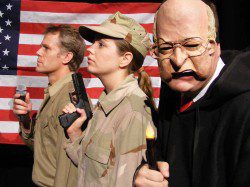 Between the heavily satirized Office of Special Plans (featuring a cabal of masked characters with names like Rum-Rum, Cove, Dick and Woof) and the tenderly depicted men and women serving in the armed forces, Embedded pits the journalists – conflicted between searching for the truth and submitting their reports (and paychecks) through the many gatekeepers struggling to keep the media on the "right" side.
Through its quest to find the truth and fault across all party lines, Embedded finds its balance by incorporating actual journalistic reports from news sources such as the BBC and New York Times, some of which never made it into the American media.
The original Los Angeles production by Robbins' own The Actors' Gang was described as "a ripped-from-the-headlines satire about the madness surrounding the brave women and men on the front lines in a Mideast conflict. [It] skewers cynical embedded journalists, scheming government officials, a show-tune singing colonel, and the media's insatiable desire for heroes."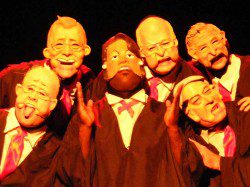 Tim Robbins interviewed embedded journalist Evan Wright of Rolling Stone and HBO's Generation Kill as part of his research, along with Anthony Swofford, the Gulf War I veteran who wrote the popular book Jarhead. In 2003 after the premiere of this play, Robbins was greatly criticized by conservative media for his perceived lack of patriotism. The most famous contretemps involved the baseball hall of fame, who uninvited Robbins and cancelled a screening of the baseball comedy Bull Durham.
Robbins is known in Hollywood for both his acting (Mystic River, Bob Roberts, Short Cuts) and his directing (Dead Man Walking, Cradle Will Rock.) Formed in 1981, The Actors' Gang has produced 68 plays, six of which were directed by Robbins, the company's Artistic Director.
Jobsite is also no stranger to political satire, having successfully produced such works as The Complete History of America (abridged), The Mineola Twins, We Won't Pay! We Won't Pay! and Accidental Death of an Anarchist.
"… a surprisingly touching and balanced play." – Los Angeles Times

"…while the already converted will not be disappointed, there is enough in this show that gets beyond political slogans and snaps, crackles and pops with considerable freshness…" – Chicago Sun Times
Age recommendation: 16+ Contains adult situations and language.
"Jobsite Theater could not have picked a finer show than Embedded to close out the 2007–08 season. Written by Tim Robbins, this was, by far, Jobsite's best production … Embedded is a creative, original and intelligent play that lingers long after the curtain goes down." – Tampa Tribune
" … the play is harsh, unrelenting, at times grotesque and exceedingly refreshing. In a more perfect universe, every city would have a theater troupe that performed plays like Embedded every time there was a national crisis … See it before the Constitution goes the way of the Geneva Conventions … If you don't believe that the live theater can be a potent political instrument, see this play and change your mind." – Creative Loafing
Special Events
Jobsite Performance Benefits The Poynter Institute
Jobsite Theater is dedicating a portion of sales from the final performance of Embedded on Aug. 31 at 4pm to benefit The Poynter Institute. This performance will also feature a post-show discussion with St. Petersburg Times writer and embedded journalist Meg Laughlin, Dr. Roy Peter Clark of The Poynter Institute and ABC Action News anchor Brendan McLaughlin. The Poynter Institute will also be accepting additional donations after the performance via collection envelopes.
The Poynter Institute is a school for journalists and media leaders in St. Petersburg. The institute is a 501(c)(3) nonprofit, and donations provide scholarships for student and professional journalists from all over the world to come to Poynter for training. Student programs include a writing camp for elementary and middle school students and journalism workshops for high school students.
About the Speakers
Dr. Roy Peter Clark is Vice President and Senior Scholar at The Poynter Institute. Roy has taught writing at every level–to school children and Pulitzer Prize-winning authors–for more than 30 years, and has spoken about the writer's craft on The Oprah Winfrey Show, NPR and Today; at conferences from Singapore to Brazil; and at news organizations from The New York Times to the Sowetan in South Africa. He is the author of "Writing Tools: 50 Essential Strategies for Every Writer," the book and the blog.
Meg Laughlin is a reporter for the St. Petersburg Times. While working for the Knight-Ridder, who at the time owned a chain of 32 newspapers, she went to Afghanistan right after the 9-11 attacks to cover the war and its effect on Afghans. Fifteen months later, she went to Iraq to cover the effects of the war on U.S. soldiers and the Iraqi people. In mid July she went to Egypt and Qatar for the St. Petersburg Times. In Egypt, she interviewed the families of people held in the U.S. on terrorism-related charges. In Qatar, she interviewed Sami Al-Haj the only journalist held in Guantanamo Prison, who was released in May. She has received national awards for international, consumer, investigative and education reporting, as well as for feature writing.
Like many television journalists, Brendan McLaughlin worked in several other media markets before finding his broadcast home here in Tampa Bay. Brendan grew up, went to school and started a family in "the other Bay area" and began his career as an intern at the CBS affiliate in San Francisco. His first real job offer came from a station in Austin, Texas. In one of my first assignments, they sent me right back to San Francisco to cover the Loma Prieta earthquake that interrupted the World Series in 1989. His next assignment in Seattle, Washington involved a lot more rain gear, Starbucks coffee, and travel. In a few short years, he filed dispatches from Cuba, Iraq, and Vietnam, picking up a regional Emmy award for reporting. He also spent weekend evenings in the anchor chair. When WFTS television picked up the ABC network affiliation in 1994, he, along with over a hundred other professionals moved to Tampa to start a brand new news operation and he has been proud to anchor the evening newscasts ever since.
Care Packages for Troops Overseas
Jobsite Theater is serving as a collection point for items to be bundled into care packages and shipped to military units currently serving in Iraq and Afghanistan during their run of Embedded.
Embedded cast member Roz Potenza has a niece and nephew currently deployed overseas. Dana Crigger is stationed at FOB Liberty in Baghdad and her husband Dave Crigger is at HHC/TF Eagle Assault in Khandahar. They spent only about a week together as husband and wife before they began training, and will not come back together again until 2010. Potenza brought up the idea of sending care packages to the directors of the show, who were all for it.
"My impetus was to reach some of the kids that my relatives are working with every day and to make an impact where it is most needed," says Potenza.
"I appreciate the political POV of this show but this is where my heart is … divided between these two countries that hold my and so many others' loved ones. I think this is where we can really make a statement as an artistic community coming together for this cause."
At right is a list of suggested items that people may bring to the theater on any night, which was provided directly by the troops of these units. These items will be coordinated and shipped by Roz Potenza at the conclusion of the run.
Easy Mac, Cup o' Noodles – any foods that are just add water and microwave
Books, DVDs or CDs (new or used)
Small games or playing cards
Greeting/Thank-You cards – there are not a lot of options over there, so it is nice to stockpile some for people to send and for occasions and birthdays
Magazines for men or women
Homemade goods (cookies, etc – will be mailed immediately)
Edge Shaving Gel
Beef Jerky
Toothbrushes
Toothpaste
Prepackaged snacks (anything, just nothing that will melt – keep in mind it's +120°)
Gummy Bears
Coffee Creamer
Flavored-water packets (like Propel, Crystal Light)
Sudoku and crossword puzzle books
Gum
Media
On the Air
Listen to the Cast/Crew of Embedded on WMNF's 8/22/08 Art in Your Ear. (Jump to the 12 minute mark.)
Related Posts
Cast & Crew
David M. Jenkins – Co-director
Shawn Paonessa – Co-director
Cast
Curtis Belz – Perez / Camera Kid, et. al.
Steve Garland – Stringer / Rum Rum
Josh Goff – Hardchannel / Gondola
Amy E. Gray – Kitten Kattan / June
Meg Heimstead – Gwen / Maryann
Chris Holcom – Chip Webb / Cove
Alvin Jenkins – Dad / Buford T. / Pearly White
Betty-Jane Parks – Jen
Kyle Porter – Monk
Roz Potenza – Amy Constant / Mom / Woof
Christopher Rutherford – Sarge / Dick
Summer Bohnenkamp – Stage Manager and Sound/Light Operator
Crew
David M. Jenkins – Sound Designer/Engineer
Richard Henzel – Mask Designer
Shawn Paonessa – Sound Designer and Video Designer/Engineer
Elizabeth Romaner – Costume Constructor
Brian M. Smallheer – Scenic and Light Designer
Katrina Stevenson – Costume Designer/Video Operator
Patron Reviews
The play itself was mind-boggling, the masks were absolutely terrifying, the performances were beyond comprehension. I know the preview night is generally for final tweeks but I cannot imagine how you could possibly improve on what you presented last night. – Diane Reeves
Embedded – aren't we all … Loved the show – creative use of space, music, electronics, quotes, video … Great comedic moments (the government – ha!) and wonderful tender moments!!! Have a good run. – Andrea Graham
…it is well acted and well directed. This is what theater is supposed to be, thought-provoking, discussion stimulating and above all entertaining. While those responsible for the war are pilloried, those serving in the conflict and their families are treated with nothing but respect by both the script and the production. – David Hood
I loved the play. I thought it was smart and exciting and hilarious at times, sad at others, excellent job all around. – Susan O.
We had to leave in a hurry last Friday night after the play, but I just wanted to tell you that even though I am a Republican … that was an outstanding performance! The set, the actors, the music … perfect! See, Republicans can be ok! – Willy Baynard
Embedded was terrific. Creepy, funny, disturbing, poignant and thought provoking. Acting and direction were hallmarks. Thanks again for another fantastic theater experience. – Rachel Lisi
Thanks so much for the show last night! Whenever I have seen Actor's Gang shows in the past, they always come across as if someone had just ripped off a huge gashing scar causing blood to flow in every which way, in every unexpecting direction. You guys captured that! Congrats! – Jason Peck
Another great show for Jobsite. I was surprisingly moved, having anticipated mostly satire – but the balance of pathos and humanity, caricature and horror, comedy and emotional gut punches was truly wonderful theater to witness. I am very proud of this ensemble. It was awesome to experience such a relevant and powerful theatre assault. Bravo! – Leah LoSchiavo
Bravo to the cast and directors of Embedded! I had the great pleasure of attending this past Saturday night's performance. My first ever visit to Jobsite Theater. I must admit, I approached with some trepidation by way of a personal loss in 9/11 and my military service, uncertain as to how the military was to be portrayed. Much to my delight, I found it both wickedly funny and painfully gut wrenching at times. It was absolutely relevant and spot on! My hat's off to all of you at JST – Lauren A.
Blog Us
Want to add a groovy graphic like this to your blog or website?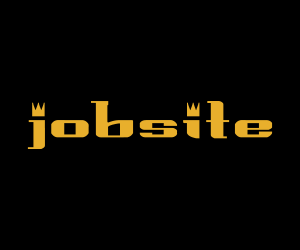 Jobsite provides a variety of cool banners that you can put on your website. AND they update automatically. So just drop it in once, and when we're ready for our next show, we'll update the graphic, and it'll automatically update on your site too!
Share: