We Won't Pay! We Won't Pay!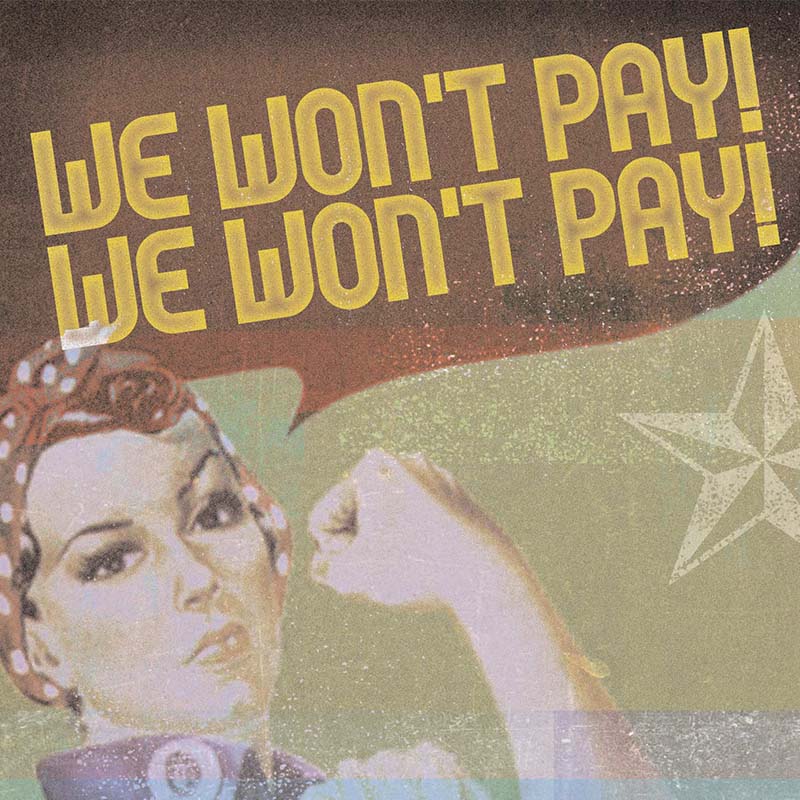 We Won't Pay! We Won't Pay!
By Dario Fo
Directed by David M. Jenkins
June 1 – 18, 2006
Thu. – Sat. 8pm, Sun. 4pm
Tickets: $16.50 – $21.50
Shimberg Playhouse, Straz Center for the Performing Arts
With the price of groceries rising every day, what's a poor girl to do? Spontaneously protest by stuffing food up her sweater and pretending to be pregnant, of course!
In a new translation, We Won't Pay! We Won't Pay! is a side-splitting, chaotic comedy of errors. Think classic commedia dell'arte meets The Honeymooners. At the heart of all the high jinks is a basic human need – hunger – and the very human desire to satisfy that need with one's dignity intact.
Fans of Jobsite's previously produced politically-charged work like The Complete History of America (abridged), The Mineola Twins and Cloud Nine should feel completely at home with this new production.
In We Won't Pay! We Won't Pay! simple housewife Antonia is forced into joining a crowd of women in "liberating" groceries due to poverty and merciless price-gouging in a world where both government and business conspire against the working class.
When the police begin a house-to-house search, Antonia enlists the aid of her best friend Margherita to hide the goods by masquerading as pregnant women. As the first lie is told to Antonia's factory worker husband Giovanni, a wild comic sequence of events explodes and spirals out of control through the final curtain.
We Won't Pay! We Won't Pay! has been staged in over thirty countries. Like Chaplin's tramp reduced to eating his shoe in The Gold Rush, Dario Fo's clowns suffer from hungers with which everyone can identify.
Dario Fo's strength is in the creation of texts that simultaneously amuse, engage and provide perspectives. As in commedia dell'arte, Fo's plays are open for creative additions and dislocations, encouraging improvisation and influencing the audience in remarkable ways.
Opening Night Reception
Jobsite is hosting an opening night reception, Thursday June 1 at the Shimberg Playhouse. The event will begin around 6:30 and will include drinks, music and more, including a kickoff of our food drive with Metropolitan Ministries (see below.)
Commedia Dell'arte Master Class
Jobsite Theater will hold a commedia dell'arte master class for grade 10 to adult led by David M. Jenkins, Jobsite Artistic Director and director of We Won't Pay! We Won't Pay! David has studied with the San Francisco Mime Troupe and the clown troupe Gams on the Lam. This master class emphasizes the basics of commedia dell'arte in regard to the stock character types, their physicality/movement, the fundamentals of status and basic character interaction. Participants should dress in comfortable clothing and be ready to move. For more information, call 813.222.1002.
Talkback
The Sunday, June 11 performance will feature a Questions & Answers Talkback with the Director and Cast following the 4 pm performance.
Jobsite Teams Up With Metropolitan Ministries
Jobsite is partnering with fellow local not-for-profit organization Metropolitan Ministries for a food drive during their production of We Won't Pay! We Won't Pay!
During all performances of We Won't Pay! We Won't Pay! Jobsite will host a collection barrel in front of the theater for one hour preceding every performance and will accept donations for non-perishable food items.
Metropolitan Ministries provides food (among many other vital services) to over ten thousand homeless and hungry Bay area residents each year. Jobsite recognizes that a lot of attention is given to charities such as Metropolitan Ministries during the holiday season and wishes to help contribute in stocking their food pantry during the middle of the year, when items can begin to get low.
"The characters in We Won't Pay! We Won't Pay! suffer from hunger – not just for food but for dignity, justice and opportunity" said Jobsite Artistic Director David Jenkins. "It's important for us to work with other community organizations to help make this a better place for everyone."
In the past Jobsite has developed programs to help benefit Hillsborough Association of Retarded Citizens and Tampa Fire Rescue.
David M. Jenkins – Director
Jaime Giangrande-Holcom – Stage Manager
Cast
Katrina Stevenson – Antonia
Meg Heimstead – Margherita
Ward Smith – Giovanni
Michael C. McGreevy – Luigi
Chris Holcom – Police Sgt., State Trooper, Gravedigger & Grandfather
Crew
Christen Hailey – Assistant Director
David M. Jenkins – Sound Designer
John Lott – Set Designer
Brian M. Smallheer – Light Designer
Katrina Stevenson – Costume Designer
BRAVO! Great job! Thanks for sharing yourself and your talent with the rest of us! – Janet Pantaleo, Metropolitan Ministries
I wanted to commend you for a very succesful production of a very difficult play. Fo has been, and remains one of my favorite playwrights. I had the pleasure of seeing John C. Reily and Bill Cusack in Accidental Death… in Los Angeles many moons ago and what I found striking about your production… was that despite the commedia style of acting it was grounded in reality and honesty which is a credit to you and certainly to your actors. Was the LA production funny? Sure. Did [it] have any pathos? No. Your production had both, so hats off for a great production of an exceedingly difficult play. – Jason