What a year it's already been, and we still have two months to make even more history as we continue with our 2018-19 20th Anniversary Season!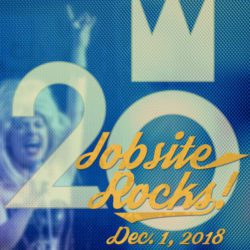 As Edgar & Emily heads toward closing on Sunday, we're now ramping up efforts on our Jobsite Rocks! 20th Birthday Bash taking place at the Straz's Jaeb Theater on Dec. 1. This is going to be a very special night of food, drinks, friends, amazing silent auction and drawing prizes (including HAMILTON tickets, what-what!?!) that I hope you will join us for. We have two points of entry, a VIP ticket that starts at 7pm with a private reception and an open bar among other perks, and a general admission ticket that gets you in as of 8:30pm before the 9pm variety show that features a ton of your favorite #TampaFamous folks.
If for any reason at all you won't be able to join us for the party, we hope that you will be able to help us out at the end of the year by helping us with #GivingTuesday on Nov. 27. All proceeds raised for both #GivingTuesday and the Jobsite Rocks! 20th Birthday Bash will go to help us make our 2018 Annual Campaign goal of $75,000. We're currently 63% of the way there and so every dollar counts. We still have around $6,300 in matching funds thanks to a generous grant by the Gobioff Foundation, which would make your gift twice as meaningful! We have a goal of $6,000 set for #GivingTuesday alone, stay tuned via social media or our newsletter for updates on how you can make a difference with both of these events.
Despite some rocky stuff that went down during our 2017-18 season (like Hurricane Irma's impact on our season opener, the loss of education funding, and the state of Florida's decision to cut arts and culture funding by 94%), I am so happy to report the many successes that we've had in 2018. Among the great news:
Three performances in 2018 cracked our Top 10 list not just in attendance but also in dollars. First The Tempest, then 1984, and then finally Hedwig And The Angry Inch blew up the box office. Hedwig claimed our #1 all-time slot by a WIDE margin, earning over $10,000 more at the box office than our #2 show. A lot of the box office success this year is not only because more people are coming to our shows but also because we made a move to demand-based pricing. This pricing model essentially lets the audience dictate the price for any given night, the higher the demand for any single performance, the more the tickets cost that night. This also works in the other direction, allowing us to lower prices on performances in less demand thus ensuring we are always keeping our tickets accessible to as many people as possible. In a world where funding is getting harder to come by and individual giving is down, the box office is really the only thing we as a theatrical production company can control.
The move to demand-based pricing has also made our season tickets an even better value. Our season passholders are now paying up to 70% less than the others seated around them while they enjoy a number of other great benefits. All told we brought over 15,000 people to downtown Tampa in 2018 and had an overall impact of $750,000..
We continued our education efforts, despite the cuts to funding, in offering both The Tempest and 1984 to area schools. This program allowed us to educate, entertain, and inspire over 2,500 students across 5 counties. The great success of our efforts will hopefully pay off in a big way for the 2019-20 season: we've been invited to apply for substantial funding of our programs through the NEA.
Through all of our mainstage efforts in 2018 we employed almost 60 regional artists of just about every type: professional actors, directors, stage managers, stage hands, musicians, choreographers, composers, and technicians. We spend over 85% of our earned revenue directly on artist payroll, that means $.85 of every $1 you spend on a ticket goes directly into the pockets of the people whose work you're witnessing on any given night. Since our professional artists all also reside here in the region that money stays right here in the community, helping improve the economy for all of us.
We're celebrating our 20th Anniversary Season! Yeah, I know I already mentioned that above but I think it bears repeating. Do you understand what a major milestone that is for a small professional theater? It's rarer than you likely think. It's even more impressive when you consider that the five of us got this thing started with no investors or donors, no family members in a position to help us out with a loan or a space, no cash of our own. We truly had nothing but moxie and a desire to do something different here. I believe that we have done that, and have grown into something far greater than what we set out to a do. We're still an artist-driven collective, we still make democratic decisions on the work we do and actively seek things folks won't likely see anywhere else, we're still trying to engage this community to encourage them to be true citizens, we're still trying to offer a space for everyone in the community to experience a great reckoning in our little room.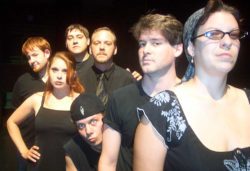 I've had the great fortune to be with this company from the start. I am honored to continue to serve as the artistic and administrative head of this organization, but I hope you realize that I'm still one person who just so happens to walk on the shoulders of giants. Many of my dearest friends surround me as Artistic Associates. Many more work as part of our mighty ensemble who are doing most of the heavy lifting when it comes to the work you see on stage. The work of our board of directors is perhaps even more important than the work we're doing on stage because without their tenacity and dedication I would be out of a job and we wouldn't have the means to produce at all.
And, finally, of course I walk on the shoulders of the many giants who support us through buying tickets, through helping us out with in-kind donations of goods and services when we need them, and of course those angels who donate to help offset the high costs of producing quality, professional theater while keeping ticket prices affordable and offering those in our community without the means theater at no cost to them as we do with many of our school groups.
There is so, so much to celebrate and be proud of. So much we have done and so much more we want to do. I hope to see you on Dec.1 at the big event so that I can toast you in honor of your part in it all.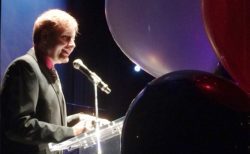 Best,
David M. Jenkins
Producing Artistic Director