Hedwig and the Angry Inch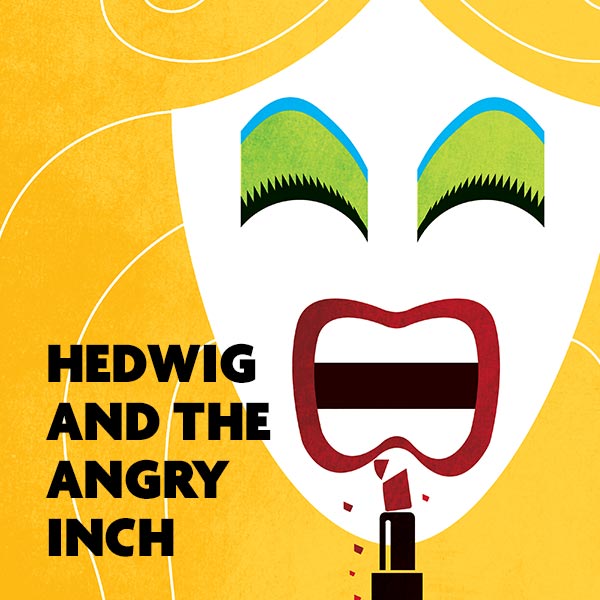 Hedwig and the Angry Inch
By John Cameron Mitchell And Stephen Trask
Extended! Aug. 17 – Sep. 15, 2018
Tickets start at: $29.50
Preview Performances: Aug. 15 – 16 | Tickets start at: $18
Shimberg Playhouse, Straz Center for the Performing Arts
Creative Loafing Best of the Bay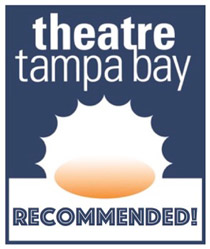 The gold glitter standard of queerglam rocker musicals, Hedwig and the Angry Inch follows German immigrant-turned-Kansas-trailer-park-wannabe-rock-goddess Hedwig Robinson during one life-changing night of her musical act. Full of TMI, towering go-go boots and cult hits "Exquisite Corpse," "Wig in a Box," "Tear Me Down" and more, this campy romp reveals the blistering realities of self-acceptance that defy gender identity.
Hedwig and the Angry Inch tells the story of "internationally ignored song stylist" Hedwig Schmidt, a fourth-wall smashing East German rock 'n' roll goddess who also happens to be the victim of a botched sex-change operation, leaving her only "an angry inch."
This outrageous and unexpectedly hilarious story is dazzlingly performed by Hedwig (née Hansel) in the form of a rock concert/stand-up cabaret routine backed by her husband Yitzhak and the hard-rocking glam band "The Angry Inch." It's a rollercoaster ride: funny, touching, and ultimately inspiring to anyone who has felt life has given them an inch when they deserved a mile. Hedwig and the Angry Inch has been an Off-Broadway cult hit for over two decades and enjoyed its first Broadway run in 2014 in a version starring Neil Patrick Harris.
Why It's For You
Have you ever loved and lost? Struggled with who you want to be versus who the world wants you to be? Been made to feel like a misfit or loser while knowing full well that you're a shining-star rock and roller? This show's for you. Fans of a true rock musical, fans of 70s glam (David Bowie, Velvet Underground, etc), fans of things like Rocky Horror and Priscilla Queen of the Desert, you will all certainly be fans of this.
Why We Chose It
We've produced large musicals in the much larger Jaeb Theater since 2014. While those shows were all huge artistic successes that racked up loads of awards, we had difficulty paying the bills simply because how much more it costs to produce there. As we looked to our 20th birthday we decided to reclaim our home in the Shimberg Playhouse and focus our efforts there. 2013's production of Hedwig enjoyed a sold-out run and was a major factor in our decision to start consistently producing funky musicals as an annual thing, even before thinking about the Jaeb. This success with Hedwig was even before the cult-hit show caught a second wind on Broadway in 2014 in a major production starring NPH. Why wouldn't we make this choice? Also, most people's five favorite words in theater: 90 minutes with no intermission.
Production History
Jobsite first produced Hedwig And The Angry Inch Sep. 4 – 29, 2013. Jobsite sold out the entire run of their 2013 production, and it was awarded four Creative Loafing Best of the Bay Awards, including "Most Winningly Shameless Actor" and "Best Theater Rockers." The new production reunites 2013 stars Spencer Meyers (Hedwig), Amy Gray (Yitzhak) and drummer Elwood Bond.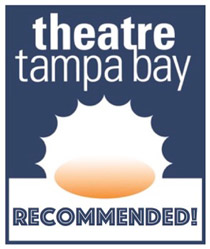 David M. Jenkins – Director
Jeremy Douglass – Music Director
Matthew Ray – Stage Manager
Cast
Amy E. Gray – Yitzhak
Spencer Meyers – Hedwig
Band
Elwood Bond – Drums
Jeremy Douglass – Keys
Nader Issa – Bass
Mark Warren – Guitar
Crew
Summer Bohnenkamp – Sound Technician
Keith College – Assistant Director
Joel Haker – Sound Engineer
Camryn Herr – Make-up Artist
David M. Jenkins – Video Designer
Lindsay MacConnell – Make-up Designer
Brian Smallheer – Scenic & Lighting Designer
Katrina Stevenson – Costume Designer
David M. Jenkins – Director
Matthew Ray – Associate Director & Stage Manager
Cast
Elwood Bond – Drums
J. Elijah Cho – Guitar, backup vocals
Amy E. Gray – Yitzhak
Jana Jones – Bass, backup vocals
Spencer Meyers – Hedwig
Crew
Crystal Valdez – Assistant Stage Manager
Scott Belowsky – Creative Consultant
Summer Bohnenkamp – Sound Engineer
Joel Haker – Sound Designer
Chris Holcom – German Dialect / Language Consultant
David M. Jenkins – Video Designer
Lindsay MacConnell – Make-up Artist
Greg Newcomb – Poster Design
Brian M. Smallheer – Scenic / Lighting Designer
Katrina Stevenson – Costume Designer
… truly realistic and stellar performance from both. The small setting of the Shimberg is where this show is meant to be. It felt authentic and raw – as it should be. I got lost in the moment and enjoyed the Tampa jokes peppered throughout. Amy's vocals were killer and left me wanting more. Spencer reminded me of Nathan Lane a la Birdcage with a dash of Liza Minnelli during the wig change and I loved it (this is a compliment of the highest degree). I felt the shift in Hedwig's persona as she slowly unravels. Spencer didn't miss a beat the whole show I don't even know how he does it. Also – tomatoes. Yes, queen …You brought them to life. Somewhere in the playbill it's mentioned that Hedwig relates to us all and it couldn't be more true. We can all find a piece that reminds us of our own pain clearly portrayed by both of you. I forgot where I was for 90 minutes. I can't thank you enough … They both go through such a transformation on stage and I got caught up in the feels. Have an amazing amazing run and I'm so glad I bought a ticket!!!" – @Danika_Leigh_Fitness
We had an amazing time tonight at Jobsite Theater's production of "Hedwig". Great show … People- get your tickets now! – Kimberly Michele
I saw the preview last night. It is absolutely beautifully produced and directed with a fabulous cast. Hedwig and the Angry Inch is so representative of Jobsite's theatrical excellence. Don't miss it! – Elissa O. Getto
Thank you thank you thank you thank you thank you thank you to everyone involved for the absolutely phenomenal performance can't wait to see it again. – Mike Fortin, Jr.
Awesome show … I don't know how Spencer Meyers was able to maintain the level of energy he did throughout the show … just WOW! And, Amy Elizabeth Gray…how does a beautiful woman transform herself into a gnarly little guy … and back to a beautiful woman?? You have to see the show to find out. Hedwig has been extended a week, but is selling out fast … 9 of the first 10 performances have been sold out. Get your tickets…DO NOT MISS THIS SHOW! – Hal Freedman
Saw it last Sunday, as well as back in 2013! Loved it both times – Heather Hanson
Amazing show ! I'm sure it will. Everyone should go out and see her. – Brenda Ordetx
So I had the absolute pleasure of seeing Jobsite Theater's incredible production of Hedwig and The Angry Inch at The Straz yesterday. Thank you Rodney Piatt for the surprise birthday present. I've seen the show several times and this production was so moving and invested. Cried throughout most of it! – Barry Ayers
Hedwig and the Angry Inch was my first show at Jobsite Theater. The theater is small and intimate and absolutely wonderful. The show is amazing! I have been a huge Hedwig fan since the movie came out. This performance is up there with the Neil Patrick Harris performance I saw on Broadway. – Gina Milea
Last night I had the pleasure of watching @jobsitetheater show Hedwig and the Angry Inch! It was awesome! Official opening this Friday— get on it! – Melissa (@melissapegley)
It's like three rock concerts and an f'ed up bedtime story. What's more important in love? Finding your other half or finding yourself? Lessons from Hedwig – rafdarrow ૐ (@rafdarrow)
saw the @jobsitetheater production of Hedwig last night!! It was raucous and ugly and beautiful 
 sarah 
 (@starryophonic)
Hedwig was as advertised- fun, subversive, and heartfelt. So much talent packed into a tiny dress, @spencerpm kills every note like he kills those shoes. Keep up the amazing work @maladrin and @jobsitetheater! I'm so proud to be a season ticket holder! – @kimcandoit
What an awesome night of theater and Talent tonight @strazcenter @jobsitetheater … I loved the story and Loved meeting the star of the show #spencermyers your amazing #bravo #lightscameraaction #hedwigandtheangryinch #theater #hedwigtampa #tampaactors #hollywood #loveis #lgbt #tampagay #equality #respect #life #fiercepierceonfilm #tamijpierce #supportthearts #artpop #drama #xo – @fiercepierce_tampabay
Had a great time last night!! You all worked so hard and were amazing!! – Nichole Marie
so stoked on it, we came home and put on the movie! It was awesome! – Keith Ulrey
Jobsite Theater Fantastic production as always! Very moving performances from Spencer and Amy, and a killer band. Rock it on opening night tomorrow (and the next three weeks)! – Troy Padraic Brooks
It was amazing! – Lorinda Toole Gamson
Just saw Jobsite Theater's production of Hedwig and the Angry Inch — I'm blown away and in love with these performers! Was fun being on the front row (OMG! Hedwig and Krystal touched me!!) … Blown away! Y'all go see Hedwig — you will literally laugh and cry. – Rebekah Z Douglass
Amazing show – so much energy, it vibrates! (I think Hedwig would approve of this comment.) – Carol Cohen
AMAZING show last night!! Thank you for the car wash, Miss Hedwig! Thank you for singing Random Number Generation with me, Miss Crystal! The Angry Inch are AWESOME! I will be back soon (for the Shroud, next time!) – John Porco
WOW!! I just saw the show, every single person up there rocked it out! It was a magical experience for me, thank you to everyone involved, Spencer and Amy, you both blew me away. The theater is really small and intimate, which I loved! This show grabs you by the balls and the heart at the same time. The band is tight, and the story is exotic yet relatable on a human level. Happy Birthday to me! 
 – Melody Griffith
I've seen several shows at the Jobsite Theater over the years, and they're always reliably excellent, innovative, and more than worth the cost of the ticket. Their latest production of Hedwig and the Angry Inch certainly follows that tradition. This is my fifth time seeing Hedwig presented on various stages (including Neil Patrick Harris in the role on Broadway and the movie with John Cameron Mitchell). For my money, Spencer Meyers gave one of the best performances of Hedwig I've seen. Killer voice and a real connection to the material. Amy E. Gray was phenomenal as well, and the band was outstanding. – Lorin Oberweger
Hedwig is the most fun you will have in the theater! There are times you want to get up to dance, and then times your heart breaks for Hedwig. In someway, Hedwig is a part of all of us … and then there's another part of her that we all wish we could be! Spencer Meyers as Hedwig is a FORCE! Amy Elizabeth Gray is unrecognizable until she sings, and then we're reminded she is the best voice in the Tampa Bay area! This was a truly magical experience! – Amy Howland
Costume changes, innuendo, and #glamrock. Loving #HedwigTampa at the @jobsitetheater. – Erika Stanley (@ejejstanley)
Not just a great show, but one of the absolute best shows I've ever seen. Congratulations to Spencer and all of the cast and crew! You owned it. If you haven't gone yet, do not miss it! – David Anderin
I really enjoyed it. Don't miss it. – Isabel B.
Amazing performance this evening! You are the 4th Hedwig I've had the pleasure to see, and you were truly my favourite. Had a wonderful night! – Sheina G.
We had a fantastic time tonight! Amazing job! – Stacy J.
Spencer was amazing! Thanks for another great night at the theater! – Lisa C.
Do not miss it. Last night was packed and got a standing O. – David H.
The play way phenomenal! Spencer Meyers as Hedwig gave a full-out performance. – Sally B.
We loved the show last night. What better way to spend Friday the 13th than with Jobsite Theater? Thanks Jobsite for bringing us shows that we wouldn't see anywhere else. The entire cast was great, but Spencer Meyers gave an awesome performance – great acting and impeccable comedic timing! – Eric H.
Top Notch Kudos to the cast and crew of Jobsite Theater's <em>Hedwig and the Angry Inch</em>. Especially Spencer Meyers and his full throttled performance as Hedwig. The whole artistic team was fully committed to excellence. Thank you, David Jenkins, Amy Elizabeth Gray, J. Elijah Cho, Matthew Ray, Summer Bohnenkamp and the Angry Inch team. A great rock and roll theatrical event. – Brian S.
The play is amazing! Nobody should miss this!! – Veronica D.
Great show! Y'all rock! – Colleen C.
Another truly outstanding performance!!! FANTASTIC CAST!! You are all AMAZING!!! – Carla K.
Had a GREAT time at the show yesterday…. really great production!! Spencer kicks ass…. and the rest of the Angry Inch were fantastic as well. […] definitely advise you to go see this show before the run ends!!! LIFT UP YOUR HANDS!! – John P.
Your show tonight was excellent! – Brian M.
ever thought I'd see Keith @micro_groove get a transvestite lap dance – thanks @jobsitetheater! #TampaMusic go see <em>Hedwig &amp; The Angry Inch</em>! -@elawgrrl
really great cast and show! 🙂 – @crawfordlong
I am a regular theater-goer. I have attended amateur and professional performances at every level of sophistication in theaters across the United States and in Europe. I myself used to act and direct in Chicago. Only once or twice in my life have I seen a show with performances comparable in quality to what I saw this afternoon from the Jobsite Theater. Absolutely breathtaking. I was completely blown away. I would not have been more surprised if I had run into the shade of Jeanne d'Arc sipping tea at the Fly Bar. – Bob S.
<em>Hedwig and the Angry Inch</em> over at <a href="https://www.facebook.com/jobsitetheater?ref=stream&amp;directed_target_id=0″>Jobsite Theater</a> was REALLY well done! Probably the best I've ever seen from Spencer Meyers. The play itself is great (we knew this) and Jobsite did it justice. Find the coins in your sofa, dig out your student ID for a discount, GO SEE IT. – Lauren A.
We saw the show tonight and it was AWESOME! Truly, don't miss it. – Roberta P.
Congratulations to all the cast and crew of Hedwig! This show was ferocious, tender, outrageous, and bittersweet…sometimes all at once. A tour de force for Spencer but every element of the show shines! – Elizabeth F.
A must see! Spencer is at the top of his game and the band is tight. – Clare W.
Had the great pleasure of watching an extraordinary show last night at Jobsite Theater. Spencer Meyers gives a wonderfully raw performance and the band kicks ass! Tickets are going fast so you do not want to miss this gem in the Tampa Bay area. – Vincent S.
Thanks for the special attention! We so enjoyed ourselves. I'm SO not worthy! Xoxoxo! – Monica T.
The show last night was amaaaaaazing! Thanks to the cast and crew for doing justice and breathing so much life and energy into the story of Hedwig Schmidt. – Tim B
Congratulations to Jobsite Theater (and thank you!) and the cast and crew of <em>Hedwig and the Angry Inch</em> for an INCREDIBLE show last night. Guys, the show runs until 9/29. If you miss out on this, just give up on life for a little while. Whether your main love is music or theatre, this show guarantees an amazing experience. – Yvelise C.
Loved the show! – Yasmin P.
It is awesome! – @MTClarity
Saw #Hedwig last night @jobsitetheater. You should go, too – @MsKristinKnits