With only a few weeks left until the Jobsite Rocks! 20th Birthday Bash, we wanted to give you a complete update of the acts performing as part of the variety show. Don't forget that we have 2 different kinds of tickets for this special night, VIP and general admission, that start at different times and come with different things. All proceeds from this event help us get closer to our 2018 Annual Campaign goal! The VIP ticket begins at 7pm and comes with catered food from Bavaro's, an open bar, access to special presentations for our secret guests of honor, and a Jobsite 20 year retrospective photo book. The general admission doors for the variety show open at 8:30 for a 9p curtain, and that portion of the nights has a cash bar. All guests will have access to our on-site portrait photographer and will be able to bid on exciting silent auction packages like tickets to HAMILTON when the show visits Tampa.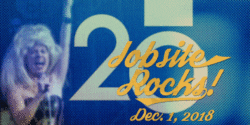 The variety show will have two distinct acts with a break in between. Confirmed performers right now include:
Chris Holcom – a selection from Joe Popp's MAXWELL
Djinn Zoo – bellydance troupe
Colleen Cherry and Jeremy Douglass (piano) – David Bowie's "Changes," featured in our production of HIR
A video submission from Jonathan Cho
Andrea O'Reilly – "I Could Be Jewish For You"
Something completely different from Sara Rotunda
A song TBA from Chelsea Hooker and Jeremy Douglass (piano)
A very special video from Paul J. Potenza and Spencer Meyers
Two sets of sketches from Some Sort of Show
A Tribute to Chris Cornell featuring Nader Issa (bass, vocals), Woody Bond (drums), Jeremy Douglass (keys), and Mark Warren (guitar)
An aerial silk routine from Katrina Stevenson
Something else completely different from Sam Ehrnman
Emilia Sargent and Jeremy Douglass (piano) – "Life of the Party" from Wild Party
Vivian Rodriguez in a solo bellydance routine
Several sets throughout the night from our "house band" (Jeremy Douglass, Woody Bond, Mark Warren, and Nader Issa) playing for one night only as The Angry Threepeehole featuring a rotating cast of Jobsite singers (Spencer Meyers, Colleen Cherry, Maggie Phillips, Giselle Muise, Heather Krueger, Amy Gray, Fo'i Meleah, and possibly more). These sets include fun mashups and selections from our previous productions of SILENCE! The Musical, LIZZIE, The Threepenny Opera, and Hedwig and The Angry Inch.
A grand finale singalong with every present member of the ensemble (and anyone else who wants to join in) of "After All These Years" from Pericles: Prince of Tires.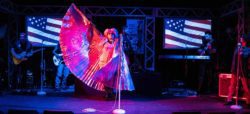 Please help us better plan the event by booking your tickets by Nov. 15! This will sincerely help us make this the best event possible, however if your circumstances require you may buy tickets all the way through the night of the event.