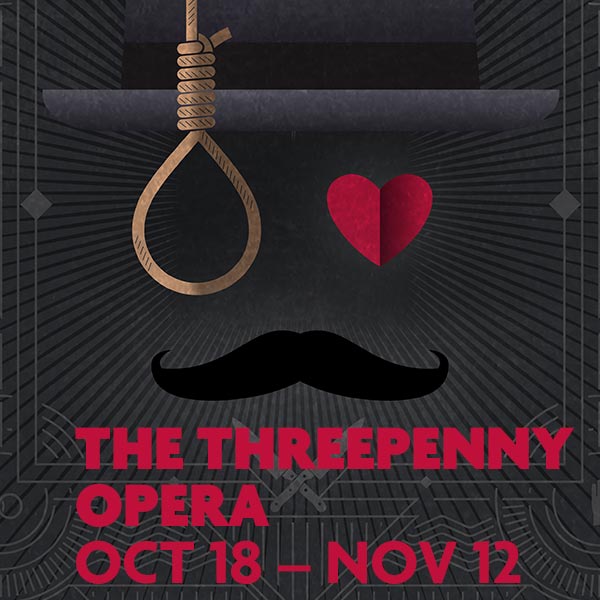 Book and lyrics by Bertolt Brecht, music by Kurt Weill, English adaptation by Marc Blitzstein
Directed by David M. Jenkins
Oct. 20 – Nov. 12, 2017
Tickets: $29.50
Preview Performances: Oct. 18 – 19 | Tickets: $15
Jaeb Theater, Straz Center for the Performing Arts
The Threepenny Opera is presented through special arrangement with R & H Theatricals.
Theatre Tampa Bay Nominated
Set in London in the 1800s, The Threepenny Opera is a musical satire (don't be fooled by the word "opera") about a notorious bandit who marries a girl much to the chagrin of her father, forcing the peeved patriarch to do everything in his power to imprison his son-in-law. Ahead of its time, the political and social themes in this iconic piece of musical theater get at the corruption of humanity and how it consumes us and forces us to consume one another.
Last revived on Broadway in a Tony Award-winning production starring Alan Cumming and Cyndi Lauper (and even more recently revived in London starring Rory Kinnear), The Threepenny Opera must be recognized as the grandfather of musicals like Cabaret and Chicago that show us singing and dancing our way to our own destruction. David M. Jenkins directs with Jeremy Douglass set to return after previously helming LIZZIE's six-piece band (several of whom also return here) as music director.
Why It's For You
Any musical theater aficionado will want to be able to say they've seen this iconic show (featuring popular hits like "The Ballad of Mack the Knife" and "Pirate Jenny") that truly changed the rules and has inspired so many shows after it. It is a timeless and timely social and political satire. Lovers of the dark, curious, and unusual will be enthralled by the aesthetic and the show's themes. Fans of Amanda Palmer, Danny Elfman, and the Tiger Lillies will want to see where so much inspiration came from.
Why We Chose It
After several years of producing kitschy and cult-hit musicals on the Jaeb stage, we decided we wanted to reach a broader audience while still serving those fans of work like LIZZIE, Silence! the Musical, and Return to the Forbidden Planet. We think this show does just that. It's also a dark enough show with just enough mayhem to fit into the Halloween season. This is a tremendous undertaking – our biggest musical yet, featuring the work of over two dozen regional artists – and we're itching for the challenge.
About the Writers
Bertolt Brecht (Book, Lyrics) (1898-1956) was born in Augsburg, Germany. He grew to maturity as a playwright in the frenetic years of the twenties and early thirties, with the plays Man Equals Man, The Threepenny Opera, Mahogonny, and The Mother. He left Germany when Hitler came to power in 1933, eventually reaching the United States in 1941, where he remained until 1947. It was during this period of exile that the masterpieces Life of Galileo, Mother Courage, The Caucasian Chalk Circle and Puntila were written. Shortly after his return to Europe in 1947 with his wife, Helene Weigel, he founded the Berliner Ensemble, becoming its executive director, and from then until his death, Brecht was mainly occupied in producing and directing his own plays there.
Marc Blitzstein (Adapter) (1905-64) was born in Philadelphia and appeared as a pianist with the Philadelphia Orchestra at the age of 15. He later studied with the influential French teacher Nadia Boulanger and the Austrian-born composer Arnold Schoenberg. His works include the opera Regina (1949), based on Lillian Hellman's The Little Foxes, The Cradle Will Rock (1937) and No For An Answer (1941) and an English adaption of the German poet Bertholt Brecht's book and lyrics for The Threepenny Opera, by the German-American composer Kurt Weill.
Kurt Weill (Music) (1900–1950) wrote some of the most important works of opera and musical theatre of the first half of the 20th century. His first opera, Der Protagonist, was performed in Dresden in 1926; this was followed by several more avant-garde works, including Royal Palace (1927) and Der Zar lässt sich photographieren (1928). In 1927 he first collaborated with Brecht on the Songspiel Mahagonny, which met with such success that they extended the piece into the full opera Aufstieg und Fall der Stadt Mahagonny (1930). Brecht and Weill also worked together on Die Dreigroschenoper (1928), a contemporary adaptation of John Gay's The Beggar's Opera of 1728. Brecht's striking scenarios and texts and Weill's richly varied scores ensured that their partnership was one of the most celebrated in operatic history. Though they fell out in 1930, they collaborated on a number of other works, including Der Jasager (1930) and Die sieben Todsünden (1933). Weill left Germany following the rise of the Third Reich and settled in the US in 1935, where he worked as a Broadway composer. Lady in the Dark (1940) and One Touch of Venus (1943) were both great successes, although an English-language Threepenny Opera was even more successful on its premiere in 1954, with his widow Lotte Lenya leading the cast as she had in the German premiere in 1928.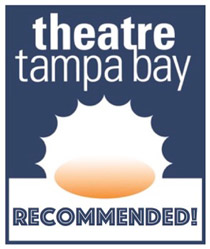 David M. Jenkins – Director
Jeremy Douglass – Music Director
Alison Burns-Jackson – Choreographer/Associate Director
Matthew Ray – Stage Manager
Cast
Jennifer Casler – Bob the Saw / Ensemble
Colleen Cherry – Streetsinger / Betty
Spence Gabriel – Crookfinger Jake / Ensemble
Amy E. Gray – Jenny Diver
Jonathan Harrison – J. J. Peachum
Chelsea Hooker – Rev. Kimball / Coaxer / Ensemble
Chris Jackson – Macheath, "Mack the Knife"
Fo'i Meleah – Celia Peachum
Spencer Meyers – Streetsinger / Readymoney Matt
Giselle Muise – Polly Peachum
Maggie Phillips – Lucy Brown / Ensemble
Derrick Phillips – Tiger Brown
Alex Rivera – Smith / Walt / Ensemble
Olivia Sargent – Dolly / Ensemble
Katrina Stevenson – Molly / Ensemble
Ryan Sturm – Filch
Band
Elwood Bond – Percussion
Jarryd Dollard – Reeds
Jeremy Douglass – Keys
David Gambino – Reeds
Mike Henry – Trombone
Ava Kord Octlanch – Trumpet
Steve Vought – Trumpet
Mark Warren – Guitars
Crew
Dave Cohen – Sound Engineer
Ryan E. Finzelber – Scenic and Lighting Design
Reuben Hirsh – Master Electrician/Light Operator
Heather Krueger – Associate Director
Katrina Stevenson – Costume Design
We really enjoyed Sunday's show … Visually stunning, great band, strong performances. Kat's costuming was amazing. – Hugh Timoney
Really fine production!! – Scott Elliott
.. a must see… Too many good performances to mention. Glorious music. Everybody's wonderful and the show is one fat jolt of bitter, funny lightning. You gotta go. – Ned Averill-Snell
I went to see Three Penny Opera last night, and was so impressed with this show! The set, the music, the costumes, and the ensemble of talent in this production were absolutely incredible! I did not know much about the show before hand and I was just captivated by the whole thing! I will be going again and again to see this production during its run at the Jaeb Theatre. Get your tickets and go see this show!! Bravo Bravo!! You did it again David Jenkins! – Jannine Cherry
WowWowWow! Jobsite's "Three Penny Opera" is powerful. The voices, costumes, and sets are dead on. Go to see it. – Clare Ward-Jenkins
Fun show! A worthy choice for this year's Jaeb musical! – Rick Stutzel
If you have the chance, come see this wonderful show at the Straz! – Brittany Rossow
Great work by the Directors, Designers and Cast of Threepenny . . Bravo Tutti! – Keith Arsenault
If you haven't done so already, get to The Threepenny Opera before the show ends Nov 12th! – Carla Kaufman
Watching @jobsitetheater 's The Threepenny Opera at @strazcenter! LOVE IIIIIT! What a beautiful cast and the singing and the costumes 
 Serving me life
 – @jessyjuliannaminson
Intermission… Best performance EVER!! You must get tix to The Threepenny Opera!!! – @littlewys
I absolutely adored the performance from beginning to end, it made my month, thank you again. 
 – @Lord_Orpheo
Bravo, @jobsitetheater. Hell of an opening! – @sturgidson
That was just brilliant. I loved everything about the show and wish so much I could've gotten my students to see it (stupid logistics). My two friends adored it also, and it was clear the entire crowd appreciated it. Thanks for all of that hard work! – Kathryn Duncan
My favorite moment from the opening of The Threepenny Opera at Jobsite Theater last night was definitely when I came back to my table after intermission to find several members of the cast taking selfies on my phone 
 And hey! Jobsite made me like Brecht! Well done 
 – K. L. Gold
Great performance tonight! – Bonita Axley
Wonderful opening of The Threepenny Opera at Jobsite Theater at the Straz Center for the Performing Arts! Congratulations to the cast and production team! – Emilia Sargent
"One must live well to know what living is!" If you've not yet seen The Threepenny Opera, what are you waiting for? – Amanda Holder DeCourt
Super congrats to [the whole] Threepenny Opera cast on a job well done!! It was a lovely night of theater – Lindsay MacConnell Yarbrough
Loved seeing Jobsite's "The Threepenny Opera" last night … What an exceptional cast … The costumes are AMAZING, the performances are STELLAR…Congrats David Jenkins and the wonderful Jobsite team! – Kim Goodman
Amazing show! – @brenloved
Loved the show! Everyone did a great job. Thank you for a wonderful evening! <3 – @kochok8
Funny and great music! Opening night! @StrazCenter @jobsitetheater @VisitTampaBay @MySkypoint – Carla Gormon (@CGormon)
My n'bor & I had a rollicking good time! TY!!! @Tampasdowntown @StrazCenter; @jobsitetheater Gr8 photos Carla! – Gloria Jean Royster (@JeanG647)
Cool set, wonderful voices and sexy costumes what's not to love? – @MTClarity