Return to the Forbidden Planet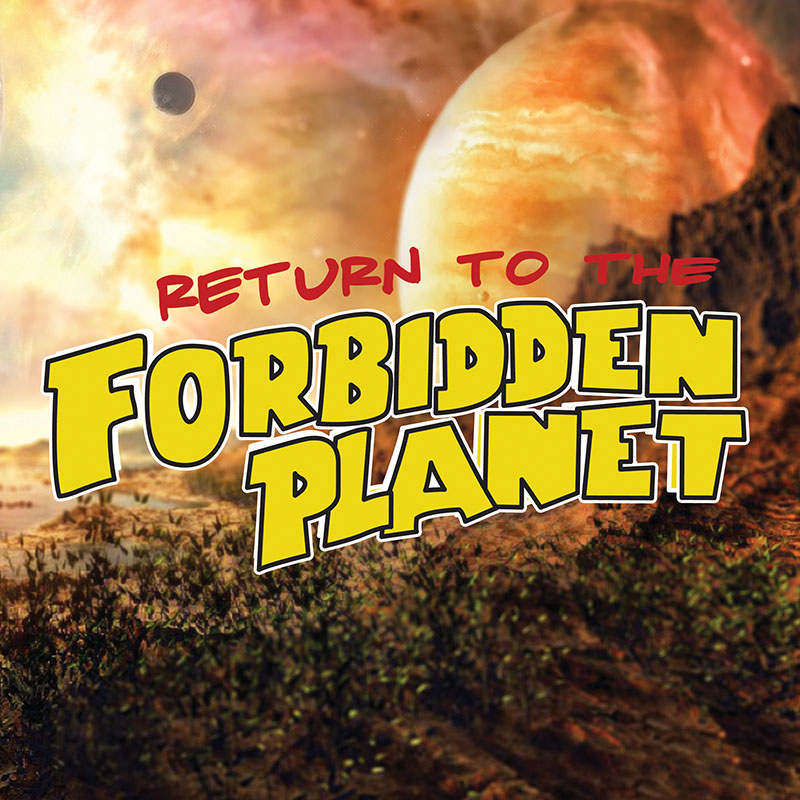 Return to the Forbidden Planet
Book by Bob Carlton, music by various artists
Directed by David M. Jenkins
Co-Produced with The Straz Center
Jun. 12 – Jul. 6, 2014
Thu. – Fri. 8pm (no performance Jul. 4), Sat. 4pm & 8pm, Sun. 4pm
Encore production: Sun., Jul. 6, 7:30pm.
Tickets: from $29.50
Jaeb Theatre, Straz Center for the Performing Arts
2014 BroadwayWorld Tampa Regional Award
Creative Loafing Best of the Bay
Theatre Tampa Bay Nominated
Join Jobsite Starlines on the TK-421 Jaeb Cruiser for a routine scientific survey flight as we navigate space and time to '50s and '60s rock 'n' roll classics ("Wipeout"), traverse a deadly asteroid field and crash landing ("Great Balls of Fire"), witness the ecstasy and agony of love ("Good Vibrations," "Teenager in Love," "Young Girl," "She's Not There," "Go Now"), in a sci-fi adventure full of surprises ("Gloria," "Shake, Rattle and Roll," "Born to be Wild," "The Monster Mash").
Not just a jukebox musical, Return to the Forbidden Planet is a clever homage to both science fiction and Shakespeare. Based on the 1956 film Forbidden Planet (which was itself based on Shakespeare's final play The Tempest), this fun-for-the-whole-family experience seamless combines nods to 2001: A Space Odyssey, Star Wars and Star Trek alongside Bard-inspired lines like, "But soft, what light through yonder airlock breaks?" and "Two beeps or not two beeps? That is the question!"
David M. Jenkins – Director
Jana Jones – Music Director
Matthew Ray – Stage Manager
Cast
J. Elijah Cho – Bosun Arras
Jaime Giangrande-Holcom – Ariel
Amy E. Gray – Miranda
Jonathan Harrison – Captain Tempest
Heather Krueger – Science Officer / Gloria
Spencer Meyers – Cookie
Maggie Phillips – Navigational Officer
Owen Robertson – Prospero
Musicians
Elwood Bond – Drums
Jana Jones – Bass
Mark Warren – Guitar
Parker Wilkson – Keys/Synth
Crew
Gabby Battaglio – Production Assistant / Run Crew
Bailee Booser – Costumer
Paul Poppe – Asst. Stage Manager
Brian Smallheer – Scenic Designer
Katrina Stevenson – Costume Designer
Mike Wood – Lighting Designer
Absolutely great show! Run to get tickets. Much better voices and production that any clip you can find on YouTube of other versions. The audience loved it! – dallee
Your cast, crew, and directing all combine to put on one hell of a show! – Jacob AbrahamThe show was such fun and your cast did a stellar job! I have been telling everyone here that they've got to get their tickets ASAP because this is a sure sell-out for the remainder of the run. Please give my regards to your talented cast and crew! – Cindy Garren
The Cast of eight, "Rock Stars" and a four piece Rock Band that rattled the rafters, hit this one right out of this World. Not since Forever Plaid or Respect has the Jaeb experienced anything like this! From the start to the finish the audience was into it 100%. You would have thought you were in San Francisco during a magnitude 8 Earthquake. – Michael Chamoun
Forbidden Planet was absolutely amazing!!! – Jessica Schoenfeld
We, especially my son CJ , actually loved it, kudos to you all, have a fabulous run! – Sharlyn M Burton
OMG!!! Freakin' phenomenal show. RUN. BUY TKT. SEE "RETURN TO THE FORBIDDEN PLANET". This is a no miss show. I promise you'll LOVE it. PROMISE!! – Roz Potenza
That was, in essence, my most favorite jobsite show I have been able to see, ever ever. Made my eyes sweat at the end. – Melissa Freeperson
Saw it Wednesday night! Cookie and the Robot were my favorites!! – Mandy Richter Wagner
This really is a phenomenal show. I saw it once and I enjoyed it, and I knew my parents would love to see it so I brought them and a friend who seldom sees theatre. They loved it too. I think it's great when a show can appeal too all types of people (you get your classic rock, shakespearean verses, and general nerdery all in one package!) Everyone needs to come see it. Congrats to the Cast and Crew! – Carlos Garcia
Best entertainment hands down!!! Wouldn't mind seeing again .. ITS THAT GOOD!!! – Carmen Lusignan
What an entertaining way to spend the afternoon!!! Great job! I will be sure to spread the word. Hilarious and FUN. – Amelia Badelia
SPOILER ALERT! This musical is awesome! Only two weeks left. Be there AND be square. #‎ForbiddenPlanet – Dave Anderin
Mark and Jonathan, what an AMAZING treat that was tonight. Bravo times a million. Really, you and your cast mates should be very, very proud of the job you've done. I could see the show every night. Please pass along to everyone involved all of the hard work paid off in a major way. – Daniel Eggleston
Thank you for an excellent night of entertainment – I thoroughly enjoyed the show and can't wait to see it again! – Ryan Finzelber
singing out of this WORLD great cast great band great directing great singing – Diana Rogers
Amazing performances! Will be back to see it again, love you all! – Kim Goodman
Saw it tonight and it was GREAT!! The cast is full of amazing, powerhouse voices. AND THERE WAS A ROLLERSKATING ROBOT! – Catherine Demi Morgue
Great performance tonight! Congrats to David Jenkins, cast, crew and band for a terrific night. Lots of laughs, giggles and fun … well done. – Terri Simons
This is such a crazy farce. Just like one Leslie Nielsen would star in…. Wait a minute……. – Ross Featherston
Return to Forbidden Planet! Fun, silly, well sung and just a great afternoon in the theater. 3 of my favorite musical theater actresses in one place! Amy Elizabeth Gray, Heather Cleveland Krueger and Jaime Giangrande-Holcom all in one show—-yeah! Great job Jobsite Theater and everyone involved—you guys should move into the Jaeb more often (just sayin'). – Scott Cooper
The Jobsite Theater proudly presents the best sci-fi, Shakespearean, rock-n-roll, roller-skating musical in this or any other multiverse! Hurry up and go see it before it heads to a galaxy far, far away in a couple weeks. – Ernie Haynes
Love it, loved it, loved it. – Sharon Smallheer
An intergalactic, out-of-this-world cast of actors and vocalists brilliantly deliver a super silly sci-fi recipe, sprinkled in with a dash of Shakespeare and a healthy portion of nerd humor, backed by a beyond stellar band. Thank you Jonathan Harrison and company for some of the best entertainment I have experienced in a very long time! If any of you who are reading this can make it out to the Jobsite Theater at the Straz Center for Performing Arts between now and July 6th, by all means, do everything possible to get there. This is one of the best acts you will see in this area. Get ready to laugh hysterically, boogie in your seat, and grin from ear to ear all evening. Bravo! – Crystal Blue
You will have FUN FUN FUN til the final curtain falls!!!! @jobsitetheater #ForbiddenPlanet #StrazCenter #Jaeb – PhantomDadoo
#ForbiddenPlanet is so awesome! I love it! – @LizLoves2Laugh
Last Friday evening, I was at […] Return To The Forbidden Planet. The entire production, set, music & acting were all spectacular, especially for anyone who grew up with the original Star Trek & music in the show. After the performance I talked with you briefly at the Lobby door. As I said then, "You were great!" […] I also talked briefly, with Spencer Meyers, who was great as well, and what a fantastic singer he is. Jamie Giangrande-Holcom, was also there but I didn't get a chance to talk with her. She was also great, and amazed me with her flawless roller skating ability […] Please tell the other cast members, the musicians and everyone else involved with this production, "Thanks for an outstanding & uplifting evening." – Jerry M. Austin
The play was fabulous -the Stagesetters loved it! Congratulations! – Andrea Graham
Great performance to a near capacity house last night, I loved every minute of it. – Ronnie Smith
Great show with amazing talent,costumes, directing and set design! Congrats to all! – Melinda Kajando
Return to Forbidden Planet was not only good but incredible. I seriously haven't had that much fun in the theater since Hedwig. Amazing music, costumes and the actors KILLED it tonight. I've seen many shows try the pop culture route and make tons of references for no reason just because but the way the jokes were written and performed were just comic gold and never once felt forced … Overall I love the show and I LOVE Jobsite!!! Already planning to go again later this month. Live long and prosper guys, I'll be back as soon as I can. – Cole Carbone
This was a great show! – Marie Knight
Great job to the cast and crew of Jobsite Theater's Return to the Forbidden Planet! It was a super, geeky, fun night! If you like Shakespeare and Sci-Fi you will have a blast – Megan Lamasney
I was lucky enough to get in to see Jobsite Theater's Return To The Forbidden Planet yesterday- sold out show- thanks to Matt Matthew Ray who gave me a seat! I had a blast! Such a great time and the voices will blow you away. Well done, well done and well done, All! – Roxanne Fay
Congratulations Owen, Jonathan, and the cast of Return to the Forbidden Planet for a wildly campy and hilarious evening of theatre! You guys got some pipes! Well done! – Eddie Gomez
Jobsite Theater's Return to the Forbidden Planet at the Straz Center's Jaeb Theater has lasers set to kill. What a blast! And there is still time for you to go. – Maggie DiPietra
We had an amazing time last night!! Thank you! – Lori Cumberledge
We had such a fantastic time yesterday! Thank you so much for putting on such a superb performance! – Melodie Oleson
OMG Return to Forbidden Planet was hilarious!!! It was worth the 2.5 hours drive to see it. Thanks for great performances by all!! – Vera Guagliata Fariello
Seen it tonight. Amazing ! A must see we were front row. We are going to go see it again. Bringing more friends!!!!! – Charles Hampton
Forbidden Planet was so much fun! Congratulations to Jobsite Theater, the awesome cast and crew – Suzy Devore
Last night I had the pleasure of seeing the most fun piece of theatre that I've seen in a while! The entire Cast and Band is top notch. The talent just rolls on the stage like a certain Roller Skating Robot! If you don't see any other theatre this year, see this! The show is the Bomb!!!!! Go see Forbidden Planet before the ship sails! Thank you to the entire cast for renewing my faith in fun theatre! – Kay Pearson
Go…go…go!!! It is mindless fun that leaves you wanting more!! Good job, Jobsite Theater!! – Hal Freedman
My 3 friends and I went last night. Don't miss this show; it was so much fun! Great actors and musicians, wonderful scenery and videos. The music will keep you rocking and the funny theme will have you leaving with a real "feel good attitude" afterwards. – Vickie Lynn
The show was magnificent, the characters were unbelievable. Gloria and Cooke have outstanding voice. The others characters could sing their hearts out. I took my father and boyfriend for Father's Day. It was the best present I could have given them. Thank you so much. – Rhonda Hajaistron
Crazy entertaining and Fantastic Voices!! – Leslie Gray
Loved the show! – Terry Grossman
You all killed it today..It was such a fun, energized show…We just loved it […] You all were great…Well done and Thanks for a wonderful afternoon of entertainment.. – Susan Belvo
@OliviaJade18 and I saw @jobsitetheater's preview of "Return to the Forbidden Planet" last night, it was AWESOME! #jobsiterocks – JeanneTPA
Make sure you go down the #StrazCenter and see #ForbiddenPlanet it was Hilarious!! @ David A. Straz,… http://instagram.com/p/pL-DqbMX5H/ – @JayieeDris
…you might be looking for something awesome to do this weekend and I recommend #ForbiddenPlanet @jobsitetheater It kicks ass – TBBJwilkerson