By Joseph McDonough
Oct. 12 – Nov. 4, 2018
Tickets start at: $29.50
Preview Performances: Oct. 10 – 11 | Tickets start at: $18
Shimberg Playhouse, Straz Center for the Performing Arts
A-game acting ... These two actors could probably make the listings on eBay entertaining ... [Potenza] gives us a Poe who's miserable, vain, haunted and exhausted from running ... [he] is one of the Bay area's best actors ... Stevenson, meanwhile, is a coy Emily Dickinson, shrewd and self-possessed, just a little censorious of the famously raffish Poe, and not a bit attracted to the big bad world outside her window. David M. Jenkins directs capably ... The original music of Tom Kersey and Jeremy Douglass is a kind of third character in the play, setting the mood for some scenes and quietly undergirding others. - Creative Loafing Tampa
What It's About
In January 1864, reclusive poet Emily Dickinson receives a surprise guest: Edgar Allan Poe. Although Poe died 15 years prior, he arrives quite alive and just as energized by death as ever before—one could say death kindly stopped for Emily, after all. Though the evening pits the pendulum of both poets' personalities against the other in this comic fantasia, Emily and Edgar find they have a lot in common despite their differences. The heart tells the tale, you know.
Why It's For You
Because you love to laugh. Because you can't wait to get out all of your Halloween decorations every year. Because you're a lit nerd, a lover of American history, or both. Because you've been simply dying for a good reason to release your inner spookykid. Because you love those TV episodes where they crossover two literary or historical figures in a meeting that never really happened but is pretty darned cool to imagine in a what-if. (And, hey, it's another 90-minute show. Y'all seem to love those! You'll have plenty of time after to go talk about it or get on with your life.)
Why We Chose It
We've got a big ol' soft spot for Halloween, it's been the only "holiday" we've celebrated by producing a show for the past 20 years. We adore the playfulness of this script. We're thrilled to bring another non-published work for Tampa audiences, this show has in fact only had one other professional staging. We also really love that this script combines these dark literary giants (played by our own Paul J. Potenza and Katrina Stevenson), both obsessed with death in their own very unique ways, and manages to make it a laugh-out-loud comedy.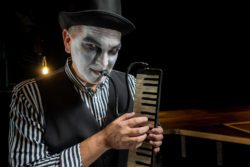 Music director and composer Jeremy Douglass talks to Bill DeYoung of the St. Pete Catalyst about his work and the creation of ALICE.
Read More »
David M. Jenkins – Director
Eric Haak – Technical Director
Teah Banks – Stage Manager
Cast
Paul J. Potenza – Edgar Allan Poe
Katrina Stevenson – Emily Dickinson
Crew
Jo Averill-Snell – Lighting Designer
Teah Banks – Properties
Salem Brophy – Assistant Stage Manager
Scott Cooper* – Scenic Designer
Jeremy Douglass – Music Composer/Performer
David M. Jenkins – Sound Designer
Tom Kersey – Music Composer/Performer
Katrina Stevenson – Costume Designer
Set Construction Crew
Robert Brashear
Ramiro Capano
Chloe Dipaola
Alexander Eadier
Mario Gonzalez
Siera Herber
Jake Landherr
James Race
Cameron Shippy
Jon David Stauffer
Teah Roberts
*
Member, United Scenic Artists
Blog Us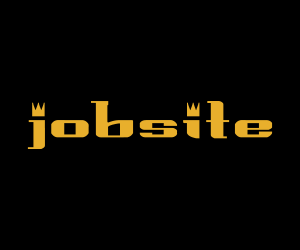 Want to add a groovy graphic like this to your blog or website?
Jobsite provides a variety of cool banners that you can put on your website. AND they update automatically. So just drop it in once, and when we're ready for our next show, we'll update the graphic, and it'll automatically update on your site too!