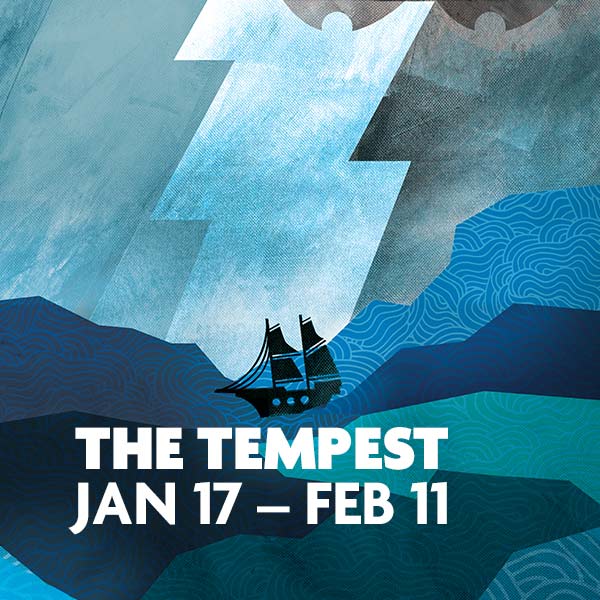 The Tempest
By William Shakespeare
Directed by David M. Jenkins
Jan. 19 – Feb. 18, 2018
Thu. – Sat. 8pm, Sun. 4pm
Tickets: $29.50
Preview Performances: Jan. 17 – 18 | Wed. – Thr. 8pm | Tickets: $15
Shimberg Playhouse, Straz Center for the Performing Arts
Tickets
Show Times
Media
Cast & Crew
Season
Season Tickets
Jobsite is thrilled to continue our commitment to making the Bard accessible to regional audiences with this delightful fantasy. Our production reimagines the character of Prospero as a woman, to be played by Jobsite ensemble veteran Roxanne Fay. Roxanne has previously been seen in our humble cockpit as Touchstone in As You Like It, Feste in Twelfth Night, and Beatrice in Much Ado About Nothing as well as Madame in our Best of the Bay Award winning production of The Maids.
Jobsite will again double the number of daytime matinees made available to middle and high schools with their Shakespeare program in 2018 for a total of 12 to take place over a period of four weeks. Even our regularly scheduled performances are the perfect introduction to Shakespeare for young theatergoers and families! Please call 813.222.1047 to learn more about our weekday matinees for middle and high schoolers, or to book your group of 10 or more!
Synopsis
On a distant island a woman waits. Robbed of her position, power, and wealth her enemies have left her in isolation. But this is no ordinary woman, nor an ordinary island. She is a magician, able to control the very elements and bend nature to her will. When the vessel carrying those who wronged her appears in the distance, she creates a vast magical storm to bring them to her – then they awake finding themselves in a place where nothing is as it seems.
Read more about the synopsis of The Tempest.
Why It's For You
We believe Shakespeare is meant to be seen, not read. Jobsite's productions of Shakespeare are audience-centric, accessible, and exciting. The themes of greed and ambition, revenge and retribution are timeless, and so is the idea that we must do what society tells us, for better or worse, lest we endure the consequences. This production is sure to delight audiences 8 to 80 with the way it embraces play, the imagination, and the magic of live performance.
Why We Chose It
We love the opportunities that this play gives us to create theatrical "magic" on stage – two of the main characters are a mysterious creature and a magical spirit. We get to create storms and enchantments on stage. The story and characters are powerful, and our female-led cast allows us a unique way to tell this story.
About the Playwright
William Shakespeare (1564–1616) is usually considered the greatest playwright of the English language. Often referred to as "the Bard of Avon", Shakespeare's work includes 38 plays, 154 sonnets, two long narrative poems, and several other shorter poems. His troupe, known as The Lord Chamberlain's Men, was led by Richard Burbage and gained the respect of Queen Elizabeth I. After Elizabeth's death, King James I took the throne, and Shakespeare's troupe won his favor and took the name The King's Men. He retired back to Stratford in 1613. His plays might have never been published, if not for the work of two actor's from Shakespeare's company who compiled his plays in 1623, after his death, in what is known as The First Folio. Still today, Shakespeare's plays are produced more than any other playwright, and have been translated into every major living language and studied by people worldwide.
Wed., Jan. 17, 2018

The Tempest - Preview
8:00 PM |  Shimberg Playhouse, Straz Center

Thu., Jan. 18, 2018

The Tempest - Preview
8:00 PM |  Shimberg Playhouse, Straz Center

Fri., Jan. 19, 2018

The Tempest – Opening Night
8:00 PM |  Shimberg Playhouse, Straz Center

Sat., Jan. 20, 2018

The Tempest
8:00 PM |  Shimberg Playhouse, Straz Center

Sun., Jan. 21, 2018

The Tempest
4:00 PM |  Shimberg Playhouse, Straz Center
Discounts and Deals
A mini-season ticket for the remaining 2017–18 season is on sale now. Save 20% off the price of individual tickets with fees folded in: $98.40 – less than $25 per person per person per show. Season ticket holders save a ton on ticket fees, enjoy free exchanges all year long, and they also get into all Job-side Projects for free.
Rock Stars Get More
Want season tickets, plus access to all Jobsite events, including the Gala, AND get special access to all sorts of goodies? Be a Rock Star! It's even tax-deductible!
Rush and Group Tickets
Jobsite offers special ticket discounts for group ticket sales and for special members of the community (military, seniors, etc.)
Blog Us
Want to add a groovy graphic like this to your blog or website?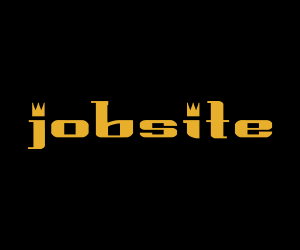 Jobsite provides a variety of cool banners that you can put on your website. AND they update automatically. So just drop it in once, and when we're ready for our next show, we'll update the graphic, and it'll automatically update on your site too!
David M. Jenkins – Director
Brian Smallheer – Technical Director
Vivian Rodriguez – Stage Manager
Cast
Cornelio Aguilera – Francisco
Emily Belvo – Miranda
Giles Davies – Caliban*
India Davison – Adrian
Roxanne Fay – Prospero*
Alvin Jenkins – Alonso
Nicole Maahs – Sebastian
Michael Mahoney – Gonzalo
DeQuan Mitchell – Ferdinand
Derrick Phillips – Trinculo
Brian Shea – Antonio
Ward G. Smith – Stephano*
Katrina Stevenson – Ariel
* denotes member of Actors Equity Association
Crew
Ryan Finzelber – Lighting Design
David M. Jenkins – Scenic / Sound Design, Dramaturg
Katrina Stevenson – Costume Design
Matthew Ray – School Matinee Stage Manager
Share: