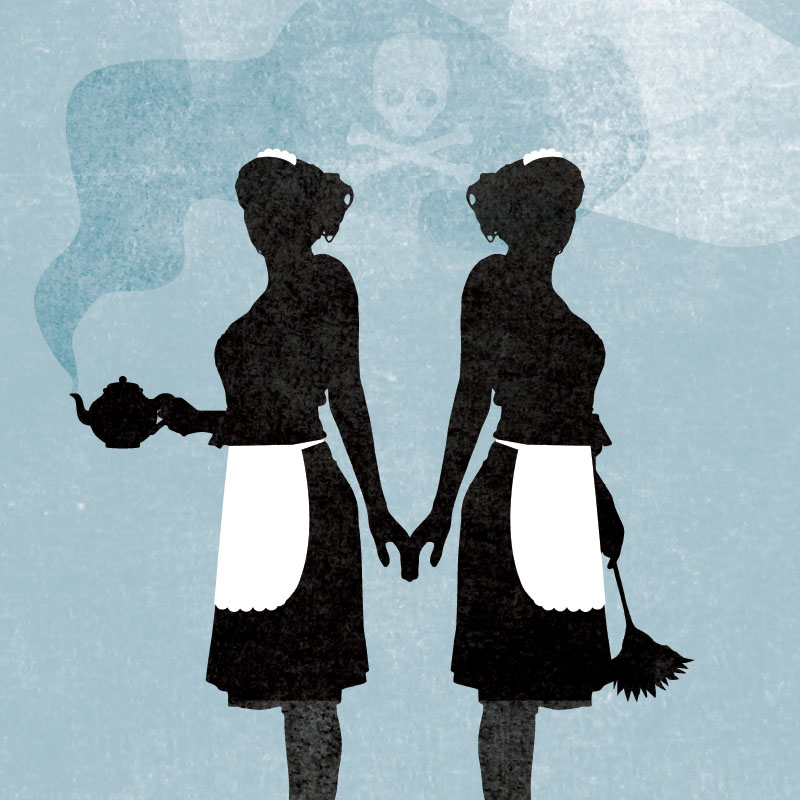 By Jean Genet
Directed by David M. Jenkins
Apr. 29 – May 22, 2016
Thu. – Sat. 8pm, Sun. 4pm
Tickets: $28
Preview Performances: Apr. 27 – 28 | Wed. – Thr. 8pm | Tickets: $14
Shimberg Playhouse, Straz Center for the Performing Arts
Creative Loafing Best of the Bay
Based on a true story: two sisters ritualistically act out fantasies of committing a murder. Suspenseful, strange, and sexy, this potent and poetic psychodrama will keep you guessing until the lights go black!
The Maids was French poet, novelist, art critic, essayist, and film-maker Jean Genet's first play to be produced, coming hot on the heels of the publication of his most famous book, Our Lady of Flowers. It is inspired by the famous 1933 French murder trial of Christine and Lea Papin, two sisters employed as maids, who gruesomely killed their employer and her adult daughter.
In The Maids two sisters role-play while the lady of the house is away, acting out fantasies of both love and revenge. As the games intensify, the incipient violence escalates as they await Madame's return from a romantic rendezvous.
Genet's potent and poetic psychodrama explores power, dominance and submission, class struggles, and the various ways we role-play and create illusions in our daily lives. The Maids is a highly and self-consciously theatrical play that builds a palpable level of suspense and mystery as it goes.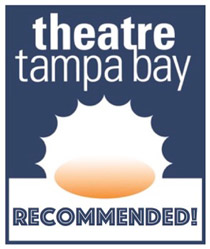 David M. Jenkins – Director
Vivian Rodriguez – Production Stage Manager
Cast
Roxanne Fay – Madame
Georgia Mallory Guy – Solange
Katrina Stevenson – Claire
Crew
Sylvette Fay – Stitcher
David M. Jenkins – Sound Designer and Properties
Matthew Ray – Rehearsal Stage Manager
Brian M. Smallheer – Scenic Designer
I came down to visit my sister who lives in St. Pete who took me to see "The Maids" last night (Friday, April 29). We thoroughly enjoyed the play – wonderful acting, set, staging – everything that goes into a fine production … We think you did a masterful job of interpretation. I am still thinking about how one deals with a "Madame" in your life you cannot stand … who makes you feel diminished and like a cut-out figure in a play … and will never look at pink kitchen gloves quite the same way … a terrific production. – Kitty Jospé, Rochester, NY
I wanted to drop a line to tell you about my experience Saturday evening.  First time at the Shimberg Playhouse, I have to say it was a great time!  The staff were welcoming, the intimacy of the theater itself was wonderful leading to a whole new experience, and the acting WAS AMAZING!!!!  The story itself left me wondering what was real and what was imagined, as described in the program notes.  I still am not sure and it has been several days since I saw The Maids.  Thank you for making great theater accessible to the masses.  I look forward to attending more productions. – Terry L. Mead
[The] preview made me think of the line from the Moody Blues Days of Futures Past: "which is real, and which is an illusion." You get to decide in this battle of the classes, family conflict and murderous minds. Georgia Mallory Guy, Katrina Steveson, and Roxy Fay are really strong actors who understand their characters. Another strong Jobsite production. ‪#‎JobsiteRocks‬ – Rick Stutzel
[T]his play is artistry at its highest level … and should be on Broadway. It would be nominated for a TONY…. – Susan Mills
Strong, committed performances from Georgia Mallory Guy, Katrina Stevenson, and Roxanne Fay tonight. Three actresses on top of their game atJobsite Theater. – D Granke
I know I may sound like a broken record sometimes with all the praise, but you have got to see The Maids at Jobsite Theater. Masterful direction, laser sharp performances, and floral arrangements for all occasions. Staggering work, guys. – Nick Hoop
The MAIDS!!!!! Fabulous! Don't Miss It, another hit by this wonderful crew. This play can easily fall into a "cheap sex and superficial titillation," instead it was dark, and poignant. I was sympathetic to all of the characters, and; once again, amazed by the range of emotion that these players can drag me through. – Molly Miller
Fantastic show. Jobsite knocks another one out of the park! Ladies of the cast you were all perfect!! I urge anyone and everyone to make the effort to get out and support live theater!! – Lori Pate
I've been attending Jobsite productions since I moved into the area 14 years ago. Jobsite has distinguished itself among the multitude of Theatre companies in the area. Their presentation of Jean Genet's THE MAIDS was a haunting experience. I had seen the 1974 Glenda Jackson/Susanna York film so I knew the story and some of the dialogue. However the lush set, costumes and actresses in this production were so committed to their roles the humor and tragedy of the story became a visceral experience. Bravo! – Mark Knight
[T]his is not a show you want to miss. The three women on stage are truly a testament to their craft. The direction is wonderful, each move done with precision and purpose. The design is gorgeous. I highly recommend this show! – faithvm
I went into this play just expecting something that I can simply use to get a college paper done and written but I got something entirely different. It was a insane trip in between two maids and their literal fetish to be like the beloved Madame they serve. I have been to multiple plays, orchestras, and musicals but I have never been to one as open minded and as in your face as this one. Seeing how the characters started slowly losing their minds in their plot to murder Madame and take her power was honestly one of the most interesting things I have had the chance of seeing … The actresses were absolutely amazing in how they portrayed their characters. – Carlos Tavares
My exposure to the theater has for many years been limited to Jobsite productions…. Some of them make me walk out of the theater acutely aware of a shift somewhere inside wrought by what I've just experienced. When I'm feeling that I always wonder whether it will persist in some way as it fades from immediate consciousness. I'm convinced that it does, every time. Some of the shows, like this one, challenge me to find meaning, as does so much of the better literature that I, completely unprepared by study or background, read. Rarely, I'm able to appreciate, again in my untutored way, really exceptional performances by the actors (rarely, it occurs to me that this might also be the work of the director). Maids is riveting in its performances and profoundly thought-provoking in its content. Thanks for a really good show. – Bob Appleyard
The best way I can describe this show…in the words of Freddie Mercury, "Is this the real life…is this just fantasy…caught in a landslide…" This show is an immersive 90-minute experience that challenges your perceptions and your imagination…it keeps you guessing and leaves you unbalanced… You will be thinking and talking about this show long after you leave the theatre. Bravo to the entire cast and crew! – Samantha Marti Parisi
Got to see Jobsite Theater production of The Maids. It was very thought provoking and wonderfully acted by Katrina Stevenson, Georgia Mallory Guyand Roxanne M Fay. David Jenkins the show rocked and you should be proud! Go and see it!!! – Jaime Giangrande-Holcom
Georgia Mallory Guy, Katrina Stevenson, and Roxanne M Fay are all forces to be reckoned with. Brava, ladies!! ‪#‎themaids‬ ‪#‎jobsiterocks‬ – Katie Berger
Great show today! – Kim Goodman
The Maids was simply phenomenal, I was hooked on every second! I did not see any of the plot twists coming. For this play, nothing is as it initially seems and the dynamic between characters is constantly switching, which was a very cool change in pace from static good/bad guy roles in action thriller movies with superheroes so popular nowadays. – Sen Sen Huang
"The Maids" certainly cleaned up last night to a capacity house at The Shimberg Playhouse. "The feel good hit of the summer"? Ah no…. But a thoroughly engaging evening of theatre. – Keith Arsenault
I keep thinking about this show, and I mean to write some sort of substantive review. I think the best review I can share though is that I keep thinking about this show. It's very powerful and thought provoking. The performances are intense and dynamic. So, you know, go check it out! – Roberta Phillips
We LOVED Genet's Smart, Sexy Psychodrama 'The Maids' – @813area.com