Frankenstein: The Modern Prometheus
By Jim Helsinger
Directed by Paul J. Potenza
Oct. 29 – Nov. 1 & Nov. 10, 2020
Thu. – Sat., Tue. 7:30 pm; Sun. 4 pm
Tables up to four people: $99.50
Pairs of seats in the mezzanine: $55.50
A limited number of single seats in the balcony are available for $35.50
Jaeb Theater, Straz Center for the Performing Arts
Regional favorite and Jobsite Ensemble member Giles Davies brings this stunning one-person tour-de-force that formerly dazzled audiences at Cincinnati Shakespeare Festival to the Jaeb, just in time for Halloween! Literate, wildly theatrical and faithful to Shelley's original, Davies' virtuoso display of acting and artistry will surely keep audiences on the edge of their seats.
Frankenstein: The Modern Prometheus is produced and presented by Giles Davies
Tickets
Tickets are not part of our 2020-21 season pass since they are an encore and self-produced solo work.
Like all Job-side Productions, they are free for members at the Rock Star and All-Star levels. Please contact us directly — not the Straz Box Office — to claim member benefits.
Health & Safety
The Jaeb Theater, typically 320 seats, has been reconfigured to accommodate 100 also with proper distance between tables. All additional tables and chairs will be removed from the theater.
In selling tables over single seats, we will be able to better safeguard audiences and also provide folks a means to establish their own level of comfort. If a single person or a couple prefers to purchase a four-top table to keep even more distance, they may do so. These tables will not for any reason be broken up, so folks do not need to be worried about being seated with people they did not arrive with.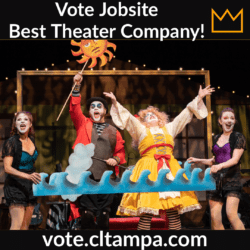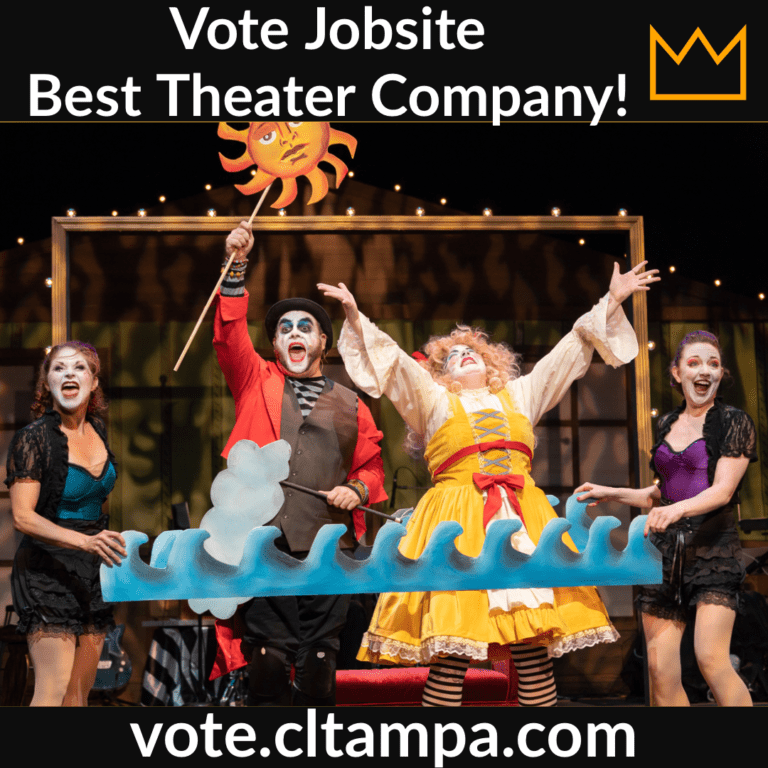 We're honored you took the time to nominate us, our shows, and our artists for the 2021 Creative Loafing Best of the Bay Awards. VOTE
Read More »
Paul J. Potenza – Director
Matthew Ray – Stage Manager

/Associate Producer
Cast
Crew
Jo Averill-Snell – Lighting Designer
Rebekah Lazaridis – Scenic Consultant/Artist
Chloe Belle and Tea Roberts – Scenic Painters
Brian Smallheer – Scenic Designer
Katrina Stevenson – Costume Designer