UPDATED MAY 28:
The Straz Center does not require audiences to wear masks. Those who wish to or need to be masked to protect their unique health condition(s) are welcomed to do so.
Out of respect for the performers, Jobsite strongly encourages patrons to wear masks.
Jobsite hopes every person who is able to be fully vaccinated will choose to do so to protect themselves and others.
Please stay home if you are not feeling well. We will happily exchange your tickets to another date at no charge rather than risk you bringing something into the theater.
We will continue to monitor health conditions in our community and adjust our protocols accordingly, and, of course, keep you informed. The health and safety of our guests, artists, and staff is our top priority.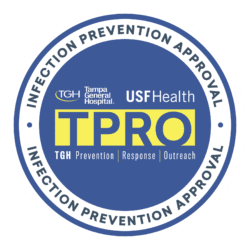 The Straz Center has received a seal of approval from Tampa General Hospital's consulting service, TGH Prevention Response Outreach (TPRO), for our campus-wide reopening protocols.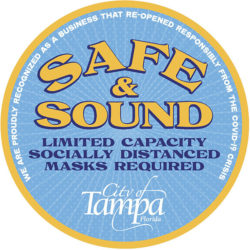 Jobsite has also been recognized by the City of Tampa as a Safe & Sound venue, a program for businesses committed to operating safely by following CDC guidelines during this time.
Straz Center health and safety policies are publicly posted and must be observed by all guests. Watch this space for updates.
Facilities
The theater is thoroughly sanitized before and after every performance.
HVAC enhancements include all-new filtration with the installation of recommended MERV-13 filters, bipolar ionization, renovation of outside air dampers and the implementation of humidity and CO2 sensors.
Food and drink is only permitted outside the theater so that masks can be worn for the duration of the performance.
Paperless ticketing and programs are available in the Straz Center's free app (iOS or Android), and we prefer cashless transactions on site.
Complimentary hand sanitizer is available throughout the Straz campus.
Touch-free fixtures in all restrooms.
Behind the scenes
Jobsite only contracts fully-vaccinated contractors for both on and off-stage positions. We conduct rigorous interviews with all potential workers that cover living, work, and other situations to ensure the safest environment possible. All on-site personnel are tested bi-weekly. If you would like to learn more about how Jobsite is creating theater in a safe and responsible way, let us know!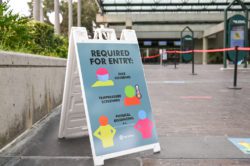 Health professionals from the Cleveland Clinic, Tampa General Hospital, and the Rodham Institute at George Washington University assisted in the development of the handbook guiding our efforts. Other resources include the Centers for Disease Control and Prevention, OSHA, Johns Hopkins Coronavirus Resource Center, and the World Health Organization.