By Neil Gobioff & Shawn Paonessa
Directed by Kari Goetz
Thu. – Sat. 8pm, Sun. 4pm
The Triumphant Return
Mar. 29 – Apr. 15, 2007
World Premiere
August 5 – 21, 25 & 26, 2005
Tickets: $19.50 – $24.50
Shimberg Playhouse, Straz Center for the Performing Arts
Media
Cast & Crew
Patron Reviews
Season
Winner!
Creative Loafing 2005 Best of the Bay Staff Pick – Best Impassioned Theater Fans – Jobsite devotees
Jobsite Jobby – Best Design – Brian Smallheer (set), John Lott (lights), Katrina Stevenson (costume) & Kari Goetz, David Jenkins and Shawn Paonessa (sound)
"There are those who think that trivial things like kites are governed by uncontrollable forces of physics and nature. And there are those who know better," says the mercurial character Jack in The March of the Kitefliers.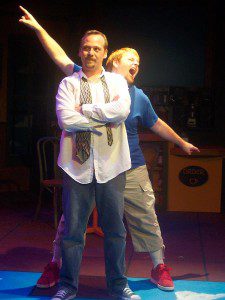 When Sam (Shawn Paonessa) graduated from college with a double major in art and marketing, he had big dreams of a career in advertising. The corporate world submitted him to a mediocre job, while he chronically pursued his dreams through vivid fantasy.
When Julia (Meg Heimstead) walks into his life, Sam is suddenly forced to decide whether to finally grow up and pursue the woman he loves, or follow the footsteps of his best friend, Jack (David M. Jenkins), who lives in a perpetual state of childhood. What ensues is an endearing romantic comedy and a hilarious post-modern satire that asks, "Who are we really, and what ever happened to the dreamers within us when we were children?"
Kitefliers has similarities to two other romantic comedies: Chasing Amy and Eternal Sunshine of the Spotless Mind. Those familiar with Chasing Amy writer Kevin Smith's work will undoubtedly identify with Kitefliers protagonists Sam and Jack – one stuck in a dead end job and the other a comic strip artist. Conversations about cult films like Star Wars and Blue Velvet are interspersed with clever dialogue about relationships, the nature of existence and bad poetry. Like Eternal Sunshine…, Kitefliers is infused with a few dark twists along the way, and the difference between real and perceived is almost never clear.
Warning
This show contains adult language. Patron discretion is advised.
The Triumphant Return
The production originally underwent a 20-month process from first draft to opening night. The writers, director and cast participated in numerous meetings, readings and workshops to refine, finesse and edit the script.
Since the closing of the original production, the writers and director have re-evaluated every element of production in order to bring Tampa, and hopefully the rest of the country, an even better, tighter play. There are distinct changes to this new script, including massive overhauls to a few key scenes.
"They have truly done an outstanding job of delivering a top-notch play," says Jenkins. "Our original production resonated intensely not only with our 30-something audience core, but with all ages."
Jobsite is inviting film and theater industry professionals in an attempt to give Kitefliers a life far past Tampa. "This play is something very special," Jenkins adds. "Anyone who's been involved with it in any way at all – from actor to audience to usher – can tell you the power it has. We believe this is still just the beginning for this play."
The Power of the Patron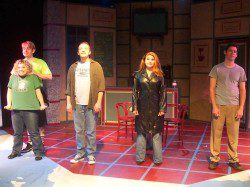 The power of the play can be measured in part by the public outcry sparked when alt-weekly Creative Loafing theater critic Mark E. Leib gave away critical plot spoilers in his review after being specifically requested not to do so by Jobsite's Producing Artistic Director. The Creative Loafing office was subsequently inundated with phone calls and emails from angry theatergoers – some who had already seen the show and some who hadn't – who were outraged. The situation earned Jobsite Theater patrons "Most Impassioned Theater Fans" from the paper's next Best of the Bay issue. The run also broke all records for any original production ever mounted in the theater.
"…it is charming and fresh and – wonder of wonders – genuinely funny… what you might call an uber grande good time." The Tampa Tribune
"…funny and poignant…. The acting is as solid as the script. ….Kitefliers is a romantic comedy, but has enough wit and freshness, even on second viewing, to set it apart from the genre's run-of-the-mill entries." – St. Petersburg Times
"…the poignant drama and spunky hilarity cut close to the bone…." – AOL
Cast & Crew
Kari Goetz – Director
Jaime Giangrande-Holcom – Assistant Director
Neil Gobioff – Co-playwright
Shawn Paonessa – Co-playwright
Cast
Summer Bohnenkamp – Rita, et. al.
Jason Evans – Toady, et. al.
Meg Heimstead – Julia
Chris Holcom – Tommy, et. al.
David M. Jenkins – Jack
Shawn Paonessa – Sam
Katrina Stevenson – Jane, et. al.
Erica Porch – Stage Manager
Crew
John Lott – Light Designer
Matt Lunsford – Assistant Stage Manager/ Assistant Set Designer
Brian M. Smallheer – Set Designer
Katrina Stevenson – Costume Designer
World Premiere Cast & Crew
Kari Goetz – Director
Neil Gobioff – Co-playwright
Shawn Paonessa – Co-playwright
Cast
Summer Bohnenkamp – Rita, et. al.
Jason Evans – Tommy, et. al.
Meg Heimstead – Julia
Chris Holcom – Tommy, et. al.
David M. Jenkins – Jack
Shawn Paonessa – Sam
Stephen Ray – Keith, et. al
Katrina Stevenson – Jane, et. al.
Jaime Giangrande-Holcom – Stage Manager
Crew
John Pinckard – Light Designer
Brian M. Smallheer – Set Designer
Katrina Stevenson – Costume Designer
Patron Reviews
Bravo!!!!! We had a great time at the show and thoroughly enjoyed the performance. We've told a number of people about the show and even were inspired to become season ticket holders for the upcoming season. – John R. Streitmatter
Art matters. Divine art (that which reveals the soul) is vital. You guys did divine art. – Bradley Falk
March of the Kitefliers was better than I ever expected. It was the first Jobsite performance for both me and my roommate. The acting, writing, directing and even production was so amazing that I apologize that I don't have the right words to express how impressed I was…. I can't wait to see another performance. You are all incredibly talented and Tampa is fortunate to have Jobsite here. – Jenny Weigle
We had a phenomenal time last night. Congratulations on creating a innovative and utterly hilarious script – not to mention driving home a really great point. Wow, wow, wow…. I kept thinking to myself, 'wow. they really put effort into building this.' …I hope I get to make it down to see the show again. The standing ovation was well deserved. Congratulations. – Tim Burke
It was phenomenal! The show was hilarious! I laughed the whole way through. In fact between all my snorts and guffaws, I darn near peed my pants a few times. So if you go, bring your Depends. You'll need them…. And the show's message is great too. – Dawn Narramore
My wife couldn't stop talking about your play over the weekend to all our family. She really enjoyed it as did I. She had never been to a play before so she didn't know what to expect but she loved it. – Jacen Santiago
Michelle and I attended Saturday's show, and we had not read a review. March of the Kitefliers was a masterpiece! We have been season ticket holders for several years now, this was absolutely one of the best top 3 plays and performances we have seen you all do. Keep up the great work and may all your original works be as big a hit as this was!! – Wayne and Michelle Smith
Blog Us
Want to add a groovy graphic like this to your blog or website?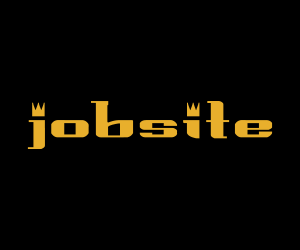 Jobsite provides a variety of cool banners that you can put on your website. AND they update automatically. So just drop it in once, and when we're ready for our next show, we'll update the graphic, and it'll automatically update on your site too!
Share: