You've hopefully noticed that we are amidst a new fundraising initiative in our Annual Campaign, co-chaired by board members Elizabeth Fendrick and Brendan McLaughlin. We're two months in now and only 12% to our goal. To be fair a few of our campaign initiatives have been delayed by unforeseen circumstances, which is not surprising considering this is our first time taking one of these on.
Our goal for 2016 is $60,000, but due to the overwhelming generosity of the Gobioff Foundation we only need to find half of that in our community. They have agreed to match all gifts $1 for $1 up to the first $30,000. They have also made this commitment not only for this year but for two more after that so that in that time we can hopefully shore up a solid foundation of donors to help us not only sustain what we do, but to continue to grow into the organization we know that we can be.
But maybe you already know all that.
Let me level: I've been struggling with a decision all weekend. We originally planned on announcing our 2016-17 season at the opening of Vanya and Sonia and Masha and Spike on Friday night, but it became clear for a few reasons that I was going to have to delay it. One of those reasons is directly tied to why this campaign is so very critical. Over the years I have heard our "style" of programming described in numerous ways, ways that make me sort of giggle to ways that actually get me a little mad. Edgy, alternative, avant-garde, gritty, cutting-edge, and perhaps one of my favorite WTF descriptors intellectual European stuff. Over the years I have heard die-hard fans say things like they'd never be exposed to a certain kind of play anywhere else, or even if they do not thoroughly enjoy a particular play that they appreciate that we offered it because variety, diversity, and innovation are important. One season ticket holder in particular says essentially that if there is not a show he hates in the season we're doing something wrong.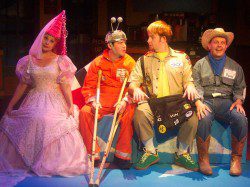 I firmly believe that no play is really ever for all people. Taste is subjective. I get as many complaints about four letter words as I do iambic pentameter. I believe that in attempting to please everyone that you invariably end up pleasing no one. Playwrights, like our own Israel Horovitz, sometimes say that they write not what people want to see but what they need to see. I also believe that the theater has to be a place not only to provoke thought within a community but a place to bring us together. I believe in the power of live performance as a catalyst for inspiring change, however mundane, or to galvanize a group of people in such a way that perhaps transcends differences, divisions, and unique standpoints to share what Bert States calls a great reckoning in a little room.
Before I sound way too haughty and airy-fairy about it, I also believe in the theater as a place to kick back and laugh at ourselves and each other. I am, after all, the guy who produced SILENCE! The Musical. High art it wasn't.
Where am I going with all this? Ah, yes, back to my delay of the announcement. I don't just hand-pick a season on my own. This is a collective process undertaken by me and my Artistic Associates, those core ensemble members you probably know very well from years of work on our stages. I do this because I'm just one guy. I don't like everything, and I don't have to. This process keeps me honest. This year I went to them and basically said we had to play it safe. Why? Because to be honest we've failed at bringing people in the way we need to to cover our modest expenses. Every year I push our budgets bit by bit. This has allowed us to get better access to titles, to more Equity actors, to up production values, to compensate everyone better. That requires a corresponding bit by bit growth in attendance.
Over the past year or so we've actually seen an overall drop in attendance when you look at the individual shows. To look at the whole season we're still growing, but frankly that's misleading because we've started programming in the Jaeb and all those thousands of people watching us do musicals in there does not reflect on our mainstage attendance in the Shimberg.
We've had exceptional artistic successes in that time. Plays and artists that have gone on to win regional awards. Plays that audiences (who turned out) loved, that were lauded by critics. Plays that also failed to find their audience and so cost the company money. Not-for-profit theater (as opposed to commercial, for-profit theater like Broadway) is a breakeven proposition. We're never going to get rich, but we also can't produce at a substantial box office loss without making it up somewhere else.
So I told my core artists, some of my nearest and dearest friends and colleagues, to play it safe. I don't wholly regret the decision. I think by and large we found a group of plays that play to our strengths and are accessible enough to draw an audience. Plays that we have some form of history with, that we can engage the community with. But, there was one title in particular that was pushed to the side not out of not believing in it's merit, but because I was afraid it would lose too much money. A show written by an outstanding young local talent. A show that I think has an opportunity to reach a whole new audience while giving voice to experience that others who may not identify with prior to the show will appreciate. And then I had to write this bright, beautiful creator and say all that.
I feel pretty gross about it. We used to produce plays simply because we believed in them. If the cash wasn't always there, fine, we'd do it for free. I can't, and won't, ask anyone to do that any more. We're not 24. We have lives, needs, families.
I also feel gross because producing locally-generated original work is part of our mission. Doing that is risky, yes. It's not always going to be great. But all things have to start somewhere and this commitment has generated shows like The March of the Kitefliers, MAXWELL, and Pericles: The Musical. I may have just let the next one of those go by because I was scared. Gross. This is a big part of my job, stewarding how this company fulfills its mission. Directing where the art goes.
Do I want to wake up in 3 years shackled to seasons of nothing but trite fluff, safe but tasteless garbage that may be easy to sell tickets to but that leave me feeling empty? Shows that all belie the mission this company was built on? No. So that brings me back to you, if you've even managed to read this far (I know, I'm a yarn-spinner). I need you. Jobsite needs you. These local artists need you. Giving does not have to be hundreds or thousands of dollars. Five. Ten. Twenty. These, too, are meaningful contributions, especially once double by the matching funds from the Gobioff Foundation.
Is having access to work like Lebensraum, or Annapurna, or Virginia Woolf's ORLANDO worth a little bit extra in addition to the price of your ticket? Would you like to help us keep our work accessible to people by helping us not raise our ticket prices? Is being there for the birth of a Pericles or Kitefliers meaningful to you? If your answer is yes I urge you to consider a gift so that we can continue our work while continuing to honor our mission.
Thanks for your time and consideration.
David M. Jenkins, PhD
Producing Artistic Director
Jobsite Theater