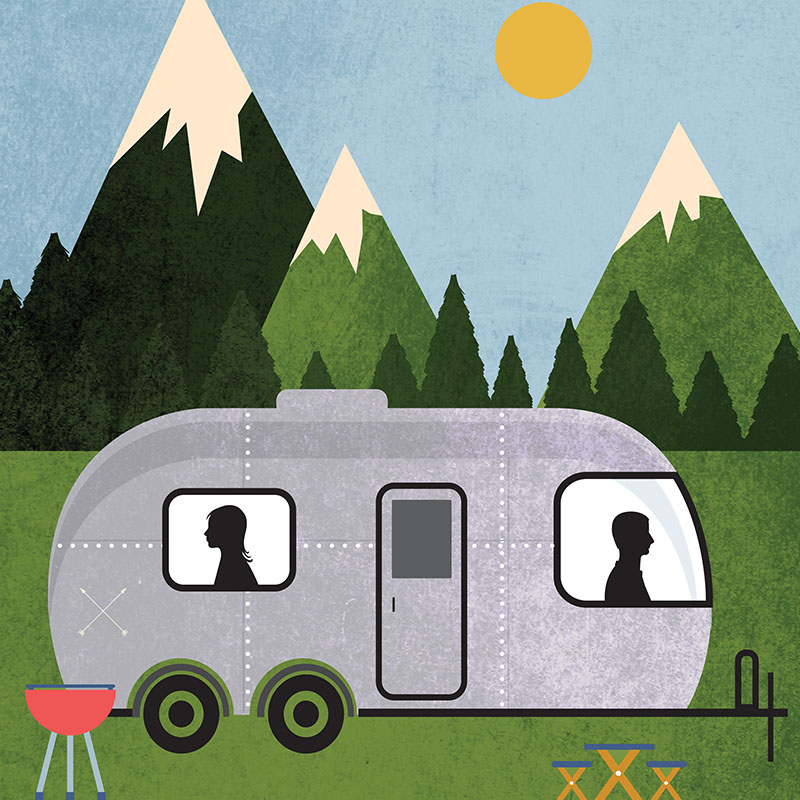 By Sharr White
Directed by Summer Bohnenkamp and David M. Jenkins
May 1 – 24, 2015
Thu. – Sat. 8pm, Sun. 4pm
Tickets: $28
Preview Performances: Apr. 29 – 30 | Wed. – Thr. 8pm | Tickets: $14
Shimberg Playhouse, Straz Center for the Performing Arts
Creative Loafing Best of the Bay
Southeastern US Premiere
Annapurna is a moving and explosive new play by critically-acclaimed emerging playwright Sharr White, who had two plays running on Broadway in 2014. Driven by the emotionally-charged relationship between an estranged husband and wife, Jobsite's production stars Bay area stage icons Paul Potenza and Angela Bond as Ulysses and Emma.
Wearing nothing but an apron and an oxygen tank, Ulysses unexpectedly finds his wife Emma knocking on his trailer door as he's making his dog dollar-store sausage on the stove. It's been 20 years since their marriage was torn apart by an event that Ulysses can't remember and Emma can't forget. In the spirit of some of the greatest American dramas, Annapurna is built upon the hopefulness of reconciliation and the simplest of setups – two people alone in a room. Passionate, funny, fierce.
"For anyone who has ever loved and lost, or attempted to reconcile with a loved one or member of the family, this play speaks loud and clear in both its humor and pathos," notes director David M. Jenkins. "That's a very hard line to walk and this play handles it with an unbelievable deft touch. Not to mention, this is truly an incredible showpiece for two actors, and Paul and Angela will, I guarantee, light that stage on fire. I cannot wait to share this with Tampa Bay, it's easily one of the best plays I've read in years and I am honored that Jobsite is the first in the area to produce it."
Annapurna's world premiere took place at The Magic Theatre in San Francisco in 2011, and ran in New York last April starring real-life married couple Megan Mullally and Nick Offerman. Among White's other plays, two have opened on Broadway: The Other Place in 2012 and The Snow Geese (starring Mary Louise Parker) in 2013.
Talkback
The audience for the Sun. May 17 performance is invited to a post-show talkback / Q&A with the actors and co-directors.
Summer Bohnenkamp – Director
David M. Jenkins – Director
Matthew Ray – Stage Manager
Cast
Angela Bond – Emma
Paul Potenza – Ulysses
Crew
Tiffany Daiber – Asst. Stage Manager
Kaylin Gess – Lighting Designer
David M. Jenkins – Sound Designer
Roz Potenza – Props and Costume Assistance
Brian M. Smallheer – Scenic and Lighting Designer
Beth Tepe-Robertson – Costume Designer
This was our favorite Jobsite show of the year. – Kevin Ellerbeck
Thanks for an amazing night at the theatre. Superb on every level. I am in your debt. – Jon Paul Claridge
I took it in last night and was thoroughly floored and wanted to say thanks. I've always loved raw, gut wrenching emotional stuff but had to lay off for a long while because the intensity was a bit too much. This brought a lot home (yeah, I'm even a Barnard grad) on so many levels, and those characters connected to so many visages and fragments of people in my life. It was wonderful, thank you for a job well done! – Mei Crain
Fabulous job! Great show! – Michael William
Beth and I were there last night at the opening. Such tremendous work by all. Do not miss this show. It will make you laugh and punch you in the stomach and you will be changed by the work of theses two actors. Also was able to attend the after show celebration and was so delighted to see so many there sharing and supporting Jobsite. Bravo Jobsite, Bravo indeed. – Owen Robertson
Great job! Cast was wonderful! Paul Potenza was masterful in a most difficult role – Lori Pate
Paul Potenza (Ulysses), Angela Bond (Emma) were great. Paul Potenza was excellent and very believable, portraying his character. The next time I am in his Design 1 Jewelry store, I will never look at him, in the same way again. – Judy Young
So if you want to watch one of the best shows onstage in years, want to see two amazingly talented actors put on a clinic on how to do what we love to do SEE Jobsite Theater's Annapurna, it's still affecting me today. Paul Potenza and Angela Bond are simply magical, David Jenkins and Summer Bohnenkamp … kudos amazing night of theater, makes me proud to do what I do. – Jason Vaughan Evans
I was able to see the show tonight! Great job by all involved! – Peggy Huey
A fantastic performance by Paul and Angela. I enjoyed every minute! – Anida Bruce
I experienced the outstanding production of Annapurna, by Sharr White atJobsite Theater last night. This is one of Jobsite's best productions ever. Huge Kudos, to David Jenkins and Summer Bohnenkamp on their deft direction.Brian Smallheer has out done himself with this amazing set. Angela Bond and Paul Potenza worked fantastic together, telling a heart wrenching compelling story. And lastly, I honestly believe this is Paul's best work as an actor. Paul disappears as Ulysses. Paul's Ulysses was like watching a master class in acting. Get your tickets now to this great production. – Brian Shea
Hey #tampa – see Annapurna at @jobsitetheater @StrazCenter. Well deserved standing ovation. Potenza was perfect #tampatheater #downtowntampa – @ladriaan
Amazing, amazing work done by @jobsitetheater. Don't miss Annapurna. A wonderful night of theatre. – @j0hnnnyy
Can't get Annapurna out of my mind. Great theater. – @PhantomDadoo
John and I have to say that Annapurna was one of our favorites and we've seen a lot of Jobsite productions!! Both Angela and Paul were outstanding. Paul is one of those actors who portrays his part so well, you soon forget any past production he has been in. WELL DONE!! – Dona Haig
Aside from the shows Maggie [Phillips] has been in… Annapurna might just me my all time favorite Jobsite show!!! – Ken Phillips
[Thank you for] a MOST impressive evening when I came out to see Annapurna, May 1st. I am not an avid theater person, or at least I thought. I respect what is done and enjoy an occasional outing, however the older I get the less patience I have to sit still. I absolutely loved what you did, the intimacy of it all and the great performances […] I truly enjoyed myself, maybe that is my thing, small, personable performances (of two or fewer people) that made me laugh, ponder and even. . shhhhh cry! I can only imagine how proud you both must be of what you have done and I felt it was equally as important for you to be told! I suddenly found myself curious about everything from building the set to improvisation to performance direction to . . hummmmm can't wait to try the food at Fodder and Shine 🙂 […] it felt as though something magical was happening and it probably was. – Sarah Stone
Awesome show. Awesome performances. Seriously go and see Annapurna! – Jonathan Harrison
Saw Jobsite's Annapurna last night and WOW! I loved everything about this show. Both actors are great, Paul just takes it one step further and is absolutely amazing. Brian – the set is beyond awesome, every detail is perfect. Great job everyone. – Kim Smallheer
Love love loved it!! GO SEE THIS SHOW!! – Elizabeth Jay
Saw it tonight and it was Great. Incredible performances. Another great Jobsite production. – Mary Ann Keller
Highly recommend you go! – Tom Wood
This is truly one of the finest productions I've seen. Do go see this incredible piece of theatre art. – Michelle Larson
WOW!!! This show is phenomenal! It lands in my top 5 list! Go see this brilliant piece of theatre! – Rhapsody Drehs
Annapurna was amazing. Bravo Angela Bond and Paul Potenza. #‎JobsiteRocks – Rick Stutzel
#annapurnaJS was AMAZING. A melting pot of emotions. Well done @jobsitetheater! You never disappoint! – @Broadway_Boy95
Congrats to @mattyray84 and the cast of @jobsitetheater's #AnnapurnaJS on a fantastic opening night show! – @thespiantroup51
Everyone go see @jobsitetheater's Annapurna at the @StrazCenter! Phenomenal opening night! Show through May!! #jobsitetheater #strazenter – @Lora_Hogan
Had a great time laughing and crying at #Annapurna What an awesome show #PaulPotenza was amazing, thanks for the tickets! – @slaughterfern