Vampire Lesbians of Sodom
By Charles Busch
Directed by David M. Jenkins
Oct. 29 – Nov. 23, 2014
Thu. – Sat. 8pm, Sun. 4pm
Tickets: $28
Shimberg Playhouse, Straz Center for the Performing Arts
Events
Media
Cast & Crew
Patron Reviews
Season
Jobsite joins a nationwide tribute to the master of camp, 30 Years of Charles Busch – A Celebration, in conjunction with the company's favorite holiday!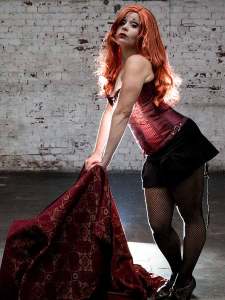 One of the longest running plays in Off-Broadway history, Vampire Lesbians of Sodom tells the saga of two fatally seductive vampiresses, a virgin sacrifice (Coco & Homo's Zachary Hines) and her maker (veteran Jobsiteer Summer Bohnenkamp), whose paths first collide in ancient Sodom. Their bitter rivalry endures for nearly two thousand years with stops along the way in 1920's silent movie Hollywood and contemporary Las Vegas. Moving between histrionics of classic horror cinema and the cheerful nastiness of the backstage melodrama of manners All About Eve, Vampire Lesbians sparkles with spectacle, homage and double entendre.
Jobsite's production of Vampire Lesbians of Sodom features live music and musical interludes heavily influenced by vaudeville, English music hall, and post-war cabaret under the music direction of J. Elijah Cho. Expect unique takes on traditional and contemporary song and dance, from the 1916 torch song "Mon Homme (My Man)" to a certain theme-song from a bayou-based supernatural soap opera.
"Busch makes it very clear that this was never meant to be performed as a traditional play but as a burlesque," offers director David M. Jenkins. "Initially I had crazy ideas about making the whole thing sort of scandalous, but that's not really who I am or who these artists are. Probably not what the play is, either. It's far more silly, sexy-silly I suppose. For those that don't know Charles Busch, if you like the tongue-in-cheek camp of a Rocky Horror, a Priscilla, or John Waters flicks, you really don't want to miss this show."
"Nothing escapes the demolition by laughter … The audience laughs at the first line and goes right on laughing at every line to the end, and even at some of the silences. That's no mean achievement." – The New York Times
Some of Jobsite's most successful and memorable productions have been focused around Halloween – from last year's Macbeth to the monochromatic musical Gorey Stories to Clive Barker's History of the Devil. Fans of last year's season opener, Hedwig and the Angry Inch, will certainly not want to miss this drag-tastic romp of a burlesque that also features Spencer Meyers, who played Hedwig, as a vampire hunter hot on the heels of our heroines.
Ybor Youth Clinic
We're happy to announce a partnership with the Ybor Youth Clinic for the Fri., Nov. 7 performance of Vampire Lesbians of Sodom. $10 from every full-priced admission will be donated back to this important community organization.
Previews
Jobsite Theatre tackles campy Vampire Lesbians at Straz – Tampa Tribune
Three picks: 'Vampire Lesbians,' a 'Fifty Shades' parody and open air opera – Tampa Bay Times
Photo Flash: First Look at Jobsite Theater's Vampire Lesbians of Sodom – Broadway World
Interview with Vampire Lesbians of Sodom director David M. Jenkins – Watermark
David M. Jenkins – Director
J. Elijah Cho – Music Director, Arrangements
Cast
Summer Bohnenkamp – Succubus / Condesa
J. Elijah Cho – Ali / Zack / Musician
Zachary Hines – Virgin / Astarte
Jamie Jones – Hujar / King Carlisle / Freddie
Spencer Meyers – Oatsie / Danny
Maggie Mularz – Renee Vain / P.J.
Katrina Stevenson – Etienne / Tracy
Matthew Ray – Stage Manager
Julia Rudgers – Assistant Stage Manager
Crew
Kaylin Gess – Scenic and Lighting Design Assistant
Joel Haker – Sound Consultant and Engineer
David M. Jenkins – Video Designer
Brian M. Smallheer – Scenic and Lighting Designer
Katrina Stevenson – Costume Designer
Costume Construction
Blake High School Costume Shop – Costume Construction
Taylor Burke – Costume Construction
Danielle Goyco – Costume Construction
Absolutely the best. The preview, even with a few mishaps, was campy, bitchy, outrageous, and a laugh a minute. The double entendres and word depravity was enthralling. Was it a he or she? Was it shape shifting? And the incarnations up to Vegas in the 80s were enthralling – excellent acting with a very talented cast. Loved the production!! Jobsite Theatre (with the huge J an T intertwined on the set) has done itself proud yet again. – Sandra Roth
The show was fantastic! I loved it, great job! Congrats 🙂 – Kim Goodman
Via Instagram
Great time @jobsitetheater Great show … my face hurts from smiling 🙂 #NotYourTypicalMomsNiteOut" – @stampdiva
Vampire Lesbians of Sodom kicked some major ass! And @tristanmagruder got a lap dance (but was that an unrelated thought??) #lovemedead" – @turkeycreekelementary
Via Facebook
Fantastic preview show – we had a great time! – Lily Wei
just got home from [preview] it was great … A MUST SEE! – Charles Hampton
I had so much fun tonight at Vampire Lesbians of Sodom … It was total camp, lots of laughs and a GREAT cast. Thanks again to Jobsite Theater … We had a FANTASTIC time! – Lori Singleton
You've got another great show on your hands! – Jonathan Harrison
Vampire Lesbians of Sodom. Go! It was so amazingly funny. I highly recommend. – Amanda Firestone
WOW What a GREAT HALLOWEEN night. THANK YOU to David Jenkins and Jobsite Theater for an amazing show. Once more Jobsite Shows us why they are one of the top theatres in Tampa Bay. What a treat the timing impeccable the cast sublime. Students and Teachers run don't walk to see this show. Perfect example of its type. Camp done so well you will be hard pressed to find any example that comes near it outside of busch's in NYC. Thank you David and Jobsite for bringing us this Halloween treat! – Diana Rogers
Congratulations Vampire Lesbians of Sodom!! Another show stopping performance […] This show will continue to sell out … BUY TICKETS NOW!! – Carmen Lusignan
We enjoyed a campy cauldron of creepy characters last evening at Jobsite Theatre's Opening Night of Charles Busch's VLOS! Congrats to everyone on a great show […] a ton o' fun! – Brian D. Frey
Another very entertaining show last night! We loved it—–sooo super funny! Thank-you! – Dawn Elizabeth Hoffman
What a talented cast. Everyone did a great job. We thoroughly enjoyed the show last night. – Eric Holsinger
Kudos to all for your most recent production! Loved the use of all the music. Great job J. Elijah Cho! – Lori Pate
A stage full of charisma! Super camp. I love that theater. You can walk in with wine. – Rhonda Kay
Via Twitter
Had great time seeing Vampire Lesbians of Sodom Laughed til I cried and there was catchy tunes!  Must see  folks!  – @brandalay
vampire lesbians of sodom @jobsitetheater  is excellent campy fun! #mustsee –@SouthTampaLily
A must see! – @lisah
Laughed until my sides hurt watching the final preview of Vampire Lesbians of Sodom last night at @jobsitetheater. Don't miss this one folks – @critus
Had a wonderful time at @jobsitetheater's Vampire Lesbians of Sodom! Go see this show! The [My Chemical Romance] cover killed me. Thank you for the wonderful night of theatre! – @j0hnnyy
Blog Us
Want to add a groovy graphic like this to your blog or website?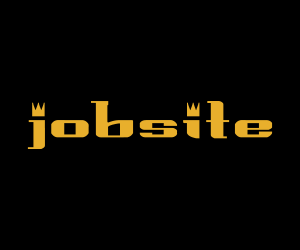 Jobsite provides a variety of cool banners that you can put on your website. AND they update automatically. So just drop it in once, and when we're ready for our next show, we'll update the graphic, and it'll automatically update on your site too!
Share: