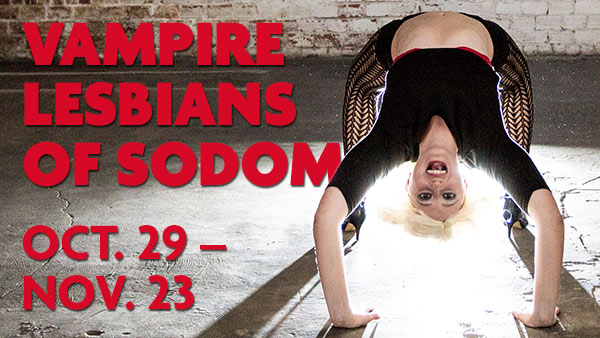 Wednesday we offer our first of two previews of Charles Busch's hilarious camp-comedy homage to classic horror and showbiz rivalries, Vampire Lesbians of Sodom. This is a laugh-a-minute, gleefully over-the-top high-energy 75 minutes in the theater you won't soon forget. Even those familiar with the show will see it in a new light: we've added vaudeville/music hall/cabaret-inspired interludes between the scenes under the musical direction and accompaniment of J. Elijah Cho that run the gamut of styles and periods from the 1916 classic "Mon Homme (My Man)" to Ludo's 2008 "Love Me Dead."
Opening night is Halloween, Fri., Oct. 31 and all guests will receive a trick-or-treat goody bag. We're also setting up a photo booth with some fun props and are encouraging everyone to dress up for our opening. Since the show will be over before 9:30 that night, you'll still have plenty of time to participate in other Halloween tomfoolery or shenanigans, even if that's just from the comfort of your couch with a bowl of popcorn!
If you're on a tight budget don't forget that the 10/29-30 previews are just $14. We also have a benefit performance coming up on 11/7 for Ybor Youth Clinic where a portion of each regularly-priced ticket will be donated back to this important community resource!
Please join our Facebook event page, or check out the show page for a teaser trailer created by Jobsite fan Thomas Morgan, PR photos and more.
Getcher Tickets NOW!
Sat., 11/1 is SOLD OUT, and we are filling up fast both 10/31 and 11/2. Advance purchases are strongly recommended to avoid disappointment at the door. We do NOT expect rush tickets to be available opening weekend.
Hope to see you all soon! We're having a blast and can't wait to share the fun with YOU!