(D'oh! David Jenkins beat me to the blog post. That's okay. He does a lot. I'll let him have dibs.)
As Chairman of the Board, I'd like to thank everyone who was able to support Jobsite at the Gala last night. I don't even have to look at the numbers (honestly, I haven't seen them). It was a huge success. Even if we broke even, it was a great, successful night for both our patrons, our ensemble and those who helped put it all together. THANK YOU!
If you enjoyed last night, please make sure to tell your friends who couldn't make it out. Make 'em jealous. They're welcome to join us next year. And of course, they're always welcome to join us between galas as well.
If you couldn't join us last night, please read my speech below and consider helping us out. It's never too late to support us, whether it's a direct donation, by getting a season ticket, or just spreading the word.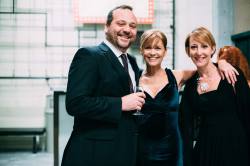 I got some nice comments from folks after my speech last night. If you're reading this, it applies to you.
Why it's all so darn important
First, I'd like to thank Elizabeth Fendrick and the Gala Committee. This has been a huge undertaking over a year in the making, and it's an impressive success.
I'd like to discuss something about Jobsite that is easy to overlook, but I think separates Jobsite from a lot of theater companies not just in the Bay but in the country. But to explain it, I need to back up a bit.
When artists leave school, they're barely ready, because the only way they can really hone their skills is by doing their job. An artist's entire career is continuing education. Now for some artists, that's not difficult. If you're a painter, you can go to a park with your easel and your brushes and practice your art. If you're an actor, you cannot go downtown and shout Macbeth soliloquies. Even if you don't get arrested, you need an audience, other actors, a director, and the list goes on. It's a team sport full of a wide variety of artists. Each artist relies on the others to evolve his and her own work.
Let's take that notion one step further. You have a bunch of artists. They get together, make a production, and then they all move on. When an artist starts with a new production and a new team of people, they have to reestablish building blocks of trust, creativity, chemistry, and so on.
What if you had a core group of artists who worked together a lot, so every time you start a new production, you don't have to go back to square one and reset those building blocks? That groundwork is already done, and now those artists can grow a little further than they could in the last production.
That is the underlying principle of the Jobsite Ensemble. In our mission statement:
Jobsite has established and will continue to evolve a collective of like-minded artists, creating a supportive environment where artists of all disciplines may experiment, hone, and apply their skills in a professional laboratory environment.
And that laboratory environment is what makes Jobsite so special. Put it this way. 15 years ago I had an English degree and a couple years experience doing improv comedy. But I really wanted to act. I ran into an old college friend, who was starting a theatre company with some of his friends. He told me about an audition. I tried out and got a part. Then I auditioned and got another part. I didn't have a performance background, but over time, I was able to work and play with a core group of artists in that laboratory and really learn how to be an actor. In fact, that laboratory has helped me become an actor, director, playwright, sound designer, video designer, and web designer. If it wasn't for Jobsite, I wouldn't have a writing partner, let alone a business partner, where I've become a film director, screen actor, screenwriter and film producer. That's all thanks to Jobsite.  If it wasn't for Jobsite, I wouldn't have a wife, but that's not in the mission statement. And tonight you are surrounded by artists who have worn far more hats more prolifically than I'll ever know.
See, when you support Jobsite, you're not merely helping someone pay the bills. We're not trying to pay for airfare to fly an actor in from some where else. The dollar from your ticket tonight, or the silent auction, or even the dollar you put in that tip jar is an investment. You're helping artists to stay and work here in this laboratory environment, so they can continue to hone their craft, so that the next show we produce is a little better than the last. That show, and that artist, is rooted in this community. So your dollar tonight returns, soon, with interest, back to everyone. Thats why Jobsite's so special, and that's why tonight's so important.
Thank you all for making that happen.
Now, I'd like to introduce the guy who invited me to that first audition. My good friend, and Jobsite's Producing Artistic Director, David M. Jenkins.
Then And Now
If I had a slide presentation going, I wanted to encapsulate my Jobsite acting career. Pictured below, my first show and my most recent show with Jobsite. I've clearly matured as a thespian in 15 years, if I say so myself.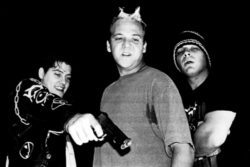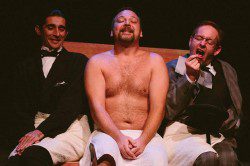 [blox_row][blox_column width="1/1″ ][blox_divider type="space" space="1″ fullwidth="0″/][/blox_column][/blox_row]