If you were not able to make it last night to our 2nd annual Gala, or able to contribute to the event in another way, I urge you to take a moment now to make a donation online in any amount you see fit.  All donations collected by this coming Friday will be counted toward the event. Every contribution is meaningful as we attempt to keep raising the bar with our productions and compensate our artists with a living wage. Your donation will not only make the work we do better, it will immediately improve the quality of life of our artists. We need you this week, I hope that you can answer the call. Thanks for all you do to keep Jobsite rockin'.
These are my remarks from last night: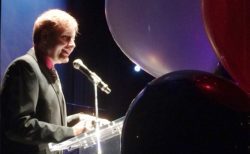 It was a good year, but we can do better.
We were among 40 finalists from all over the country seeking to be named a National Theater Company by the prestigious American Theater Wing. We didn't win, so we can do better.
Close to 14,000 people attended a Jobsite even last season, a jump of more than 50%. Along with the increase in attendance, our earned revenue went up 68%. We can do better than that, too.
These increases were not just due to the move into [the Jaeb] but also through our increased programming in Job-side Projects like A Brief History of Beer at New World Brewery in Ybor City, and the stunning 4.48 Psychosis which earned Nicole and Giles a Top 9 performance of the year and a Best of the Bay for Best Reason to Take Theater Seriously.
While I'm on Best of the Bay's, between critic's choices and reader's picks Jobsite shows and the artists who worked on them raked in 16 plaques. And, yes, we can do better than that …
[At this point in my speech, J. Elijah Cho burst on stage a la Kanye West to announce the Some Sort of Awards Show coming soon on Nov. 10, keep your eyes peeled, this looks like it's going to be a ton of fun]
It takes an absurd amount of work to put together an event like this, and simply put without Elizabeth Fendrick there would be no Gala. For years now we've wanted a signature event like this and frankly just lacked the time and tools to make it happen. Elizabeth has been a Godsend, and has put together a great team to make this not only a night to remember but a meaningful fundraiser for Jobsite. Elizabeth, from the bottom of my heart and from every member of this ensemble who benefits from the work you've done for us – THANK YOU.
I'd also like to thank Jobsite board chair Shawn Paonessa and the rest of our board of directors for their time and expertise, the mighty ensemble of artists who pump their heart and souls into the work you see on our stages, and last but certainly not least Crawford Long for making us look better than we deserve for over a year now with his photography.
On to the news:
I hoped to announce the musical we're doing here this summer and even thought we had a done deal until yesterday, but final contracts just haven't worked out. Can I say that we've been very close to locking down deals on two different shows that are about people eating people? Hey, we can just write our own … "People … people who eat people …"
So, instead I'll announce here for the first time a title from our 2015-16 season that we have locked down for sure, Christopher Durang's HILARIOUS Broadway smash: Vanya and Sonia and Masha and Spike.
Also in 15-16, I am honored to announce for the very first time we are joining the Veteran Artist Project to create a series of original interdisciplinary performing arts events. VAP takes artists who are also veterans, and propels their works and careers into the mainstream creative arts community through networking, mentorships, collaborations with other professional artists, and original works. They're based in New York but are creating programming across the country to expand the network and visibility of veteran artists. Paul Potenza and I have been in talks about this for a while now, no one else, and so you're all truly the first people to hear about this special project.
A treasure of the American theater is visiting us for a week-long residency in February, Israel Horovitz. For the very young or not theatrically inclined, he's better known as Adam "Ad-Rock" Horovitz's father, making him a Beastie Dad. Israel is a decorated artist of stage and screen, and we're flagshipping a new program with him starting with a staged reading of his dark comedy that tells the story of five men in a small New England fishing town, their closely held secrets, and the truths that threatens to tear the whole town apart, Sins of the Mother, which he will also direct. Moving forward Israel will hopefully be with us every year working on new or established material of his as a playwright and director. If you haven't seen his film adaptation of his play My Old Lady starring Maggie Smith and Kevin Kline, do it. We're already talking to the Tampa Jewish Community Center and Federation on collaborating on one Is's plays for next season. This is huge for us.
One area we're committed to doing better in is how we function within this community. Whether it's our ongoing partnership with the JCC like our season opener The Last Night of Ballyhoo, our benefit performance for the Ybor Youth Clinic of Vampire Lesbians of Sodom, the scholars and experts we engage to bring into our post-show public forums, our increased reach into the schools with our educational offerings, or this new Veteran Artist Project we're taking on – these things are important to us. To all of us. Producing pretty things is simply not enough. The future of the American theater depends on how we as artists regard, interact with, respond to, and support the community. This is a space for all of us. Not just theater insiders. Not just the wealthy. Not just the entitled or privileged.
I've said it before and I'll say it again, I'm just a poor white trash kid from the northside of Jacksonville. I'm still not even supposed to be up here, but a succession of someone's took a chance on me. I am honored to be up here, I am honored head this great organization, and I promise you that I will ensure we continue to do better at every level, on stage and off, because this matters.
Another way we can do better is through your help. I urge you tonight if you are not a season ticket holder sign up in the lobby to be contacted next week in order to become one. If you really want to be a Rock Star, you can become one og those, too. The Rock Star Experience is a VIP package that will not only get you into everything – and I mean everything – we do for the rest of the year, but will also get you into next season's opener and next year's Gala PLUS a portion is even tax-deductible. In addition to straight donations I hope you also take the time to go out into the lobby and check out the amazing silent auction items up for grabs. All funds raised here tonight will go directly back into artist salaries for this season.
And finally, you can help make us better by becoming a volunteer or applying for a seat on our board of directors. Our community is broad, diverse, and our board should be too. Every perspective is valuable and sought after: pre-professional student, socialite, general arts lover, retiree, corporate CEO – we have a place for you if you have the time.
And now I'd like to welcome to the stage the 2014 Creative Loafing Best of the Bay Best Theater Rockers Jana Jones, Mark Warren, Woody Bond, Parker Wilkson and the cast of the Critic's Pick for Best Musical AND Reader's Pick for Best Theater Production: Amy Gray, Jonathan Harrison, Jaime Giangrande-Holcom, Spencer Meyers, J. Elijah Cho, Owen Robertson and Maggie Phillips. Ladies and gents, let's Return to the Forbidden Planet!