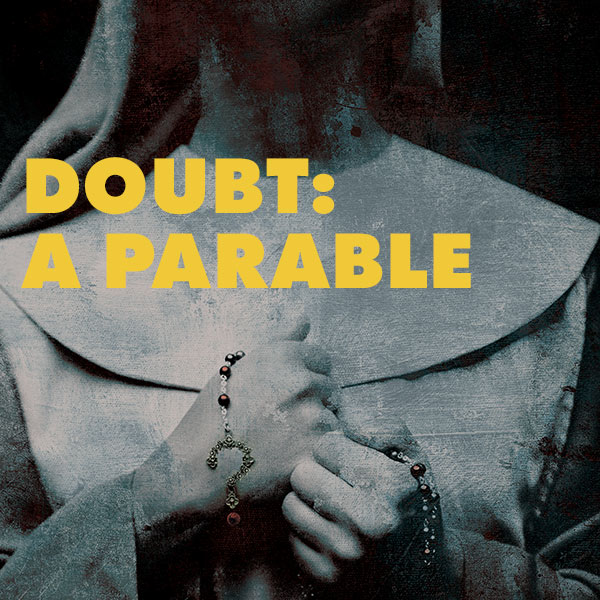 By John Patrick Shanley
Directed By Summer Bohnenkamp
Jan. 15 – 31, 2021
Preview Performances: Jan. 13 – 14
Tickets: $19.50 – $99.50
Jaeb Theater, Straz Center for the Performing Arts
Creative Loafing Best of the Bay Nominated
In this brilliant and powerful drama set in 1964 Sister Aloysius (Roxanne Fay), a Bronx parochial school principal, takes matters into her own hands when she suspects the younger and popular Father Flynn (David M. Jenkins) of improper relations with one of the male students (who also happens to be the first black student accepted into the school).
The original Broadway production starred Cherry Jones, Adriane Lenox (both earning a Tony Award), Brian F. O'Byrne, and Heather Goldenhersh (both nominated). A film adaptation was made in 2008 starring Meryl Streep, Phillip Seymour Hoffman, Amy Adams, and Viola Davis (all nominated for Academy Awards). Summer Bohnenkamp has previously directed the Jobsite hits The Flick, Time Stands Still, and Constellations.
Why You Should See It
A major award-winning play by one of the country's most celebrated playwrights featuring regional powerhouses? Do we even need to offer more than that? Director Summer Bohnenkamp has helmed some of the most critically-acclaimed productions in recent Jobsite history, so she not only has good taste but the skills to back it up. We also promise you that this show will have you talking LONG after you leave the theater. Did he do it? Was she right? Do you have doubts about either or both? Very few plays walk a line like this one does. We promise you won't be able to take your eyes off of it.
Why We Picked It
This was another Jobsite no-brainer – it suits all of our strengths and what audiences love about our contemporary work. The roles of Sister Aloysius and Father Flynn are among the meatiest in contemporary theater. Mrs. Muller may only have one extended scene, but it will simply knock you off your socks. Sister James is the audience's conscience. The last play we produced that probably packed it all in and generates as much discussion among an audience was likely David Mamet's Race. This play, when performed right, should leave you with the same doubt referred to in the title. We all have our doubts, doubt is perhaps the most powerful human state. John Patrick Shanley says, "The beginning of change is Doubt. It is that crucial moment when I renew my humanity or become a lie."
From the playwright
"Doubt requires more courage than conviction does, and more energy; because conviction is a resting place and doubt is infinite — it is a passionate exercise. You may come out of my play uncertain. You may want to be sure. Look down on that feeling. We've got to learn to live with a full measure of uncertainty. There is no last word. That's the silence under the chatter of our time." – John Patrick Shanley
This play is dedicated to the many orders of Catholic nuns who have devoted their lives to serving others in hospitals, schools and retirement homes. Though they have been much maligned and ridiculed, who among us has been so generous?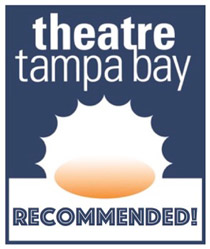 Summer Bohnenkamp – Director
Teah Banks – Stage Manager
Cast
Emily Belvo – Sister James

Roxanne Fay – Sister Aloysius

David M. Jenkins – Father Flynn

Andresia Moseley – Mrs. Muller

Crew
David M. Jenkins – Sound Designer
Chloe Mastro – Scenic Painter
Rebekah Eugenia Lazaridis – Scenic Designer
Tea Roberts – Scenic Painter
Brian Smallheer – Lighting Designer
Katrina Stevenson – Costume Designer
I thoroughly enjoyed the performance … The pacing was perfect, hardly believed 90 minutes passed. The set was so well designed and executed … Totally lost track of 'David' behind the persona of Father Flynn, the sly cunning subtleties came through and left me questioning afterwards did he or didn't he … Especially after the last decade of scandals, this seems like such a relevant topic to explore and do a deep think. Thanks for bringing it out. My guest was very pleased with all the protocols in place (it was her first time out to the theater since last Feb). She'd seen the play on BWY and Tampa and was impressed by the quality of this production. – Mei Crain
Saw it last night and was so impressed with the performances from the entire cast! 👏 – Robin Elting
Fabulous!❤️ – Yassert Gonzalez
Great performances from the whole cast – Beth Hyde-Hood
Oh. Jeez. My breath was taken away by this play. It's gonna take me awhile to process this one … But wow – get thee to Doubt … I can't even put into words how incredible that was and well worth the almost YEAR wait. I am shook. – Colleen Cherry
So glad I was there! Such powerful acting – welcome back Jobsite. I've missed you. – Lorinda Gamson
GO SEE THIS SHOW – Kate Gordon
I safely experienced Jobsite Theater's production of DOUBT: A Parable. This is honestly an unbiased opinion. I have seen many productions of this John Patrick Shanley work. Including a Cherry Jones production. Jobsite's is the best production of this play that I have experienced. Thank you. I needed it. – Brian Shea
Saw this tonight! It was sooo incredibly good! And everyone was so great at making it a safe yet easy experience to enjoy. Thank you to all!! – i_am_eating_waffles
David Jenkins was so believable as a priest giving his sermons, we were ready to line up for communion! The show was expertly done and an excellent entertainment opportunity. Bravo to Jobsite! – George Barnard
Going to do a show indoors? Now this is how to do it right! Thank you to our Safe and Sound businesses: Jobsite Theater and the Straz Center for the Performing Arts! – Hon. Kimberly Overman
Wish I could tell you how amazing it felt to see live theater again, and to feel safe doing it. Jobsite Theater 's production of "Doubt," is not to be missed – powerful, emotionally charged, beautifully performed. Only through 1/31, so get your tickets now! – Cindy Stovall
Great performance Saturday night! I hated that I despised Roxanne Fay's Sister Aloysius, she did it so well! Great casting all around! – @grammybja
Live theatre is back! I went to the first Jobsite performance since covid ruined everything for everyone. I really like what they did to make it a safe environment to see live theatre. Instead of being in the usual smallest room they have moved to the middle size room that normally has cabaret seating. Guests are seated in groups up to 4 and only with the people they came with, no sharing tables with strangers! If you are attending alone, you have a seat in the balcony by yourself. The closest other single seats are more than 10 feet away. They also have directions on the floor so traffic is all one way. Guests are required to wear masks during the show so no eating or drinking in the theatre, which is not a big deal. The show I saw was "Doubt" and it was amazing. Three of the four actors are regular Jobsite performers and gave some of their best performances. I have had season tickets for a couple years so I familiar with their work. The casting was excellent. I got chills at the end. Go support live theatre and be safe! – Rebecca G.
We saw Doubt tonight. The whole performance was incredible. It would be a shame to miss it. – @DarrellFrappier
I saw it on Sunday. It;s a spectacular production! – @nataliesymons
Yesterday, I had the pleasure of being in the audience of an honest-to-goodness live, in person theater production. It was the most familiar disorienting sensation to sit in the audience of a theater again. Not only that but this is a production that had just begun performances when the shutdown happened. These actors started their run almost a year ago and hit pause for 10 months. I imagine that set to be the longest standing that stage has ever seen, watching patiently for the actors and audience to return. It gives me hope because in my home, the theater, we do not give up, we adapt. We do not give in, we move forward. An art form does not endure through countless civilizations and their tragedies by accident. Thank you, @jobsitetheater for bringing me home last night. Thank you to all my local professional theater companies for persevering. Thank you to all my local actor friends who have been there to pitch in however you can in these strange times. Thank you to those who reconfigured and replanned and went back to the drawing board so that those of us who are not whole without this art form could come back. – @katiecalahanactor