Time Stands Still
By Donald Margulies
Directed by Summer Bohnenkamp
Jul. 8 – 31, 2016
Thu. – Sat. 8pm, Sun. 4pm
Tickets: $28
Preview Performances: Jul. 6 – 7 | Wed. – Thr. 8pm | Tickets: $14
Shimberg Playhouse, Straz Center for the Performing Arts
Events
Media
Cast & Crew
Patron Reviews
Season
2016 BroadwayWorld Tampa Regional Award
Best Play
Best Actor in a Play – David M. Jenkins
Best Scenic Design – Brian Smallheer
True callings and genuine love. It's complicated.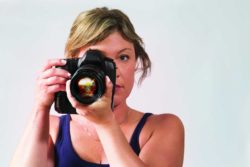 From Pulitzer Prize-winner Donald Margulies (Dinner with Friends, Shipwrecked! An Entertainment, Sight Unseen, The Model Apartment) comes a moving and often hilarious story of morality, relationships, mid-life crises, and the bonds of friendship.
Widely hailed as one of the best Broadway plays of the past ten years, Time Stands Still tells the story of James and Sarah, a journalist and a photographer, who have been together for nine years and share a passion for documenting the realities of war. After barely surviving a bomb blast in Iraq that has left her scarred, Sarah, a photojournalist, finds herself caught in a tug-of-war between her exhilarating career and the contentment of domestic life.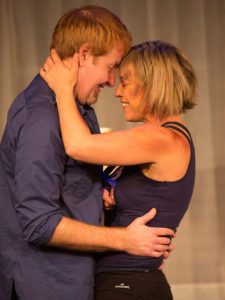 Returning home into the care of her long-time boyfriend James (whose scars are psychological), Sarah is caught off guard by his desire for the simple family life pursued by Richard, their editor, and his much younger girlfriend Mandy. Time Stands Still is a blazingly important new work about responsibility – to ourselves, to our loved ones, to our community, and to our world.
Time Stands Still focuses on Sarah and James, a war photojournalist and her foreign correspondent boyfriend, who are trying to find happiness after their return from Iraq in a world that seems to have gone crazy. Theirs is a partnership based on telling the toughest stories, and together, making a difference. But when their own story takes a sudden turn, the adventurous couple confronts the prospect of a more conventional life.
Donald Margulies has won a Lucille Lortel Award, two American Theatre Critics New Play Citations, two Los Angeles Drama Critics Awards, two OBIE Awards, one Tony Award nomination (for Time Stands Still), one L.A. Ovation Award, two Dramatists' Guild Hull-Warriner Awards, five Drama Desk Award nominations, five Burns Mantle Best Play citations, two Pulitzer Prize nominations, and one Pulitzer Prize (Dinner with Friends). His work has been produced in New York by Manhattan Theatre Club, Primary Stages, Roundabout Theatre Company, the New York Shakespeare Festival/Public Theatre, Jewish Repertory Theatre and Theatre for the New City; at theaters across America including South Coast Repertory, the Geffen Playhouse, Actors Theater of Louisville, Williamstown Theatre Festival, and Long Wharf Theatre; and in theaters around the world.
Mr. Margulies has received grants from the National Endowment for the Arts, The New York Foundation for the Arts, and the John Simon Guggenheim Memorial Foundation. In 2005 he was honored by the American Academy of Arts and Letters with an Award in Literature, and he was the recipient of the 2000 Sidney Kingsley Award for Outstanding Achievement in the Theatre by a playwright and the 2014 PEN/Laura Pels International Foundation for Theater American Playwright in Mid-Career Award. Mr. Margulies is an alumnus of New Dramatists and serves on the council of The Dramatists Guild of America. He is an adjunct professor of English and Theatre Studies at Yale University.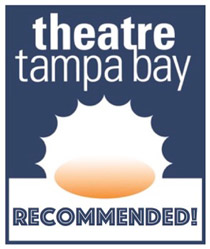 Talkbacks
Jobsite is putting together a series of talkbacks and public forums after select Sunday matinees.
Seeing the Other: how the West sees the East through cultural products and the media.
Though Time Stands Still is at its core a love story, the play brings up many critiques of how Western news and art packages and presents the Arab-Islamic world, as well as all non-Anglo-Americans. How are we duped by such representations, and what are those narratives trying to tell us? How might we resist and subvert them to allow for other possibilities? How can we hold ourselves and each other more accountable? Informed by Postcolonial scholarship like Edward Said's Orientalism, Producing Artistic Director David M. Jenkins, PhD, will lead a discussion using the play as a jumping off point to discuss how these themes impact us daily on a panel that includes the creative team of the show with Laila Abdelaziz, Muaaz Hassan, and Katherine Heffner from CAIR Florida.
News, Art, and Ethics: the problem of representation in a culture of instant gratification.
In an interview with Ariel Ramchandani, playwright Donald Margulies says though this is first and foremost a story about relationships that this play "questions, among many other things, how we represent and digest unimaginable events, whether in photography, in writing, or in popular culture." Sarah claims that she does an important job, that without her photographs many may not know or comprehend human tragedies around the world. Alternately, her boyfriend James attacks the theater for being nothing more than preaching to the choir, a way to assuage liberal guilt.
Tampa Bay Times writers Susan Taylor Martin (senior foreign correspondent from 1997 to 2011, covering wars in Kosovo, Iraq, and Afghanistan) and Ben Montgomery (nominated for a Pulitzer Prize for his series "For Their Own Good" about the Dozier School) join with the cast and members of the creative team. Producing Artistic Director David M. Jenkins (also James in the show) holds a PhD in Performance Studies, and his research always seems to come back to the complex problems of representation.
Summer Bohnenkamp – Director
Cast
David M. Jenkins – James
Maggie Mularz – Mandy
Brian Shea – Richard
Joanna Sycz – Sarah
Vivian E. Rodriguez – Production Stage Manager
Matthew Ray – Rehearsal Stage Manager
Crew
Rylee Starr Cherry – Special Effects Makeup
Camryn Herr – Special Effects Makeup
David M. Jenkins – Sound Designer
Brian M. Smallheer – Scenic & Lighting Designer
Katrina Stevenson – Costume Designer
via Email
Just wanted to say that last night's show was wonderful, all four of you gave tremendous performances. I liken it to a time when I saw "The Seagull" in London and the acting was so good I felt like I was eavesdropping on a very private dinner party. Several times last night I felt the same way, and I suspect so did the audience considering some of the very quiet moments after a particularly tense scene. Last night was why people go to the theatre. – Ben and Cheryl Graffam
Excellent play. One of the best this year! – Carol Gardiner
Oh it was a great night! I just thought it was wonderful! I really liked the book, the acting and the direction. Super congratulations to all. – Elissa Getto
Absolutely one of the best plays I have seen in years, both from the acting, the set and the playwrighting viewpoints. Just excellent. – Bruce Houghton
This was the best show of the season for us. – Fran Factor
Fantastic performance by all on Sunday … Thanks for the great season. – Diane Reeves
I am coming back to see the play again. It was amazing! The performances were outstanding. And in the intimate theater setting you feel like you are part of the play instead of just an observer. I highly recommend this to everyone! – Alena Callimanis
I just want to share that we thoroughly appreciated the intense production of Time Stands Still. The entire acting crew was very impressive but the woman that played Sarah was phenomenal. Thanks for another outstanding and thought provoking production! – Emily Warn
Via Facebook
Great show. Saw it last night. Congratulations to all. – Deborah Kobritz
See Time Stands Still, you will like it. – Rick Stutzel
This play is excellent! – Gregg Perkins
Last night, I was lucky enough to see the premier of Jobsite Theater's Time Stands Still. I still feel like a relative novice at appreciating the finer performing arts, and last night's play reinforced/reinvigorated my desire to experience live culture in our great city. The performances were at times funny, other moments visceral, and above all, tangible. The storyline was topical (journalists returning from foreign conflicts), but the heart of the dialogue was relatable and eternal. I might be a little bit better for having seen it. The prose is amazing, and the production made it very real. Kudos to all involved. – Michael McKiernan
Saw Time Stands Still preview and it was magnificent. This show fully embraces the heavy burdens of capturing reality, explores relationships, forming opinions based on facts that you expose yourself to. A piece that speaks for yesterday, today, and tomorrow. If you have not seen this show, please do. First weekend is sold out, I think. But you still have time. – Laila Brown
I can't say enough wonderful things about the amazing experience that I had last night for the Opening performance of Time Stands Still at Jobsite Theater! Please don't miss out on seeing this beautifully acted and directed piece (played on a fantastic set)… I also need to urge you to go to EVERY opening night for every Jobsite show, so you can enjoy the after party at Fodder and Shine! It's a blast!!! – Nicole Smith
Want a night of great theater? Go see Time Stands Still by Jobsite, the resident theater company of the Straz Center for the Performing Arts. A wonderful play that runs your emotions from laughter to tears and back again. We saw it to night in a sold out house. You may have to wait a week or two but get your tickets and Support Local Theater. – Beth Hyde Hood
This show was one of the finest pieces of theatre I've ever seen. Glad it's being done there. – Mary Lee Johns
Wonderful, meaningful show … well acted with many questions asked about the ethics of photo-journalism, and about adrenaline junkies. This is a show worth seeing. – Hal Freedman
Great great show. Well done Jobsite! – Diana Rogers
Powerful stuff here people. Do not miss this fantastic ensemble in a poignant and timely show. Jobsite knocks this one out of the park! – Lori Pate
If you have not seen this, well you are missing out. Funny, compelling, an just straight up well fucking done. Directed beautifully. The cast spot the hell on. We laughed a lot. I think someone was cutting onions in there at times. Love love love. – Michelle Sandburg
Loved Jobsite's Time Stands Still last night. It was absolutely wonderful. Great way to end the season. – Kim Smallheer
Via Twitter
Absolutely blown away (and moved to tears) by the amazing performances in the latest from @jobsitetheater. #Tampa – go see amazing theatre! – laadrian
Blown away by the work of @jobsitetheater my night was well spent, can't wait to
see more of their productions! – Amber__0510
Blog Us
Want to add a groovy graphic like this to your blog or website?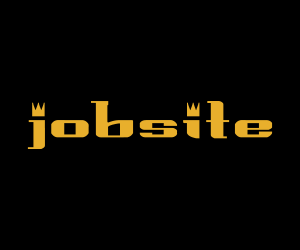 Jobsite provides a variety of cool banners that you can put on your website. AND they update automatically. So just drop it in once, and when we're ready for our next show, we'll update the graphic, and it'll automatically update on your site too!
Share: