Zach Braff's hilarious and touching All New People previews tonight and tomorrow at 8pm. Our previews are always just $14 in advance, call 813.229.7827 now to secure your seats while they last!
I've sat in on three runs over the past 10 days, and this group is turning in AMAZING work. Paul Potenza has been a force in the director's seat since we were granted residency at the Straz. Many of you remember his indelible touch on shows like The Lonesome West (which took EIGHT Theatre Tampa Bay nominations last season), Rabbit Hole, subUrbia, Topdog/Underdog and The Beauty Queen of Leenane. I have no doubt that this production will be ranked among his previous successes, and that in general people will be talking about this show for some time to come.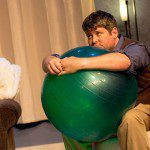 The cast is brilliant, each turning in a hilarious and heartfelt performance. I'll spare doling out individual superlatives and ask you to trust me, and more importantly to get out and see them for yourself. It's a true joy to sit in a dark room and get to know these characters for an hour and a half. Even upon my third viewing last night I caught myself laughing – with force – often, and often unexpectedly. As the laughter trails off, we're left with a beautiful and timely rumination on the way many of us experience the world today. Technically, despite what might seem like a simple undertaking, this show is again stretching our designers, but they've all proven they're up for the challenge. Paul said in an email last night after tech that the room "feels like who we are. Jobsite." He's right. I'm damn proud.
Simply stated: please do not miss this show. Whether you pick up a preview ticket, join us for opening, or squeeze it into an upcoming week we urge you to grab a ticket in advance. Once performances start selling out it tends to create a snowball, and I always hate hearing folks say they couldn't get a ticket because they waited too long. If you never want to have that problem again, you can get your 2014-15 season tickets while at the show from the table in front of the theater, or even sign up for our limited number of Rock Star Experience packages.
Hope to see you soon at the theater!