In Jan. of 2002 we premiered Joe Popp's rock musical MAXWELL at what was then the Tampa Bay Performing Arts Center's Off Center Theater (now the Straz Center's Shimberg Playhouse. The next month we took it to NYC's Galapagos Art Space for a weekend.

We just found a very rough complete video of that final show, never intended for broadcast. We share bits of it below, but first some context.
MAXWELL tells the story of Joseph Maxwell, a prodigal genius born to working-class parents who, under the tutelage of Stephen Hawking, devises a plan to end humanity's need to work, starve, or suffer with the introduction of his Maxwell Machines – an invention carrying a complex algorithm that perfects real-time AI.
Problems arise once humanity becomes disillusioned and bored. Joseph gets progressively caught up in his own power until society, aided by Maxwell's best friend Oscar and girlfriend Rosa, overthrows Maxwell's regime.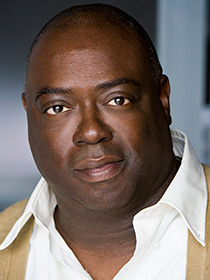 The production, directed by R. M. Lawrence, featured the ensemble of Nevada Caldwell, Jason Vaughan Evans, Chris Holcom, David M. Jenkins, Michael C. McGreevy (in his first Jobsite role, now an Artistic Associate), Christen Petitt Hailey, Harry Richards, Ami Sallee, Mart Trent (RIP, sweet friend) and Tanesha Warren. It was stage managed by Summer Bohnenkamp, who also mixed the audio (and would go on to mix Pericles and Hedwig for us), but is best-known these days as one of our most decorated directors.

MAXWELL was the first Joe Popp musical we took to NYC for an Off-Broadway showcase. A few years later Popp teamed up with The March of the Kitefliers' Shawn Paonessa and Neil Gobioff for Pericles: Prince of Tires, loosely based on Shakespeare's Pericles – Prince of Tyre, in a production we took to HERE Arts Center.
This video features 3 short songs. The first is the opening, told by Stephen Hawking (Chris Holcom backed by the ensemble), that lays out the plot and establishes the musical/sci-fi genre and tongue-in-cheek vibe of the show. The second is sung by the ensemble and drives home Joseph's working-class upbringing. The third is at the funeral of Gerhardt Maxwell, Joseph's father, that serves as the turning point in Joseph's journey and features solos by David M. Jenkins (Joseph Maxwell), Ami Sallee (Louisa Maxwell), and Tanesha Warren (the priest who LAYS IT DOWN — make sure to stick around to the end).
Reminder: this is rough video never intended for broadcast. It's impossible for "the magic" of live theater to transfer in this manner, but it does offer a great look back at an important early moment for Jobsite and shows how the NY audience ate this quirky musical up.
One From the Vaults | MAXWELL from Jobsite Theater on Vimeo.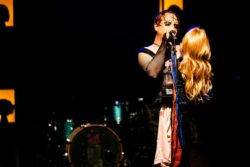 Trivia: MAXWELL was the first Jobsite show a young Blake High School theater student named Spencer Meyers saw. He left vowing to one day be on our stage, which he made a reality. Spencer is now an Artistic Associate who has worked his way into the hearts of our audiences, becoming a fan favorite. Listen to his story straight from him in a previous One From the Vaults episode.
More Trivia: both Ami Sallee and David M. Jenkins were fighting through losing their voices during this final performance. NYC was frigid and the "dressing room" was relatively exposed to the elements. Between all the rock sangin' and sweating through their clothes on stage then freezing while off the two barely got through. There was lots of lemon and whisky backstage that night …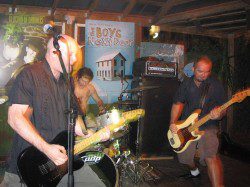 Even More Trivia: Jenkins has a long history of working with Popp on musicals. He was featured in the Straz Center's production of Whirligig, an adaptation of a Mac Wellman play with music by Popp, and performed as part of the duet in JY2K featured in Jobsite's Y2K: Yearn to Know before taking the lead in MAXWELL. Jenkins would also go on to direct Pericles and has commissioned Joe to lend cover songs and original compositions to productions like Dog Sees God, Embedded, subUrbia, and others. Take a listen to Popp's theatrical composition demos at his website. Joe has also played a slew of Jobsite fundraisers as a solo artist and with his Joe Popp Band and The Hornrims.

Here are a few candids from Galapagos that weekend.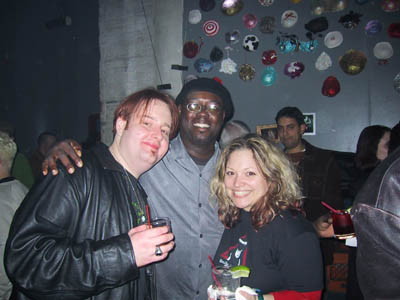 David Jenkins, "ranney," and Summer Bohnenkamp. You'll also notice Jobsite co-founder and original Co-Artistic Director Mike Caban.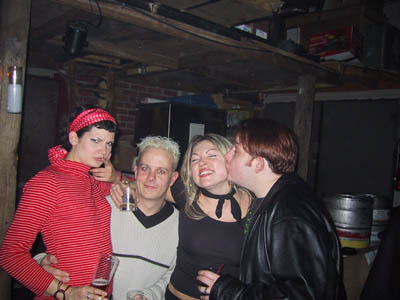 Nevada Caldwell, Jason Vaughan Evans, Nicole Ward Parr, and David M. Jenkins.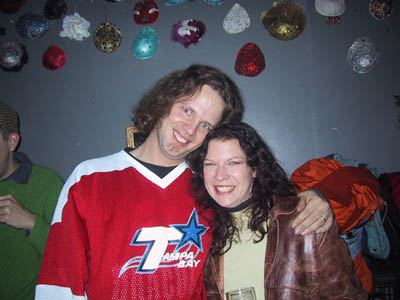 Dickie Corley and Ami Sallee.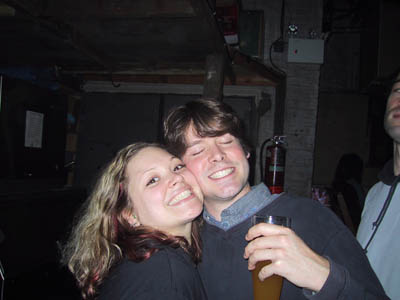 Summer Bohnenkamp and Chris Holcom.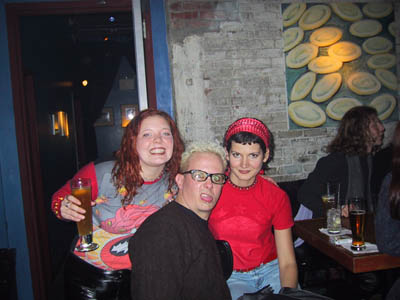 Christen Petitt Hailey, Jason Vaughan Evans, and Nevada Caldwell. Our dearly-departed Mark Trent can be seen in the background.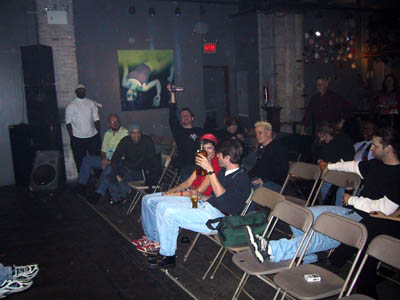 The gang pre-show. You'll also spy Silver Meteor Gallery's Michael Murphy, who joined us on the trip.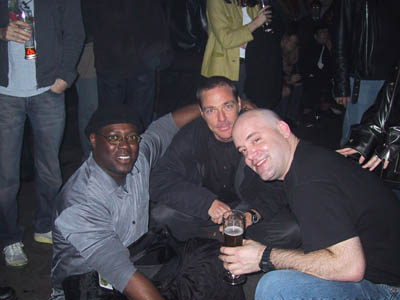 "ranney," bassist Brian McCabe, and Joe Popp.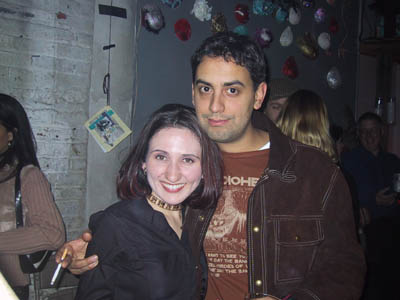 Andrea and Mike Caban. The couple had already moved to NY before this production.