A Midsummer Night's Dream
By William Shakespeare
Directed By David M. Jenkins
Extended! Jan. 17 – Feb. 16, 2020
Tickets start at: $29.50
Preview Performances: Jan. 15 – 16 | Tickets: $18
Shimberg Playhouse, Straz Center for the Performing Arts
Please Note
Arrive early to ensure you do not miss a breathtaking opening sequence! For the safety of our performers and the audience, latecomers to A Midsummer Night's Dream will be held outside of the theater for the first five minutes of the performance and then seated at the discretion of the management.
Join Jobsite for another breathtaking production of one of the Bard's best-loved works. Set in an enchanted forest with fairies, sparring lovers and a group of amateur actors who are putting on a play, this production incorporates aerial and circus performance elements choreographed by Artistic Associate Katrina Stevenson and an original score with songs from The Florida Bjorkestra's Jeremy Douglass. "The course of true love never did run smooth …"
What It's About
On a Midsummer's night, four young lovers (Matt Acquard, Sadie Lockhart, Patrick Jackson, and Kara Sotakoun) find themselves wrapped in the dream-like arms of an enchanted place where sprites lurk and fairies rule. While a feuding Fairy King and Queen (Adam Workman and Haley Janeda) are at war, their paths are crossed by Bottom (Giles Davies), Quince (Cornelio Aguilera) and their friends (Martin Powers, Kasondra Rose, Adriana Corso, and Nancy Mizzell) presenting a play within a play. Chief mischief-maker Puck (Katrina Stevenson) is on-hand to ensure that the course of true love is anything but smooth, and games of fantasy, love, and dreams ensue in Shakespeare's most beguiling comedy.
School Performances
Jobsite again expands education outreach efforts by offering 16 weekday field trip matinee performances for middle and high schools in addition to the 21 scheduled mainstage performances. Education outreach is made possibly by generous grants from the Cornelia T. Bailey Foundation, Saunders Foundation, and Grow Financial Foundation.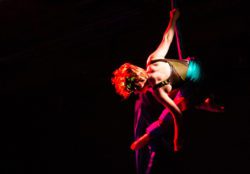 The top of the second half of Jobsite Theater's production of A Midsummer Night's Dream.
Read More »
David M. Jenkins – Director
Teah Banks – Stage Manager
Cast
Matt Acquard – Demetrius
Cornelio Aguilera – Peter Quince / Egeus / Philostrate
Adriana Corso – Snout / Mustardseed
Giles Davies – Bottom
Alex Hickey – Understudy / Acting Apprentice
Patrick A. Jackson – Lysander
Haley Janeda – Titania / Hippolyta
Sadie Lockhart – Hermia
Nancy Mizzell – Starveling / Cobweb
Martin Powers – Flute / Moth
Kasondra Rose – Snug / Peaseblosson
Kara Sotakoun – Helena
Katrina Stevenson – Puck
Adam Workman – Oberon / Theseus
Crew
Jeremy Douglass – Composer
David M. Jenkins – Sound and Video Designer
Spencer Meyers – Crown and Mask Designer
Nick Hoop – Directing Apprentice
Brian Smallheer – Scenic and Lighting Designer
Katrina Stevenson – Costume Designer and Aerial Choreographer
Blog Us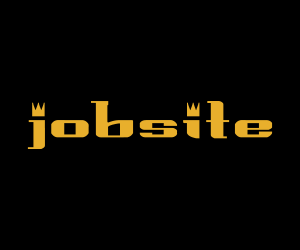 Want to add a groovy graphic like this to your blog or website?
Jobsite provides a variety of cool banners that you can put on your website. AND they update automatically. So just drop it in once, and when we're ready for our next show, we'll update the graphic, and it'll automatically update on your site too!