First of all we hope that each and every one of you are safe and healthy. This crisis is impacting so many folks in so many ways, and all of you are in our hearts and minds as we, too, try to move forward.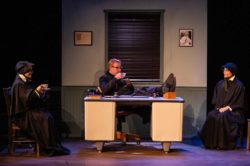 I'm sure that all of you have heard by now that our production of
DOUBT, A Parable
, has been suspended through at least April 19 in accordance with the Straz Center's closure. Our priority once given the green light is to get this show back up. The set is there, the costumes are cleaned and hanging still waiting for an opening night, and our artists are all champing at the bit to share this powerful show. I'm being honest that we may not be clear by April 19. I hope so, but we'll react to what we get as we get it.
What does that mean for right now?
We're working on online content to share encouraging donations in a time of crisis and no revenue.
Bill DeYoung from the St. Pete Catalyst
talked with me about our condition.
I also spoke with Ray Roa at Creative Loafing
. Please follow us on social media (links below) as we share things created by our artists from home (like the embedded video below from Artistic Associate Colleen Cherry) and dig through our archives to share blasts from the past.
What does all this mean for the future?
We'd be lying if we said we actually knew. Hopefully we do not have to cancel
DOUBT
outright as it would be a hit to the company to the tune of about $25,000 that we would not be able to recuperate in any way other than fundraising from the public or by making severe, drastic cuts. The longer this drags on the more likely it becomes that one or both of the remaining two shows on the current season after
DOUBT
will be cancelled. Again, our immediate priority is to try to salvage the run of
DOUBT
. If that can't happen shortly after the original suspension end date of April 19 it does not bode well for us being able to offer
Arturo Ui
. If we cannot anticipate a real opening date by mid-May, that will greatly jeopardize our ability to produce
Animals Out of Paper
. We're monitoring things carefully. I want to again stress ways you can truly help us
right now
if you have the means and desire:
Donate. A sponsorship, a small one-time gift, or set up a recurring deduction — it all matters.
Pick up a 2020/21 pass. This will help us come back stronger than ever in the fall and help ensure that the current crisis does not impact what we are able to do in the coming season.
Pick up a piece of merch. Stickers, magnets, t-shirts, and more. Rep us in your house while in self-isolation.
Tell your Jobsite story. Share our content. Share your own memories. Let folks know what we mean to you and why you're looking forward to coming back to see us when you can.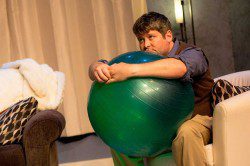 While on hiatus we want to make sure that we keep this a two-way relationship. Let us know how
you're
doing. Let us know how we can help others in the community. Let us know what sort of digital content we can provide to help you heal or just distract you. Watch this space, we'll keep sharing what we can. Yours, -dj