The Resistible Rise of Arturo Ui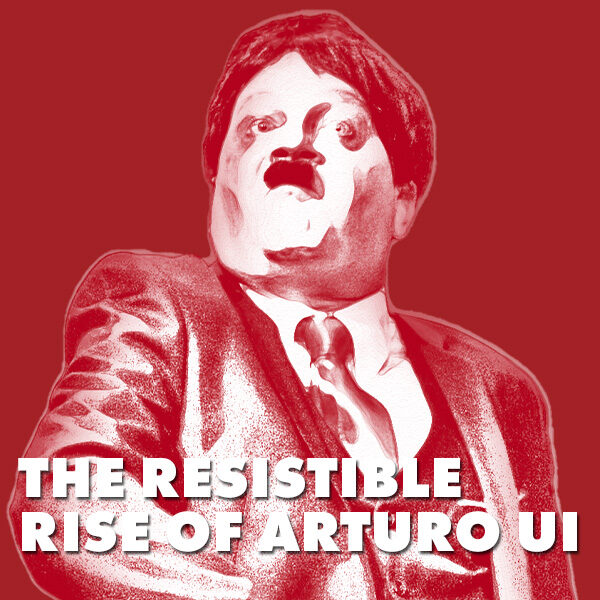 The Resistible Rise of Arturo Ui
A Gangster Spectacle
By Bertolt Brecht, Translated By George Tabori
Directed By David M. Jenkins
May 13 – Jun. 5, 2022
Tickets start at $29.50
Preview Performances: May 11 – 12 | Tickets start at: $18
Shimberg Playhouse, Straz Center for the Performing Arts
Creative Loafing Best of the Bay
Theatre Tampa Bay Nominated
Expect the unexpected at this "gangster spectacle" that New York Magazine said is "a sly, fearsome sideshow, a deceptively humble, hugely exciting piece of work … It's Richard III meets Jimmy Cagney by way of the vaudeville circuit … both rollicking and frightening." Brecht's skewering authoritarianism is given renewed significance in 2022, not just in America but across the globe.
A comedy about the rise of the Third Reich? You betcha. The point isn't to make fun that directly, but to poke us all over the fact that we allow it to keep happening — even today in countries across the globe, and in states within our "imperfect union."
Written while in exile in 1941, Brecht's Arturo Ui is a satirical allegory that recasts Hitler's rise as a 1930's Chicago gangster's takeover of the Windy City's green-grocery trade. Terror and bloodshed follow — can anyone stop him? The show is presented here in an adaptation featuring eight performers — Brecht's original featured over 35. Previous lauded NY revivals have featured the likes of Christopher Plummer, Al Pacino, and Raul Esparza.
This production was inspired by Producing Artistic Director David M. Jenkins' 2019 visit to Brecht's theatrical home, the Berliner Ensemble, where Arturo Ui is still one of their most popular productions. Jobsite previously produced Brecht's The Threepenny Opera in 2017.
David M. Jenkins – Director
Brian Smallheer – Technical Director
Vivian E. Rodriguez – Production Stage Manager
Cast
Colleen Cherry – O'Casey / Betty Dullfoot / Actor / Fish
Giles Davies – Giuseppe "The Florist" Givola / Bowl / Servant / Smith
Spencer Meyers – Ernesto Roma / Prosecutor / Minister
Andresia Moseley – Clark / Dockdaisy / Woman / Shorty
Derrick Phillips – Arturo Ui / Judge
Blake Smallen – Young Dogsborough / Ragg / Defense / Inna / Jim Crocket
Katrina Stevenson – Emanuele Giri / Butcher
Hugh Timoney – Dogsborough / Ignatius Dullfoot / Greenwool / Physician
Crew
Jo Averill-Snell – Lighting Designer
Teah Banks – Rehearsal Stage Manager
Jeremy Douglass – Composer/Sound Designer
David M. Jenkins – Video Designer
Brian Smallheer – Scenic Designer
Katrina Stevenson – Costume Designer
Arturo Ui is officially [my] favorite show I've ever seen at Jobsite. This show was like an gut punch to my psyche. I don't think I moved the entire 100 minutes. It was the most mesmerizing production I had ever watched- every movement, every word, every musical note- was so perfectly delivered and well coordinated. The actors, the sound, the costumes, the set, the timing- everything was absolutely perfect and I was totally lost in the story. When Derrick Phillips spoke directly to the audience at the very end, I couldn't keep myself from crying. My only regret is not jumping out of my chair to give this incredible production the standing ovation it deserved. I'll do that when I come to see it again because I feel like once is not enough. – Lorinda Gamson
It was a great evening at the Straz Center for the Performing Arts, with the Jobsite Theater's performance of The Resistable Rise Of Arturo Ui in the Shimberg Playhouse. This is a must see play, show runs through through June 5th!! – Joseph Citro
What works so remarkably well in Jobsite Theater's "Arturo Ui' is the intense attention to tonal detail in the ensemble; this is the strongest, most uniformly excellent cast we have seen in quite a few years in the Bay. No shade at anyone or anything else, but there is simply not a weak link in this group. They move together, breathe together, and understand the assignment. Jeremy Douglass has once again topped his best work with music that at its quietest remains a sinister whisper and at its height creates a fervor of hysteria. Derrick Phillips is so so so so remarkably good in the titular role. But perhaps what's best of all is how unapologetically destructive the production is towards any idea of stooping to spoonfeed or moralize its views, to wrap the audience in a warm woolen blanket of comfort, or to promise that "it is only a play." The show presents you the serrated edge; will you back away? Or are you taking the knife and finding the right moment to stab? – Nick Hoop
Very well done, brought laughter and then chills at the end. Great work actors and creative team! – Ana Beranek
The last line sums up the importance of this timely play about power and manipulation. Bravo! – Peter Terzian
Loved the show – Felicia Mohammed
One of my favorite shows (of many you all have performed)… such amazing talent we are so lucky to have here in Tampa! Well done 👏 👏 👏 👏 👏 – Stephanie Arthur-Tannenbaum
I love Jobsite. It's a wonderful company of talented actors and a phenomenal Artistic Director. I saw The Resistible Rise of Arturo Ui production yesterday and it is superb. Powerful and relevant, engrossing…and not to be missed. Bravo, David, the production team and the core of this company – its actors. – Elissa Getto
The Resistible Rise Of Arturo Ui is amazing. The cast is perfection, it is directed so tight you don't look away for a second, but oooh lord what a script, chilling, funny, and unsettling in the best way. Bravo Jobsite! – Clare Ward-Jenkins
I cried during the epilogue, the show hit me so hard!!! Thank you to the whole cast, Mr. Jenkins and Jeremy's on-point scoring for creating and delivering such important and moving art.💖 – Culver Cason
It was a brilliant performance, and the relevance of the work in today's political climate was oh so scary and thought provoking. We took our 17 yr old grandsons, and I was thrilled by their/our discussion during the hour long ride home. Bravo Jobsite! Bravo! – Susanne Dockery