The very next day after we closed our record-destroying producing of Othello we jumped back into the rehearsal room to start work on our next treat for you, a return of one of our best-loved comedies. In 2001 we took the Tampa Bay area by storm with The Complete Works of William Shakespeare (abridged). We went on to offer the show in special one-off and weekend-long encores through 2005, also performing the show in the TECO Theater and at the Largo Cultural Center, before putting it back on the shelf … until now, mid-way through our 20th Anniversary Season. Artistic Associate Katrina Stevenson returns to manage the comedic mayhem as director as well as costume this wild romp through all 36 plays and the sonnets in a mere 90 minutes. Producing Artistic Director David M. Jenkins also returns as the only cast member remaining from the original 2001 mainstage production. Shawn Paonessa replaced Robert Ray Morgan for the first encore date and stayed with us, becoming part of the trio for all future (abridged) shows sending up The Bible, American history, and literary greats. Now, 18 years later, Spencer Meyers steps in to the role first played by Jobsite co-founder Jason Evans.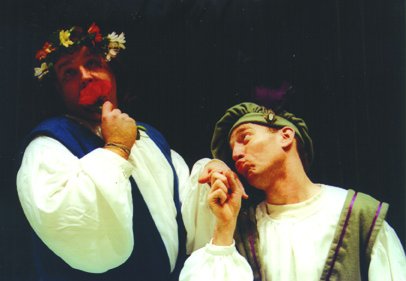 The show enjoyed a sold-out run and RAVE reviews from The Tampa Tribune, St. Petersburg Times, and Weekly Planet.
What? You've never heard of those papers? You must have been a child back then! Weekly Planet is now Creative Loafing, and the Times would go on to buy the Tribune and become the Tampa Bay Times. How things change … including our show itself, and not just the cast. The writers have offered up a [revised] version of the show featuring some amazing updates and all-new material. One thing that we can assure you hasn't changed is how much of a delight this show is to be a part of. We can't stop laughing in rehearsal, and we've just begun blocking the show.
Shoutout to the Times' Stephanie Hayes for helping us find one from the vaults!
Headline: 'Shakespeare' fearless
Reporter: PETER SMITH
Print Run Date: 3/7/2001 
"Renaissance fair-styled comedy can be both Benny Hill-broad and Noel Coward-subtle, often in the same sentence. Performers such as the Flying Karamazov Brothers, Avner the Eccentric and Penn and Teller got their starts on the Renaissance fair circuit, and you can recognize a certain flatfooted "gotta please every member of this audience" stance among performers who have worked for tips.
While there is little indication that the members of Tampa's Jobsite Theater are working for tips, they find the good-natured desperation in that particular way of making a living, and present The Complete Works of William Shakespeare (abridged), by Adam Long, Daniel Singer and Jess Winfield at the Shimberg Playhouse at TBPAC through March 18.
The actors are unwilling to let any member of the audience have a bad time, and their simple joy is infectious. Using every comedy idea from Julia Child impressions to rap versions of Othello, they are absolutely fearless and unending fun.
David M. Jenkins, a Jobsite founder, is determined to make the show fantastic, and whenever it isn't, his panic-stricken dithering is unfailingly funny.
Robert Ray Morgan takes the reins occasionally as well, never quite controlling things as he thinks he might.
The easy-going Jason Evans ("I'll wear the wig," he mutters whenever a female is needed) can't believe what they are doing to the Bard's words and just can't face it any more.
This leads (after 35 plays in an hour) to intermission and Act 2, a chain-saw noisy (yet scalpel-fine) dissection of Hamlet.
It is the love for Shakespeare's words that shines through this extended sketch and makes it more fun for audience and performer.
To say that this evening's work looks totally spontaneous is to compliment director Katrina Stevenson, who keeps a madman's jumble of jokes, impressions and attitudes constantly accessible, silly and understandable.
If you love Shakespeare (especially performed backward), sweet, good-natured comedy and cheery irreverence, The Complete Works of William Shakespeare (abridged) is an evening you want to behold."