All the Great Books (abridged)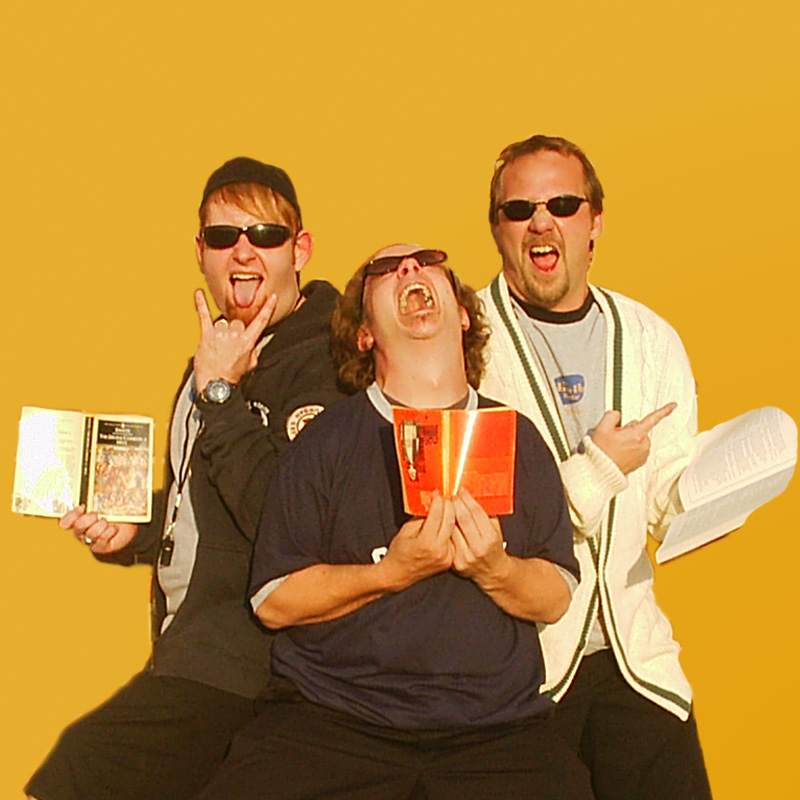 All the Great Books (abridged)
By Reed Martin and Austin Tichenor
Directed by Katrina Stevenson
Jan. 12 – Feb. 4, 2007
Thu. – Sat. 8pm, Sun. 4pm
Tickets: $19.50 – $24.50
Shimberg Playhouse, Straz Center for the Performing Arts
Get your learn on when Tampa Bay's original "Bad Boys of Abridgement" return to give audiences a crash course on the best of Western Literature in All the Great Books (abridged). This time around, they cover 89 of the greatest books in 90 minutes. They study hard so that you don't have to!
This is the (abridged) cast and crew Tampa audiences have come to love since Jobsite produced The Complete Works of William Shakespeare (abridged). They've also presented abridgements of The Bible and American History. All of those productions were area premieres, enjoyed sold-out runs and ranked as Top 10 plays by Creative Loafing.
"The actors are unwilling to let any member of the audience have a bad time, and their simple joy is infectious. They are absolutely fearless and unending fun," said the St. Petersburg Times of Jobsite's Shakespeare (abridged) effort.
In the tradition of earlier (abridged) shows, All the Great Books uses vaudeville and circus humor: giant silly props, goofy wigs and costumes, musical numbers and audience participation – whether they like it or not! (Bring a poncho if you plan to sit in the front!)
It's a fast, funny and physical performance with a flair for current events. It's as if the Marx brothers took over a street circus and added material from The Daily Show and Tenacious D. It's new vaudeville imbued with an anarchistic rock 'n' roll sensibility and a healthy dose of satirical commentary that's pure Jobsite.
Seeing "an (abridged) anything at Jobsite" was listed as the #12 "thing you gotta do" to be considered a true Bay area resident by Creative Loafing just earlier this year.
See all the world's great poems combined into a single piece, watch as Little Women is explained in football X's and O's and marvel at Don Quixote performed completely en Español – just make sure you don't arrive late or let your phone go off during the show!
Katrina Stevenson – Director
Summer Bohnenkamp – Stage Manager
Cast
Jason Evans – Jason
David M. Jenkins – David
Shawn Paonessa – Shawn
Crew
Brian Smallheer – Scenic Designer
Katrina Stevenson – Costume Designer & Props Master
ACHOO! The show was awesome! – Marcie
We had the best time! Thanks for a lovely evening out – it couldn't have been funnier. – Helen and Vic
I went to Books (abridged) last night. Laughed my ass off and had a great time! You all obviously put a lot of hard work into what you do and it's apparent you all have a great time doing it. Very nice work – all of you. I'll tell everyone at Ruth Eckerd to come out & see Books, and I can't wait to see your next show. – Greg Milton
We had a GREAT time. You damn near gave me an athsma (sucks to your ass-mar) attack I was laughing so hard at the end. I just wanted to say thanks. – Dave Pritchard
We were at the show last night (1/14). We loved it. Great job. – John
Just wanted to say thanks to you and your crew for putting on another dynamic show tonight! There were 5 in my group this time and we thoroughly enjoyed ourselves. Your collective energy just amazes us! Katrina did a great job directing though – how DOES she keep the 3 of you in line?!?!!? Hope the rest of your performances sell out. We look forward to next time. – Christine Hamacher
To me this show was better than The Complete Works of William Shakespeare. David, Shawn and Jason, you guys are just amazing. So talented. Thank you for having me in tears. Katrina you did a great job. Thanks for all the good times and laughs. – Angel Reese